Canine Spectra 10
This page contains information on Canine Spectra 10 for
veterinary use
.
The information provided typically includes the following:
Canine Spectra 10 Indications
Warnings and cautions for Canine Spectra 10
Direction and dosage information for Canine Spectra 10
Canine Spectra 10
This treatment applies to the following species:
Company: Durvet
Canine Distemper-Adenovirus Type 2-Coronavirus-Parainfluenza-Parvovirus Vaccine
Modified Live & Killed Virus
Leptospira Canicola-Grippotyphosa-Icterohaemorrhagiae-Pomona
Bacterial Extract
FOR DOGS ONLY
KEEP PRODUCT REFRIGERATED
Canine Spectra 10 Indications
This product has been shown to be effective for the vaccination of healthy dogs 6 weeks of age or older against canine distemper (CDV), infectious canine hepatitis (CAV1), canine adenovirus type 2 (CAV2), canine coronavirus (CCV), canine parainfluenza (CPIV), canine parvovirus (CPV), Leptospira canicola, L. icterohaemorrhagiae, L. grippotyphosa, and L. pomona. The duration of immunity has not been determined. For more information regarding efficacy and safety data go to productdata.aphis.usda.gov.
Composition
Canine Spectra
®
10 vaccine is a combination of immunogenic, attenuated strains of CDV, CAV2, CPIV, and CPV type 2b, propagated in cell line tissue cultures. The diluent contains killed CCV with Leptospira bacterial antigens. The CAV2 fraction has been shown to be effective against disease due to CAV1. The CPV2b strain has been demonstrated to be effective against CPV2c in puppies with CPV maternal antibody. Gentamicin and thimerosal added as preservatives.
Directions and dosage: Open the syringe by twisting or tapping the cap against a hard surface to break the heat weld. Aseptically rehydrate the vaccine cake with 1 mL of vaccine diluent supplied. SHAKE WELL. Withdraw entire contents into the syringe. Administer one 1 mL dose subcutaneously. Subcutaneous administration: Lift the loose skin behind the neck or behind the front leg and insert needle (see illustration, arrows 1 and 2). Inject entire contents of syringe. Do not inject directly into blood vessel (see note below). IMPORTANT NOTE: Before injecting vaccine, pull back slightly on syringe plunger. If blood enters the syringe freely, choose another injection site. All dogs should initially receive one dose of this product and a second dose 2 to 3 weeks later. The presence of maternal antibody is known to interfere with the development of active immunity in dogs and additional boosters will be required in most young animals. Historically, annual revaccination with a single dose has been recommended for this product. The need for this booster has not been established. For advice on revaccination frequency and annual booster vaccinations, consultation with a veterinarian is recommended.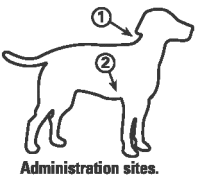 Precautions
Only vaccinate healthy animals. This product has not been tested in pregnant animals. Store in the dark at 35°-46°F (2°-8°C). DO NOT FREEZE. Do not mix with other products, except as specified on the label. In case of anaphylactoid reaction, administer epinephrine. Inactivate all unused contents before disposal. In case of human exposure, contact a physician.
VaccinateYourPets.com
Produced by:
Elanco US Inc., Fort Dodge, IA 50501 USA
VLN/PCN 196/46J9.29
Distributed by:
Peak Marketing, Blue Springs, MO 64013 USA
Phone: 1-800-821-5570
Canine Spectra® is a registered trademark of Durvet, Inc.
MADE IN THE USA
| | | | |
| --- | --- | --- | --- |
| One Dose with Syringe | Package contains a one dose vial of vaccine, a one mL vial of vaccine diluent, & one disposable syringe | BG102781X | ISS20XB08 |
CPN: 1084356.3
DURVET, INC.
100 S.E. MAGELLAN DRIVE, BLUE SPRINGS, MO, 64014
| | | |
| --- | --- | --- |
| Telephone: | | 816-229-9101 |
| Toll-Free: | | 800-821-5570 |
| Fax: | | 816-224-3080 |
| Website: | | www.durvet.com |
| Email: | | info@durvet.com |
| | |
| --- | --- |
| | THIS SERVICE AND DATA ARE PROVIDED "AS IS". DVMetrics assumes no liability, and each user assumes full risk, responsibility, and liability, related to its use of the DVMetrics service and data. See the Terms of Use for further details. |