Bovilis Once PMH SQ
This page contains information on Bovilis Once PMH SQ for
veterinary use
.
The information provided typically includes the following:
Bovilis Once PMH SQ Indications
Warnings and cautions for Bovilis Once PMH SQ
Direction and dosage information for Bovilis Once PMH SQ
Bovilis Once PMH SQ
This treatment applies to the following species:
Company: Intervet/Merck Animal Health
Mannheimia Haemolytica-Pasteurella Multocida Vaccine
Avirulent Live Culture
Cattle Vaccine
This product has been shown effective for the vaccination of healthy cattle 3 months of age or older against respiratory disease due to Mannheimia haemolytica and Pasteurella multocida. Duration of immunity has been shown to be at least 16 weeks. For more information regarding efficacy and safety data, go to productdata.aphis.usda.gov.
MIXING DIRECTIONS: 10 Doses - Rehydrate freeze dried vial of Once PMH® SQ with accompanying vial of diluent. Mix reconstituted vial well.
50 Doses - Rehydrate freeze dried vial of Once PMH® SQ with part of the accompanying vial of diluent using the transfer needle provided (see pictorial directions). Mix reconstituted vial well and transfer rehydrated vaccine into diluent vial using transfer needle. Remove transfer needle from former diluent vial and mix reconstituted vial well. Peel label from bottle of Once PMH® SQ and place on diluent vial containing all vaccine.
USE DIRECTIONS: Administer a single 2.0 mL dose aseptically by subcutaneous route. Historically, annual revaccination with this product has been recommended. The need for this booster has not been established. For more information on revaccination frequency, consult your veterinarian.
Mixing Instructions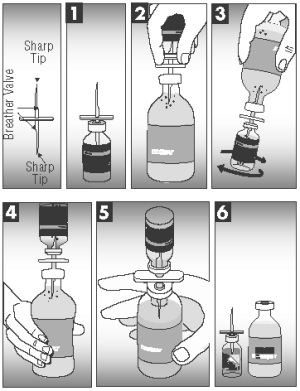 CAUTION: THE TRANSFER NEEDLE, INCLUDED IN THE CARTON PACKAGING (50 DOSES), IS SHARP AND MAY CAUSE INJURY TO SELF OR ANIMALS IF NOT HANDLED OR DISPOSED OF PROPERLY.
1. Insert the transfer needle fully into the small vial of dehydrated vaccine to release the vacuum.
2. Insert the other end of the transfer needle fully into the large vial of sterile diluent.
3. Squeeze enough diluent from the large bottle into the smaller vial to rehydrate the vaccine.
4. With the two bottles still attached, swirl the small vial gently until the vaccine is mixed.
5. With the small vial upside down, squeeze the large bottle several times to draw the mixed vaccine into the large bottle.
6. Separate the bottles and remove the vaccine label from the small vial and apply it to the large bottle for proper identification.
CAUTIONS: Store at 2 to 8°C (35 to 46°F). Do not freeze. Use entire contents when first opened. Do not use chemical disinfectants to sterilize syringes or needles. Do not mix with other products, except as specified on the label. Inactivate unused contents before disposal. Do not vaccinate within 21 days of slaughter. This product has not been tested in pregnant animals. Anaphylactoid reactions may occur following use. Antidote: Epinephrine. Contains streptomycin as a preservative. In case of human exposure, contact a physician.
FOR ANIMAL USE ONLY
Intervet Inc., d/b/a Merck Animal Health, Omaha, NE 68103 USA
VLN 165A/ PCN 1861.01
1-800-521-5767
For patent information:
http://www.merck.com/product/patent/home.html
Code

20 mL

10 Doses

2 mL per dose

006337

398283-07

100 mL

50 Doses

006338

360177-06
CPN: 1047568.0
MERCK ANIMAL HEALTH
Intervet Inc.
2 GIRALDA FARMS, MADISON, NJ, 07940
| | | |
| --- | --- | --- |
| Customer Service: | | 800-521-5767 |
| Order Desk: | | 800-648-2118 |
| Technical Service (Companion Animal): | | 800-224-5318 |
| Technical Service (Livestock): | | 800-211-3573 |
| Fax: | | 973-937-5557 |
| Website: | | www.merck-animal-health-usa.com |
| | |
| --- | --- |
| | THIS SERVICE AND DATA ARE PROVIDED "AS IS". DVMetrics assumes no liability, and each user assumes full risk, responsibility, and liability, related to its use of the DVMetrics service and data. See the Terms of Use for further details. |