Bovikalc
This page contains information on Bovikalc for
veterinary use
.
The information provided typically includes the following:
Bovikalc Indications
Warnings and cautions for Bovikalc
Direction and dosage information for Bovikalc
Bovikalc
This treatment applies to the following species:
Manufacturer: Boehringer Ingelheim
Oral Mineral Supplement
Calcium supplement for use in freshening cows
Feeding Directions:
Boluses are given to the cow using a special Bovikalc bolus applicator.
Give one bolus of Bovikalc prior to or immediately after calving and a second bolus twelve hours later.
Bovikalc bolus gun - instruction for use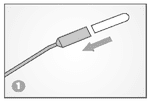 1. Place the bolus in the bolus applicator with the rounded end pointing forward.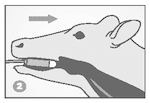 2. If right handed: Place yourself at the cow's right side. Grab the cow's upper jaw with your left hand and raise its head. Keep the cow's head high and a little towards yourself.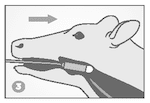 3. Gently guide the Bovikalc applicator loaded with one Bovikalc bolus into the cow's mouth. When you feel resistance gently guide the applicator over the tongue.
4. When the Bovikalc applicator is as far back in the cow's mouth as possible press the handle to release the bolus. Remove the applicator.
Actions:
The Bovikalc bolus will disintegrate quickly in the rumen. The calcium chloride is available immediately, while the calcium sulfate will provide sustained release of calcium.
Storage
Store in original packaging at or below 86°F (30°C).
The Bovikalc boluses are sensitive to humidity and should be stored in the plastic tubes until immediately before use.
Bovikalc Caution
Follow label instructions carefully. Incorrect use or handling may cause serious side effects.
User assumes risk of use or handling contrary to instructions, or under abnormal conditions or conditions not reasonably foreseeable.
Bovikalc should not be used for initial treatment of milk fever.
Do not use Bovikalc for cows lying down or showing signs of milk fever.
Do not use excessive force when giving the bolus to the cow.
Do not use the bolus if broken.
Keep out of reach of children.
Bovikalc is not for human use.
Guaranteed Analysis:
| | |
| --- | --- |
| Calcium, minimum | 21.4% |
| Calcium, maximum | 24.6% |
Each bolus of 192 g contains 43 grams of calcium.
Ingredients:
Calcium chloride, calcium sulfate, water, fat product, xanthan gum.
Manufactured in Denmark by: Boehringer Ingelheim Danmark A/S
Manufactured for: Boehringer Ingelheim Vetmedica, Inc., St. Joseph, MO 64506 U.S.A.
Toll Free 1-866-638-2226
Bovikalc is a registered trademark of Boehringer Ingelheim Vetmedica GmbH.
Net Wt: 1 lb 11.1 oz (768 g)

6 x 4 boluses (192 g) boluses

4969-1310

434502-01

Net Wt: 20 lb 5 oz (9216 g)

48 x 6.8 oz (192 g) boluses - THE BOLUSES IN THIS BOX ARE NOT FOR INDIVIDUAL SALE

4632-1310

434501-02
NAC No.: 1028157.1
BOEHRINGER INGELHEIM VETMEDICA, INC.
2621 NORTH BELT HIGHWAY, ST. JOSEPH, MO, 64506-2002
| | | |
| --- | --- | --- |
| Telephone: | | 800-325-9167 |
| Fax: | | 816-236-2717 |
| Website: | | www.bevaccinesmart.com |
| | | www.bi-vetmedica.com |
| | | www.biviultraduramune.com |
| | | www.bividollarsandsense.com |
| | | www.bronchi-shieldoral.com |
| | | www.duramunelepto.com |
| | | www.duramunelyme.com |
| | | www.haveweseenyourcatlately.com |
| | | www.metacam.com |
| | | www.mycathasdiabetes.com |
| | | www.productionvalues.us |
| | | www.prrsresearch.com |
| | | www.prozinc.us |
| | | www.vetera-vaccines.com |
| | | www.vetmedin-us.com |
| | | www.yourdogsheart.com |
| Email: | | info@productionvalues.us |
| | |
| --- | --- |
| | Every effort has been made to ensure the accuracy of the Bovikalc information published above. However, it remains the responsibility of the readers to familiarize themselves with the product information contained on the US product label or package insert. |