Harvoni
Generic Name: ledipasvir and sofosbuvir (le DIP as vir and soe FOS bue vir)
Brand Names: Harvoni
What is Harvoni?
Harvoni contains a combination of ledipasvir and sofosbuvir. Ledipasvir and sofosbuvir are antiviral medications that prevent hepatitis C virus (HCV) from multiplying in your body.
Harvoni is used to treat hepatitis C in adults.
Harvoni may also be used for purposes not listed in this medication guide.
Important information
Follow all directions on your medicine label and package. Tell each of your healthcare providers about all your medical conditions, allergies, and all medicines you use.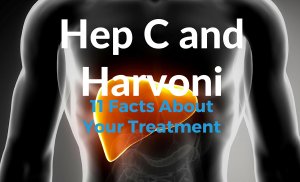 Before taking this medicine
You should not use Harvoni if you are allergic to ledipasvir or sofosbuvir, or if you are also taking sofosbuvir tablets (Sovaldi).
To make sure Harvoni is safe for you, tell your doctor if you have:
liver problems other than hepatitis C;

kidney disease (or if you are on dialysis);

HIV or AIDS; or

a heart rhythm problem for which you take a medicine called amiodarone (Cordarone, Pacerone).
You should not use Harvoni with ribavirin if you have:
severe kidney disease;

a hemoglobin blood cell disorder such as sickle-cell anemia or thalassemia; or

if you are pregnant, or if you are a man and your sexual partner is pregnant.
Harvoni is not expected to harm an unborn baby. Tell your doctor if you are pregnant or plan to become pregnant.
Harvoni is sometimes used together with another medicine called ribavirin. Ribavirin can cause birth defects or death in an unborn baby. You may need to have a negative pregnancy test before taking ribavirin and every month during your treatment.
If you are a woman, do not take ribavirin if you are pregnant. If you are a man, do not take ribavirin if your sexual partner is pregnant. An unborn baby could also be harmed if a man fathers the child while he is taking ribavirin.

Use at least 2 effective forms of birth control to prevent pregnancy while either sexual partner is taking ribavirin. Keep using 2 forms of birth control for at least 6 months after treatment ends.

Tell your doctor right away if a pregnancy occurs while either the mother or the father is taking ribavirin.
It is not known whether ledipasvir and sofosbuvir passes into breast milk or if it could harm a nursing baby. Tell your doctor if you are breast-feeding a baby.
Harvoni is not approved for use by anyone younger than 18 years old.
How should I take Harvoni?
Take Harvoni exactly as prescribed by your doctor. Harvoni is usually taken once per day. Follow all directions on your prescription label. Do not take this medicine in larger or smaller amounts or for longer than recommended.
You may take Harvoni with or without food. Take the medicine at the same time each day.
While using Harvoni, you may need frequent blood tests.
Store this medicine in the original container at room temperature away from moisture and heat.
Harvoni dosing information
Usual Adult Dose for Chronic Hepatitis C:
1 tablet orally once a day

Duration of Therapy:
-Therapy-naive patients without cirrhosis: 12 weeks; 8 weeks can be considered if pretreatment HCV RNA less than 6 million international units/mL
-Therapy-naive patients with cirrhosis: 12 weeks
-Therapy-experienced patients without cirrhosis: 12 weeks
-Therapy-experienced patients with cirrhosis: 24 weeks

Comments:
-Relapse rates are affected by baseline host and viral factors and differ between durations of therapy for some subgroups.
-Therapy-experienced patients are those patients who have failed treatment with either peginterferon alfa/ribavirin or peginterferon alfa/ribavirin/HCV protease inhibitor.

Use: For the treatment of chronic hepatitis C genotype 1 infection
See also: Dosage Information (in more detail)
What happens if I miss a dose?
Take the missed dose as soon as you remember. Skip the missed dose if it is almost time for your next scheduled dose. Do not take extra medicine to make up the missed dose.
What happens if I overdose?
Seek emergency medical attention or call the Poison Help line at 1-800-222-1222.
What should I avoid while taking Harvoni?
Avoid taking an antacid within 4 hours before or 4 hours after you take Harvoni. This especially includes antacids that contain aluminum or magnesium (Acid Gone, Aldroxicon, Alternagel, Di-Gel, Gaviscon, Gelusil, Genaton, Maalox, Maldroxal, Milk of Magnesia, Mintox, Mylagen, Mylanta, Pepcid Complete, Rolaids, Rulox, and others).
Taking Harvoni will not prevent you from passing hepatitis C to other people. Do not have unprotected sex or share razors or toothbrushes. Talk with your doctor about safe ways to prevent HCV transmission during sex. Sharing drug or medicine needles is never safe, even for a healthy person.
Harvoni side effects
Get emergency medical help if you have signs of an allergic reaction to Harvoni: hives; difficult breathing; swelling of your face, lips, tongue, or throat.
If you also take a heart medication called amiodarone, call your doctor at once if you have:
extreme tiredness;

unusual weakness or lack of energy;

confusion or memory problems;

a light-headed feeling, like you might pass out;

slowed breathing; or

chest pain, slow heartbeats, weak pulse.
Common Harvoni side effects may include:
weakness;

headache; or

tired feeling.
This is not a complete list of side effects and others may occur. Call your doctor for medical advice about side effects. You may report side effects to FDA at 1-800-FDA-1088.
See also: Side effects (in more detail)
What other drugs will affect Harvoni?
Tell your doctor about all medicines you use, and those you start or stop using during your treatment with Harvoni, especially:
amiodarone;

ribavirin;

Atripla (efavirenz, emtricitabine, and tenofovir);

digoxin (digitalis);

other drugs to treat hepatitis C, such as simeprevir (Olysio) or sofosbuvir (Sovaldi);

ritonavir (Norvir) when used with tipranavir (Aptivus);

rosuvastatin (Crestor);

St. John's wort;

Stribild (elvitegravir, cobicistat, emtricitabine, tenofovir);

tenofovir when used in combination with atazanavir, darunavir, lopinavir, or ritonavir;

seizure medicine - carbamazepine, oxcarbazepine, phenobarbital, phenytoin;

stomach acid reducers - cimetidine (Tagamet), esomeprazole (Nexium), famotidine (Pepcid) lansoprazole (Prevacid), nizatidine (Axid), omeprazole (Prilosec), pantoprazole (Protonix), ranitidine (Zantac), and others; or

tuberculosis medicine - rifabutin, rifampin, rifapentine.
This list is not complete. Other drugs may interact with ledipasvir and sofosbuvir, including prescription and over-the-counter medicines, vitamins, and herbal products. Not all possible interactions are listed in this medication guide.
More about Harvoni (ledipasvir / sofosbuvir)
Consumer resources
Professional resources
Related treatment guides
Where can I get more information?
Your pharmacist can provide more information about Harvoni.