New Drug Approval Process
Steps from Test Tube to New Drug Application Review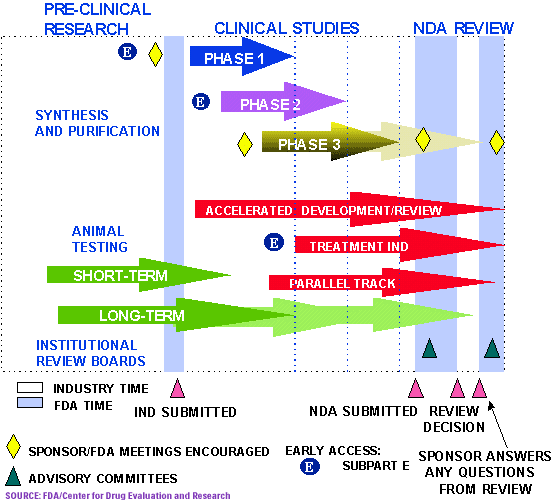 FDA Approval Process
It takes on average 12 years and over US$350 million to get a new drug from the laboratory onto the pharmacy shelf. Once a company develops a drug, it undergoes around three and a half years of laboratory testing, before an application is made to the U.S. Food and Drug Administration (FDA) to begin testing the drug in humans. Only one in 1000 of the compounds that enter laboratory testing will ever make it to human testing.
If the FDA gives the green light, the "investigative" drug will then enter three phases of clinical trials:
Phase 1 uses 20 to 80 healthy volunteers to establish a drug's safety and profile (about 1 year).
Phase 2 employs 100 to 300 patient volunteers to assess the drug's effectiveness (about 2 years).
Phase 3 involves 1000 to 3000 patients in clinics and hospitals who are monitored carefully to determine effectiveness and identify adverse reactions (about 3 years).
The company then submits an application (usually about 100,000 pages) to the FDA for approval, a process that can take up to two and a half years. After final approval, the drug becomes available for physicians to prescribe. At this stage, the drug company will continue to report cases of adverse reactions and other clinical data to the FDA. Phase 4 post-marketing studies may take place.
The research-based pharmaceutical industry currently invests some US$12.6 billion a year in new drug development. Historically, the drug development figure doubles every five years.
Further information
Always consult your healthcare provider to ensure the information displayed on this page applies to your personal circumstances.