This material must not be used for commercial purposes, or in any hospital or medical facility. Failure to comply may result in legal action.
Shingles
AMBULATORY CARE:
Shingles
is a painful rash. Shingles is caused by the same virus that causes chickenpox (varicella-zoster). After you get chickenpox, the virus stays in your body for several years without causing any symptoms. Shingles occurs when the virus becomes active again. The active virus travels along a nerve to your skin and causes a rash.
Common signs and symptoms include the following:
Shingles often starts with pain in the back, chest, neck, or face. A rash then develops in the same area. The rash is usually found on only one side of the body. The rash may feel itchy or painful. It starts as red dots that become blisters filled with fluid. The blisters usually grow bigger, become filled with pus, and then crust over after a few days. You may also have any of the following:
Fatigue and muscle weakness
Pain when your skin is lightly touched
Headache
Fever
Eye pain when exposed to light
Call your local emergency number (911 in the US) if:
You have trouble moving your arms, legs, or face.
You become confused, or have difficulty speaking.
You have a seizure.
Seek care immediately if:
You have weakness in an arm or leg.
You have dizziness, a severe headache, or hearing or vision loss.
You have painful, red, warm skin around the blisters, or the blisters drain pus.
Your neck is stiff or you have trouble moving it.
Call your doctor if:
You feel weak or have a headache.
You have a cough, chills, or a fever.
You have abdominal pain or nausea, or you are vomiting.
Your rash becomes more itchy or painful.
Your rash spreads to other parts of your body.
Your pain worsens and does not go away even after you take medicine.
You have questions or concerns about your condition or care.
Medicines:
You may need any of the following:
Antiviral medicine helps decrease symptoms and healing time. They may also decrease your risk of developing nerve pain. You will need to start taking them within 3 days of the start of symptoms to prevent nerve pain.
Pain medicine may be prescribed or suggested by your healthcare provider. You may need NSAIDs, acetaminophen, or opioid medicine depending on how much pain you are in. Do not wait until the pain is severe before you take more pain medicine.
Topical anesthetics are used to numb the skin and decrease pain. They can be a cream, gel, spray, or patch.
Anticonvulsants decrease nerve pain and may help you sleep at night.
Antidepressants may be used to decrease nerve pain.
Self-care:
Keep your rash clean and dry. Cover your rash with a bandage or clothing. Do not use bandages that stick to your skin. The sticky part may irritate your skin and make your rash last longer.
Prevent the spread of shingles: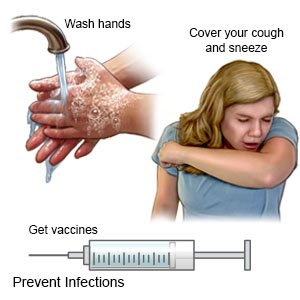 Wash your hands often. Wash your hands several times each day. Wash after you use the bathroom, change a child's diaper, and before you prepare or eat food. Use soap and water every time. Rub your soapy hands together, lacing your fingers. Wash the front and back of your hands, and in between your fingers. Use the fingers of one hand to scrub under the fingernails of the other hand. Wash for at least 20 seconds. Rinse with warm, running water for several seconds. Then dry your hands with a clean towel or paper towel. Use hand sanitizer that contains alcohol if soap and water are not available. Do not touch your eyes, nose, or mouth without washing your hands first.
Cover a sneeze or cough. Use a tissue that covers your mouth and nose. Throw the tissue away in a trash can right away. Use the bend of your arm if a tissue is not available. Wash your hands well with soap and water or use a hand sanitizer.
Stay away from others while you are sick. Avoid crowds as much as possible.
Ask about vaccines you may need. Talk to your healthcare provider about your vaccine history. He or she will tell you which vaccines you need, and when to get them.
Prevent shingles or another shingles outbreak:
A vaccine may be given to help prevent shingles. You can get the vaccine even if you already had shingles. The vaccine can help prevent a future outbreak. If you do get shingles again, the vaccine can keep it from becoming severe. The vaccine comes in 2 forms. Your healthcare provider will tell you which form is right for you. The decision is based on your age and any medical conditions you have. A 2-dose vaccine is usually given to adults 50 years or older. A 1-dose vaccine may be given to adults 60 years or older.
Follow up with your doctor as directed:
Write down your questions so you remember to ask them during your visits.
For more information:
Centers for Disease Control and Prevention
1600 Clifton Road
Atlanta , GA 30333
Phone: 1- 404 - 6393311
Phone: 1- 800 - 3113435
Web Address: http://www.cdc.gov

© Copyright IBM Corporation 2021 Information is for End User's use only and may not be sold, redistributed or otherwise used for commercial purposes. All illustrations and images included in CareNotes® are the copyrighted property of A.D.A.M., Inc. or IBM Watson Health
The above information is an educational aid only. It is not intended as medical advice for individual conditions or treatments. Talk to your doctor, nurse or pharmacist before following any medical regimen to see if it is safe and effective for you.
Learn more about Shingles (Ambulatory Care)
Associated drugs
IBM Watson Micromedex
Mayo Clinic Reference
Further information
Always consult your healthcare provider to ensure the information displayed on this page applies to your personal circumstances.