Y-Tex GardStar Insecticide Ear Tags (Canada)
This page contains information on Y-Tex GardStar Insecticide Ear Tags for
veterinary use
.
The information provided typically includes the following:
Y-Tex GardStar Insecticide Ear Tags Indications
Warnings and cautions for Y-Tex GardStar Insecticide Ear Tags
Direction and dosage information for Y-Tex GardStar Insecticide Ear Tags
Y-Tex GardStar Insecticide Ear Tags
This treatment applies to the following species:
Manufacturer: Y-Tex
Controls Horn Flies and Face Flies on Beef and Dairy Cattle (Lactating and Non-Lactating)
AGRICULTURAL
GUARANTEE:
Warning, contains the allergen soy.
READ THE LABEL BEFORE USING.
REGISTRATION NO. 18686 PEST CONTROL PRODUCTS ACT.
- Season-long control of horn flies and face flies
- May be used on lactating dairy cows
- No withdrawal time required
- Unique Snap-Lok™ collar holds tag securely on brushy pastures
- Ribbed design for season-long durability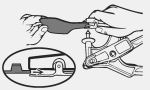 Step 1
Place female tag under clip. Collar on tag must be pointing away from pin.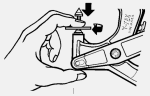 Step 2
Seat male button firmly on pin, press down and give a slight twist. Disinfect pliers and tags before application.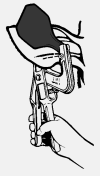 Step 3
Position tag between the 2nd and 3rd radial cartilage, in the 1/3 portion closest to the animal's head.

Directions For Use
Apply when flies first appear in spring. For season-long control of horn flies, attach one tag to one ear of each animal. For face flies, attach two tags per animal (one in each ear). Apply as shown with the Y-TEX two-piece tagging system.
Precautions - Caution
KEEP OUT OF REACH OF CHILDREN. Avoid contact with eyes, skin or mouth. Wash thoroughly with soap and water after handling and before eating or smoking. Store in a cool place away from direct sunlight. Remove tags before slaughter. This pesticide is toxic to fish.
Disposal
Do not dispose of used tags near a source of water. Collect used tags and dispose according to municipal and provincial regulations.
First Aid
If skin irritation occurs, wash thoroughly with soap and water. If eye irritation occurs, immediately flush eyes with water. Take container, label or product name and Pest Control Product Registration Number with you when seeking medical attention.
Toxicological Information
Treat symptomatically.
Notice To User
This pest control product is to be used only in accordance with the directions on the label. It is an offense under the Pest Control Products Act to use this product in a way that is inconsistent with the directions on the label. The user assumes the risk to persons or property that arises from any such use of this product.
Y-TEX CORPORATION, P.O. BOX 1450, 1825 BIG HORN AVENUE, CODY, WYOMING 82414
1-800-443-6401
| | | |
| --- | --- | --- |
| NET WT.: | NET CONTENTS: | |
| 9.5 GMS. PER TAG | 25 TAGS | YTP-108-1111 |
NAC No.: 13430011
Y-TEX CORPORATION
1825 BIG HORN AVENUE, CODY, WY, 82414
| | | |
| --- | --- | --- |
| Telephone: | | 800-443-6401 |
| Website: | | www.ytex.com |
| Email: | | ytexinfo@ytex.com |
| | |
| --- | --- |
| | Every effort has been made to ensure the accuracy of the Y-Tex GardStar Insecticide Ear Tags information published above. However, it remains the responsibility of the readers to familiarize themselves with the product information contained on the Canadian product label or package insert. |