Hartz UltraGuard Plus Rid Worm for Large Dogs
This page contains information on Hartz UltraGuard Plus Rid Worm for Large Dogs for
veterinary use
.
The information provided typically includes the following:
Hartz UltraGuard Plus Rid Worm for Large Dogs Indications
Warnings and cautions for Hartz UltraGuard Plus Rid Worm for Large Dogs
Direction and dosage information for Hartz UltraGuard Plus Rid Worm for Large Dogs
Hartz UltraGuard Plus Rid Worm for Large Dogs
This treatment applies to the following species:
Company: Hartz Mountain
(pyrantel pamoate)
Chewable Flavored Dog Wormer Tablets
For the removal of Large Roundworms (ascarids) (Toxocara canis; Toxascaris leonina) and Hookworms (Ancylostoma caninum; Uncinaria stenocephala) in dogs and puppies. To prevent reinfection of Toxocara canis in puppies and adult dogs and in lactating bitches after whelping.
Active Ingredients: Each tablet contains 113.5 mg Pyrantel base as Pyrantel Pamoate.
KEEP OUT OF REACH OF CHILDREN.
FOR USE ONLY AS DIRECTED BELOW.
ANADA#200-281 Approved by FDA
Directions For Use
For the removal of large roundworms (ascarids) and hookworms in adult dogs or young dogs, weighing more than 25 lbs., administer these tablets according to the weight of the animal.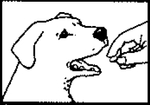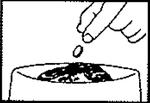 | | |
| --- | --- |
| WEIGHT | NUMBER OF TABLETS |
| 25 lbs. | Give 1/2 Tablet |
| 26-50 lbs. | Give 1 Tablet |
| 51-75 lbs. | Give 1 1/2 Tablets |
| 76 to 100 lbs. | Give 2 Tablets |
Note: For puppies or small dogs weighing less than 25 lbs., use Hartz® UltraGuard Plus® Rid Worm™ for Puppies & Small Dogs.
Offer the proper dosage by hand or in the dog's food container, with or without food. Do not withhold food from your dog prior to or after treatment. The presence of these parasites in mature dogs should be confirmed by laboratory fecal examination. A follow-up fecal examination should be conducted in 2 to 4 weeks after first treatment to determine the need for retreatment. Nursing bitches should be treated 2-3 weeks after whelping. Dogs should be routinely treated at monthly intervals to prevent reinfection with large roundworms found in their environment. Retreatment may be necessary at monthly intervals, as determined by laboratory fecal examinations or in animals kept in known contaminated quarters.
PRECAUTION: Consult your veterinarian for assistance in the diagnosis, treatment and control of parasitism.
If your dog looks or acts sick, do not treat with this product.
NOT FOR HUMAN CONSUMPTION.
Store at controlled room temperature 15-30°C (59-86° F)
For more information, call 1-800-275-1414.
To learn more visit www.hartzultraguard.com
Hartz® and other trademarks are trademarks of The Hartz Mountain Corporation.
Manufactured for The Hartz Mountain Corporation, 400 Plaza Drive, Secaucus, NJ 07094
| | |
| --- | --- |
| NET CONTENTS: | |
| 2 FLAVORED TABLETS | 504129 |
CPN: 10361830
THE HARTZ MOUNTAIN CORPORATION
400 PLAZA DRIVE, SECAUCUS, NJ, 07094-3688
| | | |
| --- | --- | --- |
| Telephone: | | 201-271-4800 |
| Technical Information: | | 800-275-1414 |
| Website: | | www.hartz.com |
| | |
| --- | --- |
| | THIS SERVICE AND DATA ARE PROVIDED "AS IS". DVMetrics assumes no liability, and each user assumes full risk, responsibility, and liability, related to its use of the DVMetrics service and data. See the Terms of Use for further details. |