Neut Injection Dosage
Generic name: SODIUM BICARBONATE 0.2g in 5mL
Dosage form: injection, solution
Drug classes: Antacids, Minerals and electrolytes, Urinary pH modifiers
Medically reviewed by Drugs.com. Last updated on Nov 25, 2022.
One vial (5 mL) of Neut added to a liter (1000 mL) of any of the following Hospira parenteral solutions will increase the pH to a more physiologic range. Specific pH may vary slightly from lot to lot.
Parenteral drug products should be inspected visually for particulate matter and discoloration prior to administration, whenever solution and container permit. See PRECAUTIONS.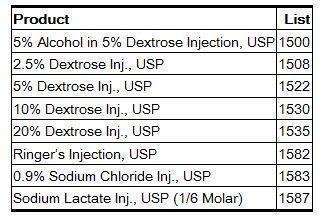 Addition of one vial of Neut to one-half liter (500 mL) is recommended to achieve a more physiologic pH of the following Hospira parenteral solutions:

Note: Some products, e.g., Amniosyn® solutions and those lonosol® and Normosol® formulas containing dextrose will NOT be brought to near physiologic pH by the addition of Neut. This is due to the relatively high buffer capacity of these fluids.
COMPATIBILITY & EFFECTIVNESS FO NEUT WITH ADDITIVES TO 5% DEXTROSE INJECTION (D5-W)
When medications are added to intravenous solutions, the resultant admixtures may or may not be compatible in solutions containing Neut (4%
sodium bicarbonate additive solution).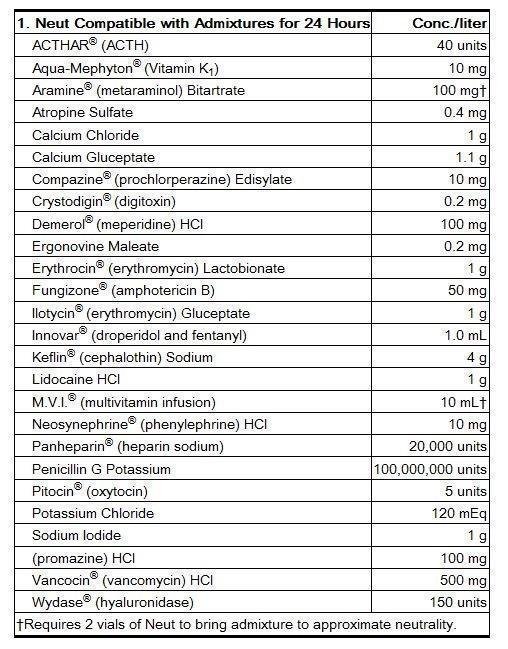 Following is a list of medications each added to one liter of 5% Dextrose Injection, USP (D5-W) classified according to their effect with Neut (4% sodium bicarbonate additive solution).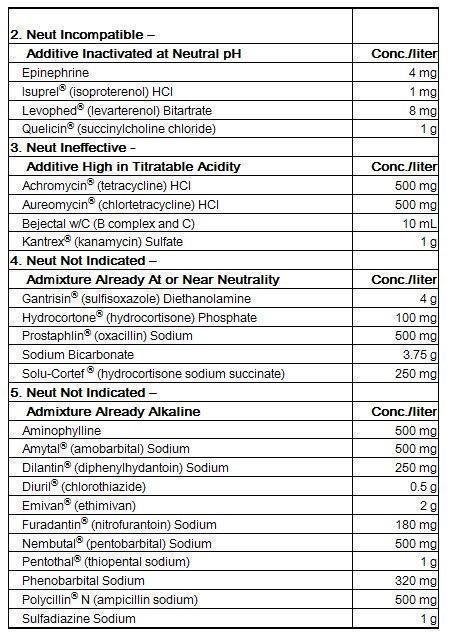 It should be noted that the admixtures were evaluated for physical compatibility, not for pharmacological compatibility. It, therefore, would be erroneous to circumvent medical judgment which must be involved in administering any solution that appears to be compatible on the basis of having no visible haze or precipitate. The inclusion of drugsin this study of their compatibility in solution does not imply their therapeutic usefulness or safety. This matter remains the judgment of the prescribing physician.
NOTE: The compatibility information contained herein in based on the studies involving Hospira dextrose only. Variationsin compativility could occur due to lot-to-lot variations or formula changes in the additivies or dextrose solutions of other manufacturers.
More about Neut (sodium bicarbonate)
Patient resources
Professional resources
Related treatment guides
Further information
Always consult your healthcare provider to ensure the information displayed on this page applies to your personal circumstances.