Tuberculosis
Medically reviewed by Drugs.com. Last updated on Nov 5, 2023.
What is tuberculosis (TB)?
TB is a severe infection caused by bacteria called Mycobacterium tuberculosis. TB usually starts in the lungs. The bacteria are easily spread from one person to another through the air. They can live in your body a long time without making you sick. This is called latent TB. Latent means you do not have symptoms, but you may develop them later. Latent TB can develop into active TB if it is not treated.
What increases my risk for TB?
Close contact with someone who has TB
Working as a healthcare provider
Travel to an area where TB is more common, such as Africa, Asia, or Latin America
Illegal drug use
A weak immune system
Living or working with large groups of people in small spaces
A medical condition, such as HIV, diabetes, cancer, or kidney disease
What are the signs and symptoms of TB?
You can spread TB to others even if you do not yet have symptoms. TB mostly affects the lungs, but almost any part of the body can be infected. You may have any of the following:
A fever or night sweats
Weight loss without trying
Tiredness
A cough for at least 3 weeks
Blood in your sputum
Chest or upper back pain, especially when you breathe
Shortness of breath
How is TB diagnosed?
A TB skin test is an injection into the skin of your forearm. Your skin is checked after 2 to 3 days for signs of TB. This test is done to see if you have been exposed to the germ that causes TB.
Blood tests may show a TB infection and how well your organs are working.
A sputum sample is tested for the germ that causes TB. It can also help healthcare providers choose the best treatment for you. Mucus from your lungs is collected in a cup when you cough. You may need to give 3 samples of your sputum, usually first thing in the morning.
A chest x-ray may show swelling, infection, or lung collapse.
A CT scan may show lung damage, infection, and TB. You may be given contrast liquid to help healthcare providers see your lungs better. Tell the healthcare provider if you have ever had an allergic reaction to contrast liquid.
How is TB treated?
TB is treated with antibiotic medicine to fight the infection. You may need to take 3 to 4 types of antibiotics for up to 8 weeks. Then you may need to take at least 2 types of antibiotics for another 18 to 31 weeks.
Latent TB may be treated with 1 antibiotic for 16 weeks. You may instead need to take 2 antibiotics for 12 weeks. You will take these daily or weekly, depending on the antibiotics used. Your healthcare provider may choose to give you 1 antibiotic to take daily for 24 to 36 weeks. This schedule is not as common.
What can I do to help prevent the spread of infection?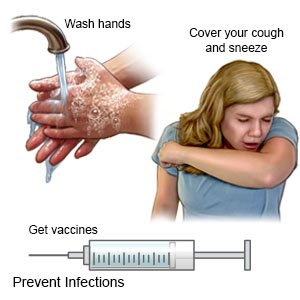 Wash your hands often. Wash your hands several times each day. Wash after you use the bathroom, change a child's diaper, and before you prepare or eat food. Use soap and water every time. Rub your soapy hands together, lacing your fingers. Wash the front and back of your hands, and in between your fingers. Use the fingers of one hand to scrub under the fingernails of the other hand. Wash for at least 20 seconds. Rinse with warm, running water for several seconds. Then dry your hands with a clean towel or paper towel. Use hand sanitizer that contains alcohol if soap and water are not available. Do not touch your eyes, nose, or mouth without washing your hands first.
Cover a sneeze or cough. Use a tissue that covers your mouth and nose. Throw the tissue away in a trash can right away. Use the bend of your arm if a tissue is not available. Then wash your hands well with soap and water or use a hand sanitizer. Do not stand close to anyone who is sneezing or coughing.
Take your medicine as directed. If you forget to take your pills one time, skip that dose and take the next scheduled dose. Write down that you missed a dose and tell your healthcare provider at your next visit.
Tell family, friends, and coworkers that you have TB. They may have latent TB and need to take medicine to prevent it from becoming active.
Where can I find more information?
CDC National Prevention Information Network
PO Box 6003
Rockville , MD 20849-6003
Phone: 1- 800 - 4585231
Web Address: http://www.cdcnpin.org

World Health Organization
Web Address: www.who.int

Call your local emergency number (911 in the US) if:
You have chest pain or cough up blood.
You have trouble breathing.
When should I call my doctor?
You have a fever, headache, and a stiff neck.
You have a rash or nausea, or you are vomiting.
The whites of your eyes or your skin look yellow.
Your urine looks like dark tea or coffee.
Your symptoms do not go away, or they get worse, even after you take medicine.
You have a cough that does not go away after 3 or 4 weeks.
You have questions or concerns about your condition or care.
Care Agreement
You have the right to help plan your care. Learn about your health condition and how it may be treated. Discuss treatment options with your healthcare providers to decide what care you want to receive. You always have the right to refuse treatment. The above information is an educational aid only. It is not intended as medical advice for individual conditions or treatments. Talk to your doctor, nurse or pharmacist before following any medical regimen to see if it is safe and effective for you.
© Copyright Merative 2023 Information is for End User's use only and may not be sold, redistributed or otherwise used for commercial purposes.
Learn more about Tuberculosis
Treatment options
Symptoms and treatments
Further information
Always consult your healthcare provider to ensure the information displayed on this page applies to your personal circumstances.