Lumbar Puncture
Medically reviewed by Drugs.com. Last updated on Jan 5, 2023.
AMBULATORY CARE:
A lumbar puncture
is a procedure used to collect cerebrospinal fluid (CSF). CSF is a clear, protective fluid that flows around the brain and inside the spinal canal. A lumbar puncture is usually done to check for an infection, inflammation, bleeding, or other conditions that affect the brain. It may also be done to remove CSF to reduce pressure in the brain.
How to prepare for a lumbar puncture:
You may need to have blood tests, x-rays, or other tests. Brain imaging tests, such as CT scan or MRI, may also be done.
Tell the provider if you have a blood disorder or have ever had a bleeding problem. Tell your provider if you are taking any medicine that may make you more likely to bleed. These include aspirin, clot busters, and blood thinners. The provider will have to decide if it is safe for you to have a lumbar puncture. He or she may have you stop taking certain blood thinners a few days before the procedure. Do not stop taking this medicine unless directed by your healthcare provider.
Tell your healthcare provider if you have any allergies. This includes an allergy to a cleansing solution, such as iodine, or any numbing medicine.
Tell your healthcare provider if you have a blood disorder or have ever had a bleeding problem.
Ask a family member or friend to drive you home after your procedure. Do not drive yourself home.
What will happen during a lumbar puncture: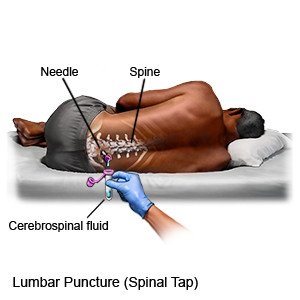 You will be asked to lie on your side or to sit up. If you are on your side, your knees will be bent and drawn up toward your chest. Your neck will be tucked toward your chest and you may be given a pillow. If you are sitting, you will need to bend forward with your neck tucked toward your chest. You may be given medicine to help you relax or make you drowsy.
Your healthcare provider will feel your lower spine to look for the best place to do the lumbar puncture. He or she will mark this position using a marker. You may be given one or more shots of numbing medicine under the skin. A needle is inserted between the vertebrae (spine) in your lower back. You may feel some pushing or discomfort as the needle enters your back. Tell your healthcare provider if you have pain that does not stop within a few seconds. Your healthcare provider may need to remove, reinsert, or change the position of the needle.
Your healthcare provider may take readings of your CSF pressure. This is done by connecting a measuring device to the needle. After the pressure is measured, the device is removed and CSF is allowed to flow out of the needle. Samples of your CSF may be taken and placed in sterile bottles. The needle will then be taken out and the area will be covered with a bandage.
What to expect after a lumbar puncture:
Lie flat in bed until your healthcare provider says it is okay to get up. Tell a healthcare provider if you have a headache, back pain, or tingling, numbness, or weakness below your waist.
Medicines may be given to relieve pain.
You may develop a headache during the first few hours after your procedure. The headache may last for several days. It may be mild to severe and may get worse when you sit or stand.
Risks of a lumbar puncture:
You may have neck or back pain. There may be bleeding, infection, or injury to a disc in your spine. Spinal fluid may leak from the puncture site. Your nerves or spinal cord may be damaged. Patients who have blood disorders or who are taking certain medicines are at a higher risk for problems.
Seek care immediately if:
You have a severe headache that does not get better after you lie down.
You have a fever.
You have a stiff neck or trouble thinking clearly.
Your legs, feet, or other parts below the waist feel numb, tingly, or weak.
You have bleeding or a discharge coming from the area where the needle was put into your back.
You have severe pain in your back or neck.
Call your doctor if:
You have questions or concerns about your condition or care.
Medicines:
You may need any of the following:
Acetaminophen decreases pain and fever. It is available without a doctor's order. Ask how much to take and how often to take it. Follow directions. Read the labels of all other medicines you are using to see if they also contain acetaminophen, or ask your doctor or pharmacist. Acetaminophen can cause liver damage if not taken correctly.
NSAIDs help decrease swelling and pain or fever. This medicine is available with or without a doctor's order. NSAIDs can cause stomach bleeding or kidney problems in certain people. If you take blood thinner medicine, always ask your healthcare provider if NSAIDs are safe for you. Always read the medicine label and follow directions.
Prescription pain medicine may be given. Ask your healthcare provider how to take this medicine safely. Some prescription pain medicines contain acetaminophen. Do not take other medicines that contain acetaminophen without talking to your healthcare provider. Too much acetaminophen may cause liver damage. Prescription pain medicine may cause constipation. Ask your healthcare provider how to prevent or treat constipation.
Take your medicine as directed. Contact your healthcare provider if you think your medicine is not helping or if you have side effects. Tell your provider if you are allergic to any medicine. Keep a list of the medicines, vitamins, and herbs you take. Include the amounts, and when and why you take them. Bring the list or the pill bottles to follow-up visits. Carry your medicine list with you in case of an emergency.
Care for a post-lumbar puncture headache:
Drink more liquid than usual after your lumbar puncture. Ask how much liquid is right for you. Caffeine may be used to treat a headache. Drinks such as coffee, tea, or some soft drinks have caffeine. Caffeine is also available over the counter in tablet form. Ask about using caffeine to treat your headache. Do not drink alcohol. Alcohol can make your headache worse.
Lie down or rest to ease your headache pain.
Follow up with your healthcare provider as directed:
Write down your questions so you remember to ask them during your visits.
© Copyright Merative 2022 Information is for End User's use only and may not be sold, redistributed or otherwise used for commercial purposes.
The above information is an educational aid only. It is not intended as medical advice for individual conditions or treatments. Talk to your doctor, nurse or pharmacist before following any medical regimen to see if it is safe and effective for you.
Further information
Always consult your healthcare provider to ensure the information displayed on this page applies to your personal circumstances.