Carpal Tunnel Surgery
Medically reviewed by Drugs.com. Last updated on Jan 5, 2023.
AMBULATORY CARE:
What you need to know about carpal tunnel syndrome (CTS) surgery:
CTS surgery, or decompression, is used to take pressure off the median nerve in your wrist. The median nerve controls muscles and feeling in the hand. Surgery may be done through an opening on your palm. This is called open surgery. Your surgeon may instead put a scope and tools into 1 or 2 small incisions on your wrist or palm. This is called endoscopic surgery.
How to prepare for CTS surgery:
Your surgeon will tell you how to prepare for surgery. He or she may tell you not to eat or drink anything after midnight on the day of your surgery. Arrange to have someone drive you home after surgery.
Tell your surgeon all the medicines you currently take. He or she will tell you if you need to stop any medicine for surgery, and when to stop. He or she will tell you which medicines to take or not take on the day of surgery.
Tell your surgeon about any allergies you have, including to anesthesia or medicines. You may get antibiotics before surgery to prevent an infection. Tell your healthcare provider if you have ever had an allergic reaction to antibiotics.
What will happen during CTS surgery:
You may be given local or regional anesthesia to help prevent pain during surgery. Local anesthesia will make only your wrist numb. Regional anesthesia will make your wrist, hand, and arm numb. You may instead be given general anesthesia to keep you asleep and free from pain. You may need this anesthesia if your surgeon thinks surgery will take a long time or involve a large part of your wrist.
For open surgery, your surgeon will make an incision on the palm of your hand. The incision may extend to your wrist. A ligament will be cut to release the pressure on the nerve. This ligament is a band of tissue that connects joints in your wrist. Your surgeon may also remove scar tissue or anything else that may be pressing on the nerve.
For endoscopic surgery, your surgeon will make 1 or 2 incisions on your wrist or palm. He or she will insert the endoscope with the camera through an incision to help guide him or her during surgery. Tools may be put in your wrist to help protect the nerves. Your surgeon will then cut the ligament that is pressing on the nerve.
The incision will be closed with stitches and covered with bandages.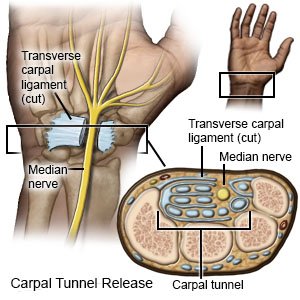 What to expect after CTS surgery:
You will be taken to a room where you will rest until you are fully awake and gain feeling in your arm. Do not try to get out of bed until your provider says it is okay.
A splint may be placed on your wrist to keep it from moving. Your healthcare provider may ask you to move your fingers soon after your surgery.
Your provider will show you how to keep your hand elevated (raised) above the level of your heart. This helps prevent or relieve pain and swelling. You will need to continue to elevate your hand throughout the day at home. Your provider will tell you how often to do this, and for how many days.
You may need to return in about 10 days to have stitches removed.
Pain or numbness in your hand may get better quickly or continue for weeks or months.
Your provider will tell you activities you can do or need to avoid. This depends on which hand needed surgery. Surgery on your dominant hand will take longer to heal.
Risks of CTS surgery:
You may bleed more than expected or get an infection. Your skin may bruise. A thick, painful scar may form where you had surgery. You may develop trigger finger (fingers locked in a bent position). Surgery may cause long-term numbness or weakness in your fingers, hand, or wrist. Your symptoms may not go away, and you may need surgery again.
Seek care immediately if:
Your stitches come apart.
Blood soaks through your bandage.
You cannot feel or move your hand or fingers.
You feel a lump in your wrist.
Call your doctor or hand specialist if:
You have a fever or chills.
You feel weak or achy.
You have pain, even after you take medicine.
You have swelling or numbness in your fingers that continues longer than you were told to expect.
Your finger becomes stuck in the same position.
You have questions or concerns about your condition or care.
Medicines:
You may need any of the following:
Antibiotics help prevent or fight a bacterial infection.
Prescription pain medicine may be given. Ask your healthcare provider how to take this medicine safely. Some prescription pain medicines contain acetaminophen. Do not take other medicines that contain acetaminophen without talking to your healthcare provider. Too much acetaminophen may cause liver damage. Prescription pain medicine may cause constipation. Ask your healthcare provider how to prevent or treat constipation.
Take your medicine as directed. Contact your healthcare provider if you think your medicine is not helping or if you have side effects. Tell your provider if you are allergic to any medicine. Keep a list of the medicines, vitamins, and herbs you take. Include the amounts, and when and why you take them. Bring the list or the pill bottles to follow-up visits. Carry your medicine list with you in case of an emergency.
Self-care:
Apply ice to your wrist. Ice helps decrease swelling and pain. Use an ice pack, or put crushed ice in a plastic bag. Cover the bag with a towel. Place it on your wrist for 15 to 20 minutes every hour, or as directed.
Keep your hand elevated (raised) while you sleep after surgery. Prop your arm on pillows to keep your hand elevated comfortably. Your healthcare provider may tell you to do this for the first week after surgery. You may need to elevate your arm several times a day. This helps decrease pain and swelling.
Wear your splint, if directed. Your healthcare provider will tell you when to wear it, and for how many days. Keep moving your fingers while you wear the splint.
Limit activity as directed. Do not pull, lift, or move heavy objects until your healthcare provider says it is okay. Ask when you can return to work, drive, or play contact sports. Take time to rest your hand. If you work on a computer, rest your hand often.
Go to physical or occupational therapy, if directed. A physical therapist can teach you exercises to help improve movement and strength. Physical therapy can also help decrease pain and loss of function. An occupational therapist can help you find ways to do work and other activities to reduce strain on your wrist.
Follow up with your doctor or hand specialist as directed:
You may need to have your stitches taken out. Write down your questions so you remember to ask them during your visits.
© Copyright Merative 2022 Information is for End User's use only and may not be sold, redistributed or otherwise used for commercial purposes.
The above information is an educational aid only. It is not intended as medical advice for individual conditions or treatments. Talk to your doctor, nurse or pharmacist before following any medical regimen to see if it is safe and effective for you.
Learn more about Carpal Tunnel Surgery
Care guides
Further information
Always consult your healthcare provider to ensure the information displayed on this page applies to your personal circumstances.