Salix Injection (Canada)
This page contains information on Salix Injection for
veterinary use
.
The information provided typically includes the following:
Salix Injection Indications
Warnings and cautions for Salix Injection
Direction and dosage information for Salix Injection
Salix Injection
This treatment applies to the following species:
Manufacturer: Merck Animal Health
Furosemide Injection
DIN 00116238
Diuretic-Saluretic Sterile
Active Ingredient
Each mL contains 50 mg of furosemide.
Preservatives: Quatresin® (Myristyl gamma picolinium chloride) 0.02% and Sodium Sulfite 0.2% in each mL.
Contains: Edetate disodium, monoethanolamine, sodium chloride and water.
VETERINARY USE ONLY
SALIX (furosemide) is a chemically distinct diuretic and saluretic pharmacodynamically characterized by:
A high degree of efficacy; A rapid onset of action of comparatively short duration; Low toxicity with excellent patient tolerance; Action at the proximal tubule, the ascending limb of the loop of Henle, and the distal tubule.
Chemistry
SALIX is an anthranilic acid derivative. Chemically, it is a 4-chloro-N-furfuryl-5-sylfamoyl-anthranilic acid.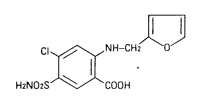 Salix Injection Indications
SALIX is indicated in those conditions where a diuretic effect is desired. It is effective in edema and ascites of cardiac or renal origin dogs, in udder edema of cattle and in stocking of dependent edema of horses. In dogs, cats and horses, it is effective in reducing localized non-inflammatory edema such as that caused by trauma. The rationale for diuretic therapy is dictated by clinical pathology causing the condition.
Contraindications And Adverse Reactions
SALIX is a highly effective diuretic-saluretic which, if given in excessive amounts or for prolonged periods, may result in dehydration and electrolyte imbalance. Therefore the dosage and schedule may have to be adjusted to the patient's needs. The animal should be observed for early signs of electrolyte imbalance and corrective measures administered. Early signs of electrolyte imbalance are increased thirst, lethargy, drowsiness or restlessness, fatigue, oliguria, gastrointestinal disturbances and tachycardia. Special attention should be given to potassium levels. SALIX may lower serum calcium levels and cause tetany in rare cases of animals having an existing hypocalcemic tendency.
Electrolyte balance should be monitored prior to surgery in patients receiving SALIX. Imbalances must be corrected by the administration of suitable fluid therapy.
Sulfonamide diuretics have reported to decrease arterial responsiveness to pressor amines and to enhance the effect of tubocurarine. Great caution should be exercised in administering curare or its derivatives to patients on SALIX therapy due to the possibility of additive hypotensive effects. For this reason it is advisable to discontinue SALIX one week prior to any elective surgery where curare might be used.
It is advisable to discontinue SALIX therapy one week prior to the use of a general anesthetic.
Excessive loss of potassium in patients receiving digitalis or its glycosides may precipitate digitalis toxicity. Caution should be exercised in animals administered potassium-depleting steroids.
Potassium supplements should be administered where high doses of SALIX are used over prolonged periods.
SALIX given intravenously should be administered slowly to avoid vomiting and/or ataxia.
SALIX is not an antibacterial; udder swelling due to bacterial infections should receive other appropriate therapy.
Warnings
MILK TAKEN FROM TREATED ANIMALS DURING THE COURSE OF TREATMENT AND WITHIN 48 HOURS AFTER THE LATEST TREATMENT WITH THIS DRUG MUST NOT BE USED IN FOOD.
TREATED CATTLE MUST NOT BE SLAUGHTERED FOR USE IN FOOD FOR AT LEAST 48 HOURS AFTER THE LATEST TREATMENT WITH THIS DRUG.
THIS DRUG IS NOT TO BE ADMINISTERED TO HORSES THAT ARE TO BE SLAUGHTERED FOR USE IN FOOD.
Precautions
Due to lack of data, the use of SALIX is contraindicated in pregnant queens and bitches and all intravenous use is contraindicated in cats.
Pharmacology
Investigations into the mode of action of SALIX have utilized the most recent methods in nephrology: micropuncture, stop-flow experiments and various clearance studies in dogs and humans. It has been demonstrated that SALIX inhibits primarily the reabsorption of sodium not only in the proximal and distal tubule but more importantly in the ascending limb of the loop of Henle. The action on the distal tubule is independent of an inhibitory effect on carbonic anhydrase and aldosterone. The prompt onset of action is due to rapid absorption and poor lipid solubility. The low lipid solubility and rapid renal excretion minimize the possibility of tissue accumulation or crystalluria. Evidence indicates that SALIX is often effective in humans with markedly reduced glomerular filtration rates, in which other diuretics usually fail. SALIX does not reduce the G.F.R. in man. As a result of its action on the ascending limb, it generally produces a urine which is isotonic or hypotonic, in which the concentration of sodium is equal to or less than in body fluids. The onset of diuresis following oral administration is usually less than one hour with a duration of 6 to 8 hours. With intravenous injection of SALIX Parenteral diuresis usually begins within a few minutes and lasts up to 3 hours.
Salix Injection Dosage And Administration
Dog and Cat: SALIX Parenteral (5% w/v Solution) - 5 mg/kg body weight (2 mg per pound) given once or twice daily at a 6 to 8 hour interval. May be given by either intramuscular or intravenous route in dogs, but only by the intramuscular route in cats.
Cattle: SALIX Parenteral (5% w/v Solution) - 0.5 to 1 mg/kg body weight (0.25 to 0.5 mg/lb) administered intramuscularly or intravenously or 500 mg (10 mL) once daily or 250 mg (5 mL) twice daily per 454 kg (1000 lb) animal at 12 hour intervals. Treatment not to exceed three days.
Horses: SALIX Parenteral (5% w/v Solution) - 0.5 to 1 mg/kg body weight (0.25 to 0.5 mg/lb) administered intramuscularly or intravenously or 500 mg (10 mL) once daily or 250 mg (5 mL) twice daily per 454 kg (1000 lb) animal at 12 hour intervals.
Dosage Discussion
Dog and Cat: A prompt diuresis usually follows the initial treatment. In severe or refractory cases the dose may be doubled or increased by increments of 2.2 mg/kg (1 mg/lb) body weight. Re-examination of the patient and close liaison with the client are necessary to establish an optimum dosage schedule.
In acute conditions in dogs, where an emergency exists, slow intravenous administration of the calculated dose may be repeated in 1 to 2 hours.
Mobilization of edema may best be accomplished by a combination of parenteral and oral administration.
For the sake of safety and efficiency, a treatment schedule of every second day or 2 to 4 consecutive days per week may be most desirable.
Diuretic therapy should be discontinued after reduction of edema and maintained only after programming a dosage schedule sufficient to prevent recurrence.
Due to rapid onset and relatively short duration of action, administration may be timed to control the diuretic period for the convenience of the client or veterinarian.
Cattle: A prompt diuresis usually ensures from the initial treatment. A reduction of the edema and softening of the teats and udder usually occurs within 24 to 48 hours after the start of treatment. If no effect is noticed within 72 hours, the animal should be re-examined.
SUPPLY
50 mL vials containing 50 mg SALIX per mL.
Storage
Store at room temperature, below 25°C. If crystallized, shake at room temperature until crystals dissolve.
Intervet Canada Corp., 16750, route Transcanadienne, Kirkland QC, H9H 4M7
For technical enquiries, call toll free 1 888 306-0069.
| | | |
| --- | --- | --- |
| Net | CODE | |
| 50mL | 709352 | 510567 GUCA 012 |
NAC No.: 12081422
MERCK ANIMAL HEALTH
Intervet Canada Corp.
16750 ROUTE TRANSCANADIENNE, KIRKLAND, QC, H9H 4M7
| | | |
| --- | --- | --- |
| Order Desk: | | 514-428-7013 |
| Toll-Free: | | 866-683-7838 |
| Fax: | | Toll-free 888-498-4444; local 514-428-7014 |
| Website: | | www.merck-animal-health.ca |
| | |
| --- | --- |
| | Every effort has been made to ensure the accuracy of the Salix Injection information published above. However, it remains the responsibility of the readers to familiarize themselves with the product information contained on the Canadian product label or package insert. |