Salix Injection (Canada)
This page contains information on Salix Injection for
veterinary use
.
The information provided typically includes the following:
Salix Injection Indications
Warnings and cautions for Salix Injection
Direction and dosage information for Salix Injection
Salix Injection
This treatment applies to the following species:
Company: Merck Animal Health
Furosemide injection USP
Diuretic-Saluretic Sterile
DIN 00116238
VETERINARY USE ONLY
Description
Furosemide is a loop of Henle diuretic.
Each mL contains:
Active Ingredient
50 mg of furosemide.
Preservative: 15 mg benzyl alcohol.
Non-medicinal ingredients: Edetate disodium, monoethanolamine, sodium chloride, sodium sulfite and water.
Salix Injection Indications
SALIX is indicated in those conditions where a diuretic effect is desired. It is effective in edema and ascites of cardiac or renal origin in dogs, in udder edema of cattle and in stocking of dependent edema of horses. In dogs, cats and horses it is effective in reducing localized non-inflammatory edema such as that caused by trauma.
Salix Injection Dosage And Administration
Dogs and Cats: SALIX - 5 mg/kg body weight (2 mg per pound) given once or twice daily. May be given by either intramuscular or intravenous route in dogs, but only by the intramuscular route in cats.
A prompt diuresis usually follows the initial treatment. In severe or refractory cases the dose may be doubled or increased by increments of 2.2 mg/kg (1 mg/lb) body weight.
In acute conditions in dogs, where an emergency exists, slow intravenous administration of the calculated dose may be repeated in 1 to 2 hours.
Diuretic therapy should be discontinued after resolution of the edema, or maintained to prevent recurrence. Re-examination of the patient and close liaison with the client are necessary to establish an optimum dosage schedule.
Cattle: SALIX - 0.5 to 1 mg/kg body weight (0.25 to 0.5 mg/lb) administered intramuscularly or intravenously or 500 mg (10 mL) once daily or 250 mg (5 mL) twice daily per 454 kg (1000 lb) animal at 12 hour intervals.
A prompt diuresis usually ensues from the initial treatment. A reduction of the edema and softening of the teats and udder usually occurs within 24 to 48 hours after the start of treatment. If no effect is noticed within 72 hours, the animal should be re-examined.
Treatment not to exceed three days.
Horses: SALIX - 0.5 to 1 mg/kg body weight (0.25 to 0.5 mg/lb) administered intramuscularly or intravenously or 500 mg (10 mL) once daily or 250 mg (5 mL) twice daily per 454 kg (1000 lb) animal at 12 hour intervals.
Contraindications
Due to lack of data, the use of SALIX is contraindicated in pregnant queens and bitches and all intravenous use is contraindicated in cats.
Salix is contraindicated in anuric animals and in animals with a history of hypersensitivity to furosemide.
Salix Injection Cautions
Dehydration and electrolyte abnormalities should be monitored in patients receiving SALIX. Dehydration and electrolyte abnormalities should be corrected by the administration of suitable fluid therapy.
SALIX, if given in excessive amounts or for prolonged periods, may result in dehydration and electrolyte imbalance. Therefore the dosage and schedule may have to be adjusted to the patient's needs.
The animal should be observed for early signs of electrolyte imbalance and corrective measures administered. Early signs of electrolyte imbalance are increased thirst, lethargy, drowsiness or restlessness, fatigue, oliguria, gastrointestinal disturbances and tachycardia. Special attention should be given to potassium levels. SALIX may lower serum calcium levels and cause tetany in rare cases of animals having an existing hypocalcemic tendency.
Excessive loss of potassium in patients receiving digitalis or its glycosides may precipitate digitalis toxicity. Caution should be exercised in animals administered potassium-depleting corticosteroids.
Furosemide causes a temporary decrease in blood pressure. Caution should be used when administering other drugs that decrease blood pressure because of the possibility of additive hypotensive effects.
Potassium supplements should be administered where high doses of SALIX are used over prolonged periods.
SALIX given intravenously should be administered slowly to avoid vomiting and/or ataxia.
SALIX is not an antibacterial; udder swelling due to bacterial infections should receive other appropriate therapy.
Warnings
MILK TAKEN FROM TREATED ANIMALS DURING TREATMENT AND WITHIN 48 HOURS AFTER THE LATEST TREATMENT WITH THIS DRUG MUST NOT BE USED AS FOOD.
TREATED CATTLE MUST NOT BE SLAUGHTERED FOR USE IN FOOD FOR AT LEAST 48 HOURS AFTER THE LATEST TREATMENT WITH THIS DRUG.
THIS DRUG IS NOT TO BE ADMINISTERED TO HORSES THAT ARE TO BE SLAUGHTERED FOR USE IN FOOD.
Adverse Reactions
The following adverse events have been reported: dehydration (pre renal azotemia), electrolyte disorders, vomiting, diarrhea, decreased appetite, weakness, restlessness, ataxia and injection site swelling.
Transient ototoxicity may occur in dogs and cats. Adverse reactions at therapeutic doses are generally the result of a diuretic main effect, e.g., hemoconcentration, reduced pressure in the pulmonary circulation, increased peripheral resistance and increased heart rate.
Chemistry
SALIX is an anthranilic acid derivative. Chemically, it is a 4-chloro-N-furfuryl-5-sylfamoyl-anthranilic acid.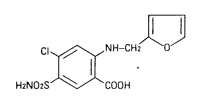 Pharmacology
SALIX inhibits primarily the reabsorption of sodium not only in the proximal and distal tubule but more importantly in the ascending limb of the loop of Henle. The action on the distal tubule is independent of an inhibitory effect on carbonic anhydrase and aldosterone. The prompt onset of action is due to rapid absorption and poor lipid solubility. The low lipid solubility and rapid renal excretion minimize the possibility of tissue accumulation or crystalluria. As a result of its action on the ascending limb, it generally produces a urine which is isotonic or hypotonic, in which the concentration of sodium is equal to or less than in body fluids. Following oral administration in dogs maximum blood levels were obtained 1-4 hours post-administration. The onset of diuresis following oral administration is usually less than one hour with a duration of 6 to 8 hours. With intravenous injection of SALIX parenteral diuresis usually begins within a few minutes and declined at 60 minutes. Effects last up to 3 hours. Intravenously, 55-69% was excreted within 24 hours of administration.
Storage
Store at room temperature, below 25° C. Do not freeze. Store vial in carton to protect from light. If crystallized, shake at room temperature until crystals dissolve.
Discard contents 4 weeks after the first dose is removed.
HOW SUPPLIED
50 mL vials containing 50 mg SALIX per mL.
Intervet Canada Corp., 16750, route Transcanadienne, Kirkland, Qc H9H 4M7
1-866-683-7838
Intervet Canada Corp. is a subsidiary of Merck & Co., Inc.
® Registered trademark of Intervet International B.V. Used under license.
January 19, 2015
CPN: 1208142.3
MERCK ANIMAL HEALTH
Intervet Canada Corp.
16750 ROUTE TRANSCANADIENNE, KIRKLAND, QC, H9H 4M7
| | | |
| --- | --- | --- |
| Order Desk: | | 514-428-7013 |
| Toll-Free: | | 866-683-7838 |
| Fax: | | Toll-free 888-498-4444; local 514-428-7014 |
| Website: | | www.merck-animal-health.ca |
| | |
| --- | --- |
| | THIS SERVICE AND DATA ARE PROVIDED "AS IS". Animalytix assumes no liability, and each user assumes full risk, responsibility, and liability, related to its use of the Animalytix service and data. See the Terms of Use for further details. |