MicroLyte VET
This page contains information on MicroLyte VET for
veterinary use
.
The information provided typically includes the following:
MicroLyte VET Indications
Warnings and cautions for MicroLyte VET
Direction and dosage information for MicroLyte VET
MicroLyte VET
This treatment applies to the following species:
Company: Imbed Biosciences
Veterinary Wound Matrix
INSTRUCTIONS
Description
MicroLyte® VET veterinary wound matrix is a sterile, single use unsupported synthetic absorbent composed primarily of bioresorbable polyvinyl alcohol with a polymeric surface coating containing ionic and metallic silver. It has very low amounts of silver, with a maximum of 0.16 mg silver per square inch.
MECHANISM OF ACTION: The matrix absorbs wound fluid and forms a soft material that conforms to the wound surface and maintains a moist environment. The matrix contains silver only to prevent or minimize microbial growth within the matrix.
INTENDED USE: MicroLyte® VET wound matrix is indicated for the management of veterinary wounds such as partial and full thickness pressure ulcers, first and second degree burns, abrasions and lacerations, and surgical wounds. MicroLyte® VET wound matrix may be used over debrided and grafted partial thickness wounds
Directions For Use
● Clean the wound area using sterile saline solution.
● If the wound is dry, moisten it with sterile saline and remove excess saline with sterile gauze.
● Avoid contact with wet surfaces until placed on a moist wound bed.
● Cut the MicroLyte® VET wound matrix to size slightly larger than the wound. Multiple sheets can be used to tile the entire wound area.
● Apply MicroLyte® VET wound matrix directly to wound bed. When placed on a moist wound bed, the dressing forms a soft conforming sheet.
● MicroLyte® VET wound matrix should be used with a secondary cover dressing. Cover with a moisture retentive dressing, such as, a film dressing, foam dressing, wet-to-dry gauze or other appropriate dressing. See individual cover dressing package inserts for complete instructions for use.
● All wounds should be inspected daily.
● Reapply MicroLyte® VET wound matrix every 3 days, depending on the wound and the healing progression, or when clinically indicated (e.g. leakage, excessive bleeding, increased pain).
● To reapply, carefully remove the secondary cover dressing. MicroLyte® VET wound matrix is normally removed with the secondary cover dressing. Any remaining MicroLyte® VET wound matrix will be removed with normal wound cleansing.
● Change the secondary cover dressing as needed or when MicroLyte® VET wound matrix is re-applied.
● Duration of treatment depends on wound type and healing conditions.
PRECAUTIONS FOR USE:
● This product is intended for veterinary use only.
● Warning: Frequent or prolonged use of this product may result in permanent discoloration of skin.
● Warning: Avoid use with iodophore containing products that may reduce the effectiveness of silver in the matrix.
● Secondary dressings should be used as stated in the "Directions For Use" section.
● MicroLyte® VET wound matrix should not be used with other wound care products other than those listed in the "Directions For Use".
SAFETY & EFFECTIVENESS: Preclinical testing has been performed on MicroLyte® VET wound matrix and its biocompatibility has been demonstrated through appropriate in vitro and in vivo tests, including cytotoxicity, acute systemic toxicity, subacute/subchronic toxicity, acute intracutaneous reactivity, skin sensitization, and tissue implantation tests. Antimicrobial activity has been demonstrated by relevant standard in vitro microbiological assays. MicroLyte® VET wound matrix was shown to be effective against microbes most frequently associated with wound infections, including, Staphylococcus aureus (ATCC 6538), MRSA (ATCC 33591), VRE (ATCC 55175), Pseudomonas aeruginosa (ATCC 9027), Escherichia coli (ATCC 8739), Klebsiella pneumoniae (ATCC 4352), Candida tropicalis (ATCC 750) and Candida albicans (ATCC 10231). The product has been determined as being non-pyrogenic.
Contraindications
Do not use on patients that are sensitive to silver or that have had an allergic reaction to MicroLyte® VET wound matrix or one of its components.
STORAGE CONDITIONS: Store at room temperature (15°C/59°F - 30°C/86°F). Keep dry.
If further information is needed, please contact Imbed Biosciences Inc.
How Supplied
MicroLyte
®
VET wound matrix is individually packaged in foil pouch and supplied in boxes of 5 units. Sterilization by E-beam radiation. Sterility is guaranteed unless pouch is damaged or opened. Single use only.
REF. 99000 2 inch x 2 inch (5 cm x 5 cm)
REF. 99001 4 inch x 4 inch (10 cm x 10 cm)
MANUFACTURED BY
Imbed Biosciences, Inc., 5520 Nobel Drive, Suite 100, Madison, WI 53711
Ph: 608.237.1525
Fax: 608.237.1271
www.imbedbio.com
Made in USA
© 2018 MicroLyte® is a registered trademark of Imbed Biosciences, Inc.
Explanation of symbols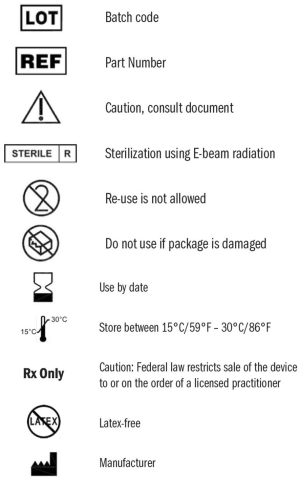 P/N 49005, Rev. B, Nov. 2018
CPN: 2056000.1
IMBED BIOSCIENCES
5520 Nobel Drive, SUITE 100, MADISON, WI, 53711
| | | |
| --- | --- | --- |
| Telephone: | | 608-807-2358 |
| Customer Care No.: | | 608-237-1590 |
| Website: | | www.microlytevet.com |
| Email: | | info@microlytevet.com |
| | |
| --- | --- |
| | Every effort has been made to ensure the accuracy of the MicroLyte VET information published above. However, it remains the responsibility of the readers to familiarize themselves with the product information contained on the US product label or package insert. |