Equitel Paste
This page contains information on Equitel Paste for
veterinary use
.
The information provided typically includes the following:
Equitel Paste Indications
Warnings and cautions for Equitel Paste
Direction and dosage information for Equitel Paste
Equitel Paste
This treatment applies to the following species:
Company: VetOne
(pyrantel pamoate)
Paste
Equine Anthelmintic
FOR ORAL USE IN HORSES ONLY
ANADA 200-350, Approved By FDA
Apple Flavor
VetOne® Equitel™ Paste (pyrantel pamoate) is a pale yellow to buff paste containing 43.9% w/w pyrantel pamoate in an inert vehicle. Each syringe contains 3.6 grams pyrantel base in 23.6 grams paste. Each milliliter contains 171 milligrams pyrantel base as pyrantel pamoate.
READ ENTIRE CARTON CAREFULLY BEFORE USING THIS PRODUCT
Composition
Pyrantel pamoate is a compound belonging to a family classified chemically as tetrahydropyrimidines. It is a yellow, water-insoluble crystalline salt of the tetrahydropyrimidine base and pamoic acid containing 34.7% base activity. The chemical structure and name are given below.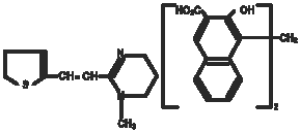 Chemical Name:
(E)-1,4,5,6-tetrahydro-1-methyl-2-[2-(2-thienyl)-vinyl]-pyrimidine 4,4' methylenebis [3-hydroxy-2-naphtholate] (1:1)
Equitel Paste Indications
For the removal and control of mature infections of large strongyles (Strongylus vulgaris, S. edentatus, S. equinus); small strongyles; pinworms (Oxyuris equi); and large roundworms (Parascaris equorum) in horses and ponies. Consult your veterinarian for assistance in the diagnosis, treatment, and control of parasitism.
Dosage And Treatment
VetOne® Equitel™ Paste (pyrantel pamoate) is to be administered as a single oral dose of 3 milligrams pyrantel base per pound of body weight. The syringe has four weight mark increments. Each weight mark indicates the recommended dose for 300 pounds of body weight.
| | | |
| --- | --- | --- |
| Body Weight Range | Quantity | mg Pyrantel Base |
| up to 300 lb | 1/4 syringe | 900 mg |
| 301 to 600 lb | 1/2 syringe | 1800 mg |
| 601 to 900 lb | 3/4 syringe | 2700 mg |
| 901 to 1200 lb | 1 full syringe | 3600 mg |
NOTE: Position ring-gauge over appropriate mark on plunger.
For maximum control of parasitism, it is recommended that foals (2-8 months of age) be dosed every 4 weeks. To minimize the potential source of infection that the mare may pose to the foal, the mare should be treated 1 month prior to anticipated foaling date followed by re-treatment 10 days to 2 weeks after birth of foal. Horses and ponies over 8 months of age should be routinely dosed every 6 weeks.
It is recommended that severely debilitated animals not be treated with this preparation.
Administration
After removing the cap, the paste should be deposited on the dorsum of the tongue. Introduce the nozzle end of the syringe at the corner of the mouth. Direct the syringe backwards and depress the plunger to deposit the paste onto the tongue. Given in this manner, it is unlikely that rejection of the paste will occur.
Raising the horse's head sometimes assists in the swallowing process. When only part of the paste has been used, replace the cap on the syringe nozzle.
Efficacy
Critical (worm count) studies in horses demonstrated that pyrantel pamoate administered at the recommended dosage was efficacious against mature infections of Strongylus vulgaris (>90%), S. edentatus (69%), S. equinus (>90%), Oxyuris equi (81%), Parascaris equorum (>90%), and small strongyles (>90%).
WARNING: Do not use in horses intended for human consumption.
KEEP OUT OF REACH OF CHILDREN
FOR ORAL USE ONLY
FOR ANIMAL USE ONLY
STORE AT 20°C TO 25°C (68°F TO 77°F); excursions permitted between 15°C and 30°C (between 59°F to 86°F).
Manufactured by: Bimeda-MTC Animal Health Inc., Cambridge, Ontario, Canada N3C 2W4
Manufactured for: MWI, Boise, ID 83705
www.VetOne.net
Net Weight:

NDC

23.6 g (0.83 oz)

13985-742-23

V1 503015

8EQU042 Rev. 12/16

8SAP038 Rev. 12/16
CPN: 1315226.0
VET ONE
Distributed by MWI Animal Health
3041 W. PASADENA DR., BOISE, ID, 83705
| | | |
| --- | --- | --- |
| Customer Service: | | 888-694-8381 |
| Toll-Free: | | 800-824-3703 |
| Website: | | www.mwianimalhealth.com |
| | | www.vetone.net |
| | |
| --- | --- |
| | THIS SERVICE AND DATA ARE PROVIDED "AS IS". DVMetrics assumes no liability, and each user assumes full risk, responsibility, and liability, related to its use of the DVMetrics service and data. See the Terms of Use for further details. |