DiroCHEK (Canada)
This page contains information on DiroCHEK for
veterinary use
.
The information provided typically includes the following:
DiroCHEK Indications
Warnings and cautions for DiroCHEK
Direction and dosage information for DiroCHEK
DiroCHEK
This treatment applies to the following species:
Manufacturer: Zoetis
Canine Heartworm Antigen Test Kit
For the Detection of Canine and Feline Heartworm Infection
DIRECTION INSERT
I. Heartworm Disease
Heartworm disease is caused by Dirofilaria immitis, a filarial nematode whose immature stages are transmitted between animals by mosquitoes. The adult heartworms live in the heart and adjacent large blood vessels. Although primarily a disease of dogs, the parasite can also infect cats, ferrets and other mammals, such as the red fox and the coyote.
Ii. Description And Test Principles
DiroCHEK® is an enzyme-linked immunosorbent assay (ELISA) for the detection of adult D. immitis antigen in canine and feline plasma or serum. DiroCHEK® is highly specific, sensitive and simple to use. Test results can be obtained in 15 minutes.
The reaction wells are coated with antibodies directed against D. immitis antigen. Another antibody is labeled with the enzyme horseradish peroxidase. Any antigen present in the specimen (plasma or serum) is bound by the antibody coated well and the enzyme-linked antibody to form a specific complex. Any free enzyme-linked antibody is washed away and a chromogenic substrate is added. In the absence of D. immitis antigen, no color change will be observed. The development of a blue color specifically indicates the presence of D. immitis antigen and heartworms.
III. COMMON HEARTWORM DIAGNOSTIC QUESTIONS AND ANSWERS
How soon can heartworms be detected?
In dogs, immature adults may be detected with DiroCHEK® 5 to 6 months after infection; microfilaria may be seen after 6 months. In cats, 7 to 8 months or more may be needed for either test.
How long do heartworms and microfilaria live?
Heartworms live about 5 years in dogs, probably less than 2 to 3 years in cats. Microfilaria can live up to 2 years in dogs and are very short-lived in cats.
After the adulticide is given, can one still detect antigen from dead heartworms?
Antigen from dead heartworms has been detected for up to 3 to 4 months; therefore a positive test done within that 4 month period should be repeated at a later date.
Is there any cross-reactivity with other parasites or drugs?
DiroCHEK® is highly-specific and will not give false positive results due to the presence of other parasites, drugs, supplements or vaccines.
IV. HEARTWORM DIAGNOSTIC SITUATIONS AND POSSIBILITIES
Antigen Positive - Microfilaria Negative
Unisex infection; Immune-mediated clearance of microfilaria; On monthly preventives, or after microfilaricide treatment; Immature adults (5-6 months post-infection)
Antigen Negative - Microfilaria Positive
Microfilaria are not D. immitis; No, or undetectably low levels of heartworm antigen are present; Immune clearance of antigen-antibody complexes; Adults dead and antigen cleared, but microfilaria still present; Microfilaria contamination of lysing solution, dye, or filter chamber; Transfused with microfilaremic blood; Prenatal transfer of microfilariae; Antigen destroyed due to improper storage or treatment of sample
V. Predicting Heartworm Burden
Level of color in sample wells will intensify with increasing level of heartworm antigen. Level of heartworm antigen correlates with the number of heartworms present, although it is more closely related to the actual weight of worms present (a product of both the number and size of worms).
VI. CONTENTS OF DiroCHEK® TEST KIT
| | | |
| --- | --- | --- |
| | Regular | Lab Pack |
| Anti-D. immitis Coated Wells | 48 | 144 |
| Tri-Continent Precision pipetter | 1 | 1 |
| Pipette Tips | 50 | 150 |
| Positive Control (Red Cap) | 1.0 ml | 2.5 ml |
| Negative Control (Gray Cap) | 1.0 ml | 2.5 ml |
| Reagent 1 - HRP Antibody Conjugate (Blue Cap) | 2.5 ml | 7.0 ml |
| Reagent 2 - Chromogenic Substrate Buffer (Purple Cap) | 7.0 ml | 14.0 ml |
Materials required but not provided - distilled or deionized water
Patent No. 4,789,631
VII. PRECAUTIONS
1. Allow kit to come to room temperature (21°-25° C; 70°-78° F) prior to use.
2. Do not expose kit to direct sunlight.
3. Do not use expired reagents or mix from different kit lots.
4. Follow instructions exactly. Improper washing or contamination of reagents may produce nonspecific color development.
5. FOR VETERINARY USE ONLY.
Viii. Sample Information
50 µL (0.05 ml) of serum or plasma is required. Serum or plasma (not whole blood) may be stored at 2°-7°C (36°-45°F) for 7 days; -20°C or below if stored longer. Hemolyzed and lipemic samples may be used, however, they may produce background color. When in doubt, obtain a better quality sample.
Ix. Storage And Stability
Store the test kit at 2°-7°C (36°-45°F). Do not freeze. Reagents will be stable until expiration date provided they have been stored properly.
REFERENCES
Courtney CH, Zeng Q, Bean ES. Predicting Heartworm Burdens with the DiroCHEK® Heartworm Antigen Test Kit. J Am Anim Hosp Assoc 1989;25:643-646
Hribernik, TN: Canine and Feline Heartworm Disease, In Kirk (ed.) Current Veterinary Therapy X: 263-270: 1989
Proceedings of the American Heartworm Society. 1992, AHS, Batavia. IL.
FOR TECHNICAL ASSISTANCE: 1-800-228-4305
DiroCHEK® Heartworm Test Procedure
NOTE: Use PLASMA or SERUM samples only (NO WHOLE BLOOD).
Prior to use, allow kit components to come to room temperature (70°-78° F; 21°-25° C).
A. PREPARATION
1. Calculate required number of wells:
1 well for positive control, 1 well for negative control, 1 well for each sample
Remove required number of wells.
Leave wells attached to each other.
Place in well holder.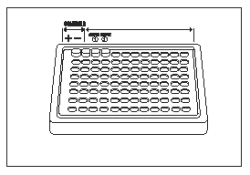 2. A. CONTROLS
Add 1 drop Positive Control (red cap) into the first well.
Add 1 drop Negative Control (gray cap) into the second well.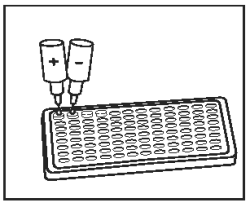 B. SAMPLE(S)
USE OF THE 0.050 ml PRECISION PIPETTER: Place pipette tip firmly onto pipette. Release button slowly to aspirate. Depress button to dispense.
Draw/aspirate 0.05 ml sample.
Dispense 0.05 ml sample into the next well following the controls.
Discard pipette tip.
Repeat procedure for each sample into subsequent wells.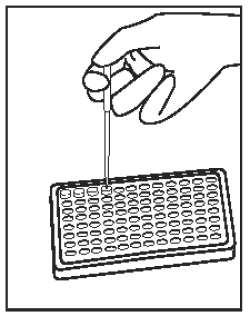 B. CONJUGATE
3. Add 1 drop Reagent 1 - Conjugate (blue cap) into each well.
Tap well holder (without splashing) for 15 seconds to mix.
WAIT 10 MINUTES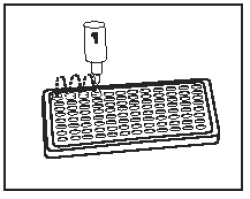 C. BLOT AND WASH
4. Discard fluid from wells into sink or appropriate container.
Invert holder and blot firmly onto a paper towel to remove final drops.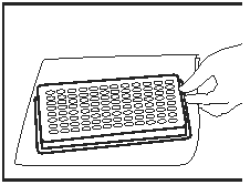 5. WASH WELLS VIGOROUSLY:
Use liberal amounts of distilled or deionized water.
Direct a forceful stream into each well. (Oversplashing will not contaminate adjacent wells.)
Shake out excess water.
Repeat at least 5 times. (It is impossible to overwash.)
Blot firmly onto a paper towel to remove final drops.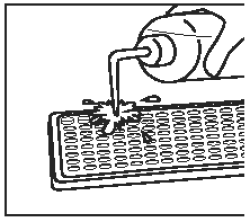 D. DEVELOP
6. Add 2 drops Reagent 2 (purple cap) to each well.
Tap well holder (without splashing) for 15 seconds to mix.
WAIT 5 MINUTES.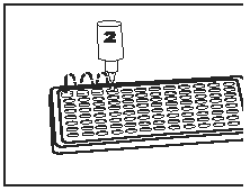 READ RESULTS.
E. INTERPRETATION OF RESULTS
7. CONTROLS - POSITIVE control should be distinctly blue
NEGATIVE control should be completely clear.
SAMPLES - POSITIVE samples will be blue. Color intensity may vary with level of heartworm antigen present. This may reflect worm burden (see Section V).
NEGATIVE samples will be clear. Compare directly with the negative control against a white background.

Good Techniques = Accurate Results
Use plasma or serum samples only (no whole blood). Severely hemolyzed and lipemic samples may produce background color. When in doubt, obtain a better quality sample. When mixing well contents in Steps 3 and 6, tap well holder rapidly for a full 15 seconds. Washing is the most important step. Microwells cannot be overwashed. Underwashing will result in nonspecific blue color development in the negative control and sample wells. Read results at 5 minutes. If no color is seen at 5 minutes, the sample is negative. Do not use the test kit past the expiration date and do not intermix components from different serial numbers. Store kit at 2°-7° C (36°-45° F). Allow kit to come to room temperature before use.
SYNBIOTICS CORPORATION, 16420 Via Esprillo, San Diego, CA 92127
U.S. Veterinary License Number 312
Licensed under U.S. Patent No. 4,839,275: Canadian Pat. No. 1,232,849: and Australian Pat. No. 582,129.
DiroCHEK® is a registered trademark of Synbiotics Corporation.
©1995 Synbiotics Corporation
03-0024-0100
NAC No.: 1198501.0
ZOETIS CANADA INC.
16,740 TRANS-CANADA HIGHWAY, KIRKLAND, QC, H9H 4M7
| | | |
| --- | --- | --- |
| Order Desk: | | 800-663-8888 |
| Technical Services Canada: | | 800-461-0917 |
| Technical Services USA: | | 800-366-5288 |
| Website: | | www.zoetis.ca |
| | |
| --- | --- |
| | Every effort has been made to ensure the accuracy of the DiroCHEK information published above. However, it remains the responsibility of the readers to familiarize themselves with the product information contained on the Canadian product label or package insert. |