Adams Flea & Tick Indoor Fogger
This page contains information on Adams Flea & Tick Indoor Fogger for
veterinary use
.
The information provided typically includes the following:
Adams Flea & Tick Indoor Fogger Indications
Warnings and cautions for Adams Flea & Tick Indoor Fogger
Direction and dosage information for Adams Flea & Tick Indoor Fogger
Adams Flea & Tick Indoor Fogger
This treatment applies to the following species:
Company: Farnam
KILLS:
fleas
flea eggs
ants
flies
wasps
cockroaches
mosquitoes
silverfish
spiders
Active Ingredients
| | |
| --- | --- |
| Etofenprox | 0.5% |
| Tetramethrin | 0.4% |
| N-Octyl Bicycloheptene Dicarboximide | 0.5% |
| Pyriproxyfen | 0.1% |
| OTHER INGREDIENTS*: | 98.5% |
| TOTAL | 100.0% |
* Contains petroleum distillates
For instructions and warranty in Spanish, see inside of carton.
If you do not have a carton, call 800-234-2269.
KEEP OUT OF REACH OF CHILDREN
Directions For Use
It is a violation of Federal law to use this product in a manner inconsistent with its labeling.
READ ENTIRE LABEL PRIOR TO USE. USE STRICTLY IN ACCORDANCE WITH ALL LABEL PRECAUTIONS AND DIRECTIONS. INSTRUCCIONES EN ESPAÑOL DENTRO DE LA CAJA
RESTRICTIONS: Remove or cover exposed food and drinking water before application. Remove or cover dishes, utensils, food processing equipment, and food preparation surfaces, or wash them before use. Remove pets, birds, and cover fish aquariums before spraying. Wait two hours after application, then open windows, vents, and doors for two hours. If an odor is still detected, additional ventilation is required. Do not enter or allow others or pets to enter treated area until sprays have dried. Repeat treatments to infested areas as necessary at intervals of 14 days or greater.
NOTE: Does not control bed bugs. Do not allow children or pets to contact treated surfaces until spray has dried.
Do not apply this product in a way that will contact adults, children or pets, either directly or through drift. Do not remain in treated area. Exit area immediately and remain outside the treated area until mists have dispersed. Reaches fleas hidden in carpets, rugs, drapes, upholstery, pet bedding, and floor cracks. For best results, treat entire dwelling with particular attention to kitchens and bathroom areas. Use only one fogger to treat up to 375 sq ft (a room 15' x 25' with an 8' ceiling or 3,000 cubic feet) of floor space
TO USE THIS PRODUCT CORRECTLY: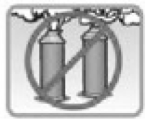 DO NOT use multiple foggers per room.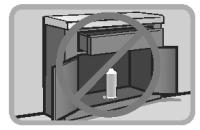 DO NOT use in small confined spaces such as closets, cabinets or under counters or tables. Use of a fogger in an enclosed space may cause the product to explode, resulting in injury to people or damage to property. DO NOT use in a room 5 ft x 5 ft or smaller; instead, allow fogs to enter from other rooms

UNPLUG AND TURN OFF ALL ignition sources such as pilot lights (shut off gas valves), other open flames or running electrical appliances that cycle off and on (i.e., refrigerators, thermostats, etc.). NO FLAMES OR PILOT LIGHTS. Call your gas utility or management company if you need assistance with your pilot lights
BEFORE YOU FOG:
Vacuum thoroughly before fogging. To ensure unobstructed flow of fogger mist, OPEN inside doors, cabinets, cupboards, drawers, and closets in area to be treated.
REMOVE or cover exposed food, dishes, cooking utensils, food preparation equipment, and surfaces. REMOVE pets and birds and REMOVE OR COVER (and turn off) air flow in aquariums. REMOVE OR COVER childrens' and pets' toys. COVER waxed wood floors and waxed wood furniture in the immediate area surrounding the fogger (newspaper may be used).
Close outside doors and windows. SHUT OFF fans and air conditioners and temporarily disconnect smoke alarms. Remove all motor vehicles before fogging garage. Place can in the middle of the room, on a stand, table, chair or on the floor. Place several layers of unfolded newspaper, covering a 2 sq ft area directly under can to prevent marring of surface.
TO START FOGGING:
SHAKE WELL BEFORE USE. Before activating, keeping at arm's length, point top of can away from face and press down actuator tab to lock into position and release fogging action. Do not inhale the spray mist. Set fogger in an upright position on chair or table covered with newspapers or paper towels and leave premises immediately. Vacate the treated house, individual apartment unit, or other structure immediately. KEEP TREATED AREA CLOSED. DO NOT RE-ENTER FOR AT LEAST TWO HOURS. Keeping treated area sealed for a longer period will enhance fogger performance. Use enclosed Door Hang Tag to mark the time when re-entry is permitted (at least two hours after the start time).
NOTE: Asphalt tile and some plastics may be affected by this product. Place newspaper on asphalt tile before treatment and cover plastic items such as plastic furniture, stereo covers, eye glasses, etc.
AFTER FOGGING - AIRING OUT:
DO NOT RE-ENTER FOR 2 HOURS.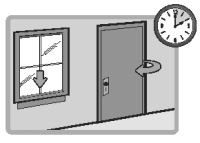 AIRING OUT: Keep treated area closed for at least two hours, then open all doors and windows, turn on air conditioner and fans and allow treated area to air out for two hours before returning. Do not allow children or pets to contact treated surfaces until spray has dried.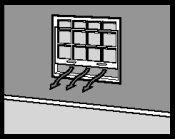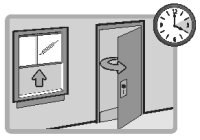 Turn on all pilot lights and appliances, smoke alarms, and aquariums that were turned off.
For best results, spot treat with ADAMS™ premise products under beds, furniture, or obstructed areas where fogger mist may not penetrate.
NOTE: When treating for fleas, clean and treat pet sleeping areas. Also treat dogs and cats with a flea control product registered for use on pets before allowing them to re-enter the treated areas.
Repeat treatments to infested areas as necessary at intervals of 14 days or greater. Do not make more than 6 applications per site per year.
Storage And Disposal
PESTICIDE STORAGE: Store in a cool, dry area away from heat and open flame and preferably in a locked storage area inaccessible to children and pets. PESTICIDE DISPOSAL AND CONTAINER HANDLING: Do Not Puncture or Incinerate! If empty: Place in trash or offer for recycling if available. If partly filled: Call your local solid waste agency for disposal instructions.
Precautionary Statements
HAZARDS TO HUMANS AND DOMESTIC ANIMALS:
Breathing spray mist may be harmful.
First Aid
If swallowed
● Immediately call a poison control center or doctor.
● Do not induce vomiting unless told to do so by the poison control center or doctor.
● Do not give any liquid to the person.
● Do not give anything by mouth to an unconscious person. Have the product container or label with you when calling a poison control center or doctor, or going for treatment. You may also contact 800-234-2269 for emergency medical treatment information. Contact veterinarian if pets are exposed during application.
Note to Physician/Veterinarian: Contains petroleum distillate. Vomiting may cause aspiration pneumonia.
Physical Or Chemical Hazards
Extremely Flammable Ingredient
Ingrediente Extremadamente Inflamable
This product contains an extremely flammable ingredient. It may cause a fire or explosion if not used properly. Follow the "Directions for Use" on the label very carefully. Extremely flammable. Contents under pressure. Keep away from fire, sparks, and heated surfaces. Do not puncture or incinerate container. Exposure to temperatures above 130° F. may cause bursting.
Seller warrants that this product conforms to the chemical specifications expressed on the label. To the extent consistent with applicable law, Seller makes no other warranties and disclaims all other warranties, express or implied, including but not limited to warranties of merchantability and fitness for the intended purpose. To the extent consistent with applicable law, seller's liability for default, breach, or failure under the label shall be limited to the amount of the purchase price. To the extent consistent with applicable law, Seller shall have no liability for consequential damages. To the extent consistent with applicable law, buyer assumes all risks of use, storage or handling of this material not in strict accordance with directions given herewith.
In case of emergency or for product use information, call 800-234-2269 or visit our web site:
www.adamsfleacontrol.com
EPA Reg. No. 2724-705-270
(A) EPA Est. No. 11623-GA-3
(B) EPA Est. No. 11623-GA-1
Letter in front of the EPA Est. No. corresponds to the first letter in lot number on bottom of container.
CENTRAL Garden & Pet
Manufactured for: Farnam Companies, Inc., 1501 East Woodfield Road 200W, Schaumburg IL 60173
©2009, 2011, 2012, 2014, 2015 Farnam Companies, Inc.
Central Garden & Pet and Central Garden & Pet with design are trademarks of Central Garden & Pet Company. All other trademarks are the property of their respective owners.
Net Contents:

Product Code:

RM#:

3 oz. (85 g) - NOT FOR INDIVIDUAL SALE

100523719

99.0000866.02

15-60188

9 oz (3 x 3 oz.) (3 x 85 g)

3 oz. can not for individual sale

100523719

99.0000878.04

15-60186
CPN: 1000298.5
FARNAM COMPANIES, INC.
711 E. MISSOURI AVE.,, SUITE 200, PHOENIX, AZ, 85014
| | | |
| --- | --- | --- |
| Telephone: | | 602-285-1660 |
| Toll-Free: | | 800-234-2269 |
| Website: | | www.farnam.com |
| | | www.adamspetcare.com |
| | |
| --- | --- |
| | THIS SERVICE AND DATA ARE PROVIDED "AS IS". DVMetrics assumes no liability, and each user assumes full risk, responsibility, and liability, related to its use of the DVMetrics service and data. See the Terms of Use for further details. |