This material must not be used for commercial purposes, or in any hospital or medical facility. Failure to comply may result in legal action.
Airborne Precautions
WHAT YOU NEED TO KNOW:
Why do I need airborne precautions?
Airborne precautions are used to prevent the spread of germs through the air or dust. Examples of illnesses that require airborne precautions are tuberculosis, measles, and chickenpox. The germs can remain in air or dust for a long time and spread far from you to others. Anyone who breathes in the germs from you can become infected. Healthcare providers will use airborne precautions as soon as they think you are infected. Ask how long you will need airborne precautions.
What do I need to know about airborne precautions in the hospital?
You will be placed in a private room that has an air exchange system. The system moves air out of your room and brings fresh air in. The doors to your room will stay closed. Healthcare providers will post a sign outside your room to instruct visitors on the precautions used in your room:
Anyone who enters the room must wear a mask to avoid breathing in the germs.
You will be required to stay in your room unless you need tests. You will need to put on a mask if you leave your room.
You must cover your mouth and nose with a tissue when you cough or sneeze. Use a tissue that covers your mouth and nose. Throw the tissue away in a trash can right away. Use the bend of your arm if a tissue is not available. Wash your hands well with soap and water or use a hand sanitizer.
Wash your hands often. Wash your hands several times each day. Wash after you use the bathroom, and before you eat food. Use soap and water every time. Rub your soapy hands together, lacing your fingers. Wash the front and back of your hands, and in between your fingers. Use the fingers of one hand to scrub under the fingernails of the other hand. Wash for at least 20 seconds. Rinse with warm, running water for several seconds. Then dry your hands with a clean towel or paper towel. Use hand sanitizer that contains alcohol if soap and water are not available. Do not touch your eyes, nose, or mouth without washing your hands first.
What do I need to know about airborne precautions at home?
When you are able to go home, you must continue to take your medicines as directed. You may be directed to use the precautions you used in the hospital, in addition to the following:
Stay inside your home. Do not leave until your healthcare provider gives you other instructions.
Have others contact their healthcare providers. Anyone who lives with or visits you may need vaccines or tests within 3 days of being exposed to germs from you.
Clean dusty surfaces with a wet towel. The germs will stick to the wet towel instead of spreading on dust particles.
Continue to wash your hands often. Remind others around you to wash their hands often.
Continue to cover a sneeze or cough. Always use a tissue that covers your mouth and nose. Remember to throw the tissue away in a trash can right away. Use the bend of your arm if a tissue is not available. Then always wash your hands well with soap and water or use a hand sanitizer.
Clean surfaces often. You or someone who cares for you should clean doorknobs, countertops, cell phones, and other surfaces that are touched often. Use a disinfecting wipe, a single-use sponge, or a cloth you can wash and reuse. Use disinfecting cleaners if you do not have wipes. You can create a disinfecting cleaner by mixing 1 part bleach with 10 parts water.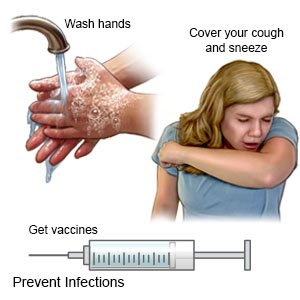 Care Agreement
You have the right to help plan your care. Learn about your health condition and how it may be treated. Discuss treatment options with your healthcare providers to decide what care you want to receive. You always have the right to refuse treatment. The above information is an educational aid only. It is not intended as medical advice for individual conditions or treatments. Talk to your doctor, nurse or pharmacist before following any medical regimen to see if it is safe and effective for you.
© Copyright IBM Corporation 2021 Information is for End User's use only and may not be sold, redistributed or otherwise used for commercial purposes. All illustrations and images included in CareNotes® are the copyrighted property of A.D.A.M., Inc. or IBM Watson Health
Learn more about Airborne Precautions
IBM Watson Micromedex
Further information
Always consult your healthcare provider to ensure the information displayed on this page applies to your personal circumstances.