Kava
Scientific names:
Piper methysticum
Forst.f. Family: Piperaceae (black peppers)
Common names: Kava, kawa, kava-kava, awa, yangona, kawain, kavain, ava, kava pepper, intoxicating pepper, kava root, kew, sakau, tonga, wurzelstock, rauschpfeffer.
Efficacy rating:
ÒÒÒ...Positive clinical trials
Safety rating:
●
...Moderate to serious danger.
What is Kava?
Kava is the dried rhizome and roots of P. methysticum. Kava is a large shrub widely cultivated in many Pacific islands, including Hawaii, Tahiti, and New Guinea. Many cultivated varieties of kava are known. The active principles are known as kavalactones.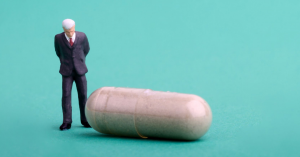 What is it used for?
Traditional/Ethnobotanical uses
The kava beverage is prepared from the roots of the plant, which are chewed or pulverized and then steeped in water. The cloudy mixture is filtered and served at room temperature. Kava has been an important part of Pacific island ceremonial cultures for many centuries, with elaborate rituals related to its consumption. Traces of kava extract have been found on artifacts from Fiji. It induces a relaxed state in the participants in a kava ceremony by initially causing a numbing and astringent effect in the mouth, followed by reduced anxiety and muscle relaxation. Eventually, sleep is induced, and no hangover effects are experienced. The efficacy of kava is not diminished with continued use.
CNS effects
Kava has mild sedative effects and is used for nervous anxiety, stress, and restlessness. However, clinical studies have not been conclusive, and there are limited comparative studies for some uses.
What is the recommended dosage?
The German Commission E recommends dosages of kavalactones 60 to 120 mg daily for no longer than 3 months without medical evaluation. Clinical studies have reported that dosages of kavalactones 60 to 240 mg/day are effective.
How safe is it?
Contraindications
Kava and kava-containing products are not recommended for use in children younger than 12 years of age, or in patients with renal disease, thrombocytopenia, or neutropenia. Additionally, patients with depression, liver disease, and Parkinson disease should avoid using kava.
Pregnancy/nursing
Documented adverse effects. Avoid use.
Interactions
Kava may increase the CNS adverse reactions of alprazolam. Avoid concomitant use of kava and alprazolam. Worsening of Parkinson symptoms was reported in a patient during coadministration of kava and levodopa.
Side Effects
Heavy kava use may cause visual disturbances and a scaly skin rash.
Toxicities
Rare cases of severe liver toxicity have been reported.
References
Kava. Review of Natural Products. Facts & Comparisons 4.0. St. Louis, MO: Wolters Kluwer Health, Inc.; June 2009. Accessed July 22, 2009.
Copyright © 2009 Wolters Kluwer Health
Further information
Always consult your healthcare provider to ensure the information displayed on this page applies to your personal circumstances.
More about kava
Consumer resources
Professional resources
Related treatment guides