Varizig (Intramuscular)
Generic Name: varicella-zoster immune globulin (Intramuscular route)
var-i-SEL-a-ZOS-ter i-MUNE GLOB-ue-lin
Commonly used brand name(s)
In the U.S.
Varicella Zoster Immune Globulin
Varizig
Available Dosage Forms:
Powder for Solution
Solution
Therapeutic Class: Immune Serum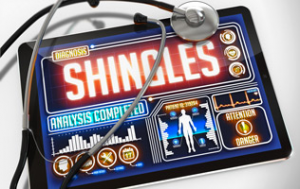 Uses For Varizig
Varicella-zoster immune globulin is used to prevent exposure of varicella virus in high risk individuals, such as adults and children with weakened immune system, pregnant women, premature babies, and babies younger than 1 year of age.
Varicella-zoster immune globulin works by giving your body the antibodies it needs to protect it against varicella-zoster virus (VZV). This is called passive protection. This passive protection lasts long enough to protect your body until your body can produce its own antibodies against VZV.
Varicella (commonly known as chickenpox) is an infection that is easily spread from one person to another. Chickenpox is usually a mild infection but sometimes it can cause serious problems, such as pneumonia, inflammation of the brain, and a rare disease called Reye's syndrome.
This medicine is to be given only by or under the supervision of your doctor or other health care professional.
Before Using Varizig
In deciding to use a medicine, the risks of taking the medicine must be weighed against the good it will do. This is a decision you and your doctor will make. For this medicine, the following should be considered:
Allergies
Tell your doctor if you have ever had any unusual or allergic reaction to this medicine or any other medicines. Also tell your health care professional if you have any other types of allergies, such as to foods, dyes, preservatives, or animals. For non-prescription products, read the label or package ingredients carefully.
Pediatric
Appropriate studies performed to date have not demonstrated pediatric-specific problems that would limit the usefulness of varicella-zoster immune globulin in children.
Geriatric
Appropriate studies performed to date have not demonstrated geriatric-specific problems that would limit the usefulness of varicella-zoster immune globulin in the elderly. However, elderly patients are more likely to have blood clotting problems which may require caution in patients receiving this medicine.
Pregnancy
| | Pregnancy Category | Explanation |
| --- | --- | --- |
| All Trimesters | C | Animal studies have shown an adverse effect and there are no adequate studies in pregnant women OR no animal studies have been conducted and there are no adequate studies in pregnant women. |
Breast Feeding
There are no adequate studies in women for determining infant risk when using this medication during breastfeeding. Weigh the potential benefits against the potential risks before taking this medication while breastfeeding.
Interactions with Medicines
Although certain medicines should not be used together at all, in other cases two different medicines may be used together even if an interaction might occur. In these cases, your doctor may want to change the dose, or other precautions may be necessary. Tell your healthcare professional if you are taking any other prescription or nonprescription (over-the-counter [OTC]) medicine.
Interactions with Food/Tobacco/Alcohol
Certain medicines should not be used at or around the time of eating food or eating certain types of food since interactions may occur. Using alcohol or tobacco with certain medicines may also cause interactions to occur. Discuss with your healthcare professional the use of your medicine with food, alcohol, or tobacco.
Other Medical Problems
The presence of other medical problems may affect the use of this medicine. Make sure you tell your doctor if you have any other medical problems, especially:
Allergy to human immune globulin—Should not be used in patients with this condition.
Bleeding problems or
Thrombocytopenia (low number of platelets), severe—Use with caution. May make these conditions worse.
Immunoglobulin A (IgA) deficiencies—Varicella-zoster immune globulin may cause an allergic reaction to occur.
Proper Use of varicella-zoster immune globulin
This section provides information on the proper use of a number of products that contain varicella-zoster immune globulin. It may not be specific to Varizig. Please read with care.
You will receive this medicine while you are in a hospital or clinic. A doctor, nurse, or other trained health professional will give you this medicine. It is given as a shot upper arm (deltoid) or thigh muscle.
Precautions While Using Varizig
It is very important that your doctor check you closely to make sure that this medicine is working properly. Blood tests may be needed to check for unwanted effects.
This medicine may cause serious types of allergic reactions, including anaphylaxis. Anaphylaxis can be life-threatening and requires immediate medical attention. Tell your doctor right away if you have a rash, itching, trouble breathing, trouble swallowing, or any swelling of your hands, face, or mouth after you receive the medicine.
Blood clotting problems may occur while you are receiving this medicine. This is more likely to occur if you are an elderly, or if you have a history of atherosclerosis (hardening of the fats in the arteries), heart and blood vessel problems, bleeding problems, or prolonged time of not standing up or sitting down. Tell your doctor right away if you have chest pain, trouble breathing, numbness or weakness in your arm or leg, or on one side of your body, trouble seeing or speaking, or sudden or severe headache.
This medicine is made from donated human blood. Some human blood products have transmitted viruses to people who have received them, although the risk is low. Human donors and donated blood are both tested for viruses to keep the transmission risk low. Talk with your doctor about this risk if you are concerned.
While you are being treated with varicella-zoster immune globulin, do not have any immunizations (vaccinations) without your doctor's approval. Live virus vaccines (e.g., measles, mumps, rubella, varicella) should not be given within 3 months after receiving this medicine.
Varizig Side Effects
Along with its needed effects, a medicine may cause some unwanted effects. Although not all of these side effects may occur, if they do occur they may need medical attention.
Check with your doctor or nurse immediately if any of the following side effects occur:
Less common
Chills
nausea
rash
unusual tiredness or weakness
Incidence not known
Hives
itching
redness of the skin
shortness of breath
swelling of the eyelids, face, lips, hands, or feet
Some side effects may occur that usually do not need medical attention. These side effects may go away during treatment as your body adjusts to the medicine. Also, your health care professional may be able to tell you about ways to prevent or reduce some of these side effects. Check with your health care professional if any of the following side effects continue or are bothersome or if you have any questions about them:
Less common
Headache
pain at the injection site
Other side effects not listed may also occur in some patients. If you notice any other effects, check with your healthcare professional.
Call your doctor for medical advice about side effects. You may report side effects to the FDA at 1-800-FDA-1088.
See also: Side effects (in more detail)
The use of the Truven Health products is at your sole risk. These products are provided "AS IS" and "as available" for use, without warranties of any kind, either express or implied. Truven Health and Drugs.com make no representation or warranty as to the accuracy, reliability, timeliness, usefulness or completeness of any of the information contained in the products. Additionally, TRUVEN HEALTH MAKES NO REPRESENTATION OR WARRANTIES AS TO THE OPINIONS OR OTHER SERVICE OR DATA YOU MAY ACCESS, DOWNLOAD OR USE AS A RESULT OF USE OF THE THOMSON REUTERS HEALTHCARE PRODUCTS. ALL IMPLIED WARRANTIES OF MERCHANTABILITY AND FITNESS FOR A PARTICULAR PURPOSE OR USE ARE HEREBY EXCLUDED. Truven Health does not assume any responsibility or risk for your use of the Truven Health products.
Copyright 2018 Truven Health Analytics, Inc. All Rights Reserved.
More about VariZIG (varicella zoster immune globulin)
Consumer resources
Professional resources
Related treatment guides