Equimosis
Medically reviewed by Drugs.com. Last updated on Mar 5, 2023.
CUIDADO AMBULATORIO:
Equimosis
es la acumulación de sangre debajo de la piel. La sangre se filtra de los vasos sanguíneos y se acumula en los tejidos cercanos. Esto puede suceder en cualquier espacio debajo de la piel, o en una membrana mucosa, como en la boca. La equimosis podría aparecer como una área grande roja, azul o morada en la piel. También podría presentar dolor o inflamación en el área. Los signos y síntomas podrían pasarse a áreas cercanas del cuerpo.
Llame a su médico si:
Usted tiene síntomas nuevos.
Su moretón repentinamente se hace más grande y se siente duro.
El área afectada no mejora dentro de 2 semanas.
Usted tiene equimosis alrededor de su ojo o está teniendo problemas para ver.
Usted tiene preguntas o inquietudes acerca de su condición o cuidado.
El tratamiento
por lo general no es necesario. Su médico podría pedirle que se realice más exámenes para encontrar la causa si usted tiene equimosis con frecuencia o si es dolorosa. Podría ser necesario tratar la condición médica que está provocando la equimosis. Su médico podría suspender o cambiar algún medicamento que esté provocando su equimosis. Lo siguiente podría ayudar a aliviar sus síntomas: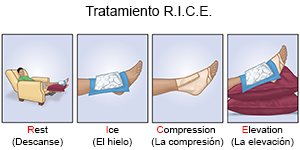 Descanse el área para ayudar a que los tejidos sanen.
Aplique hielo en el área para ayudar a aliviar el dolor y la inflamación. También puede evitar que se dañen los tejidos. Use una compresa de hielo o ponga hielo triturado en una bolsa de plástico. Cubra el paquete de hielo o la bolsa con una toalla pequeña antes de aplicarla a la piel. Aplique hielo por 20 minutos cada hora o como se le indique.
Eleve el área afectada para reducir la inflamación y para mejorar la circulación. Coloque el área sobre almohadas para mantenerla elevada por encima el nivel de su corazón. Haga esto con la mayor frecuencia posible.
Los medicamentos AINEs como el ibuprofeno pueden ayudar a aliviar el dolor y la inflamación. Los AINEs se pueden obtener sin receta médica. Consulte con su médico cuál medicamento es el adecuado para usted. Pregunte la cantidad y la frecuencia con que debe tomarlos. Siga las indicaciones. Cuando no se toman de la manera indicada, los medicamentos antiinflamatorios no esteroides pueden causar sangrado estomacal y daño renal. Si usted está tomando un anticoagulante, siempre pregunte si los AINE son seguros para usted.
Treatment options
The following list of medications are in some way related to or used in the treatment of this condition.
Acuda a la consulta de control con su médico según las indicaciones:
Anote sus preguntas para que se acuerde de hacerlas durante sus visitas.
Learn more about Equimosis
Treatment options
Care guides
Further information
Always consult your healthcare provider to ensure the information displayed on this page applies to your personal circumstances.