This material must not be used for commercial purposes, or in any hospital or medical facility. Failure to comply may result in legal action.
Vitrectomy
WHAT YOU SHOULD KNOW:
Vitrectomy is surgery to remove all or part of the vitreous in your eye. Your vitreous is a gel-like substance inside your eyeball. Your lens is clear and is located on the front part of your eye. Your lens directs light onto your retina at the back of your eyeball. Your retina sends the images that you see to your brain. You may need a vitrectomy if your lens is not in its right place. You may also need a vitrectomy if your retina breaks away from the back part of your eyeball. This is called a retinal detachment.
You may also need a vitrectomy if your macula is swollen or damaged. Your macula is a small part of your retina that helps you see in front of you. It also helps you see when you read and write. If you are diabetic, your caregiver may have told you that you have diabetic retinopathy. Diabetic retinopathy may cause blood vessels to break and blood to build up in your vitreous. Vitrectomy will help clear the blood from your eyeball. Vitrectomy is also done to treat endophthalmitis. Endophthalmitis is a serious eye infection that can occur after having eye surgery.
With a vitrectomy, your caregiver cuts through an area of your eye called the pars plana. The pars plana is found near the iris and sclera during surgery. The iris is the colored part of your eye, and the sclera is the white part of your eye. Vitrectomy helps your caregiver look at and repair your retina and other parts of your eye. A vitrectomy may remove scar tissue or objects from your eye, such as slivers of wood or glass. Having a vitrectomy may improve your eyesight and prevent blindness.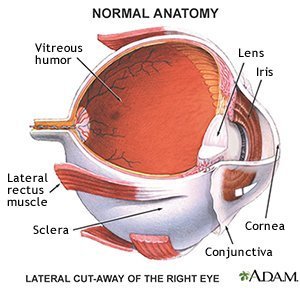 INSTRUCTIONS:
Take your medicine as directed.
Call your primary healthcare provider if you think your medicine is not helping or if you have side effects. Tell him if you are allergic to any medicine. Keep a list of the medicines, vitamins, and herbs you take. Include the amounts, and when and why you take them. Bring the list or the pill bottles to follow-up visits. Carry your medicine list with you in case of an emergency.
Pain medicine: You may need medicine to take away or decrease pain.

Learn how to take your medicine. Ask what medicine and how much you should take. Be sure you know how, when, and how often to take it.
Do not wait until the pain is severe before you take your medicine. Tell caregivers if your pain does not decrease.
Pain medicine can make you dizzy or sleepy. Prevent falls by calling someone when you get out of bed or if you need help.

Antibiotics: This medicine is given to fight or prevent an infection caused by bacteria. Your caregiver may give you antibiotics as pills or an eye ointment. Always take your antibiotics exactly as ordered by your caregiver. Keep using this medicine until it is completely gone, even if you feel better. Stopping antibiotics without your caregiver's OK may make the medicine unable to kill all of the germs. Never "save" antibiotics or take leftover antibiotics that were given to you for another illness.
Ask for information about where and when to go for follow-up visits:
For continuing care, treatments, or home services, ask for more information.
Ask your caregiver when you need to return to have your eyes checked. Always take your medicines whenever you see your caregiver. During your visit, your eye patch may be removed. Your vision may be blurry and look reddish or pink. He will check your eyes and your eyesight. He may do a complete eye exam to see if your sight has improved or if you have new problems. The pressure inside your eye may also need to be checked. Tests, such as a slitlamp exam, may also be done on your eye.
Eye patch:
Your eye may feel numb from the local anesthesia you received before your surgery. This may prevent you from blinking. Your caregiver will put an eye patch on you to help keep it from being injured or infected. He may also put a plastic or metal shield over the eye patch. Ask your caregiver when it is OK to remove your eye patch.
Self-care:
If you are diabetic, always follow your caregiver's advice on how to keep your blood sugar normal.
Avoid traveling by air or going to places with high altitude.
CONTACT A CAREGIVER IF:
You have chills, a cough, or feel weak and achy.
You see floaters (spots or lines) inside your eyes.
Your skin is itchy, swollen, or has a rash.
You have questions or concerns about your surgery or medicine.
SEEK CARE IMMEDIATELY IF:
You have a fever.
You have very bad eye pain.
Your eyesight becomes blurry.
You suddenly cannot see.
For more information:
Contact the following:
American Academy of Ophthalmology
655 Beach St.
San Francisco , CA 94109
655 Beach St.
San Francisco , CA 94120-7424
Phone: 1- 415 - 561-8500
Web Address: http://www.aao.org/

National Eye Institute, National Institutes of Health
202 Vision Pl.
Bethesda , MD 20892-3655
Phone: 1- 301 - 496-5248
Web Address: www.nei.nih.gov

Further information
Always consult your healthcare provider to ensure the information displayed on this page applies to your personal circumstances.
Learn more about Vitrectomy (Aftercare Instructions)
Associated drugs
Micromedex® Care Notes