Influenza in Children
Medically reviewed by Drugs.com. Last updated on Aug 31, 2022.
What is influenza?
Influenza (the flu) is an infection caused by the influenza virus. The flu is easily spread when an infected person coughs, sneezes, or has close contact with others. Your child may be able to spread the flu to others for 1 week or longer after signs or symptoms appear.
What are the signs and symptoms of the flu?
Severe symptoms are more likely in children younger than 5 years. They are also more likely in children who have heart or lung disease, or a weak immune system. Signs and symptoms include the following:
Fever and chills
Headaches, body aches, earaches, and muscle or joint pain
Dry cough, runny or stuffy nose, and sore throat
Loss of appetite, nausea, vomiting, or diarrhea
Tiredness
Fast breathing, trouble breathing, or chest pain
How is the flu diagnosed?
Your child's healthcare provider will examine your child. Tell him or her if your child has health problems such as epilepsy or asthma. Tell the provider if your child has been around sick people or traveled recently. A sample of fluid may be collected from your child's nose or throat to be tested for the flu virus.
How is the flu treated?
Most healthy children get better within a week. Your child may need any of the following:
Acetaminophen decreases pain and fever. It is available without a doctor's order. Ask how much to give your child and how often to give it. Follow directions. Read the labels of all other medicines your child uses to see if they also contain acetaminophen, or ask your child's doctor or pharmacist. Acetaminophen can cause liver damage if not taken correctly.
NSAIDs , such as ibuprofen, help decrease swelling, pain, and fever. This medicine is available with or without a doctor's order. NSAIDs can cause stomach bleeding or kidney problems in certain people. If your child takes blood thinner medicine, always ask if NSAIDs are safe for him or her. Always read the medicine label and follow directions. Do not give these medicines to children younger than 6 months without direction from a healthcare provider.
Antivirals help fight a viral infection.
Treatment options
The following list of medications are in some way related to or used in the treatment of this condition.
How can I manage my child's symptoms?
Help your child rest and sleep as much as possible as he or she recovers.
Give your child liquids as directed to help prevent dehydration. Your child may need to drink more than usual. Ask your child's healthcare provider how much liquid your child should drink each day. Good liquids include water, fruit juice, and broth.
Use a cool mist humidifier to increase air moisture in your home. This may make it easier for your child to breathe and help decrease his or her cough.
What can I do to prevent the spread of germs?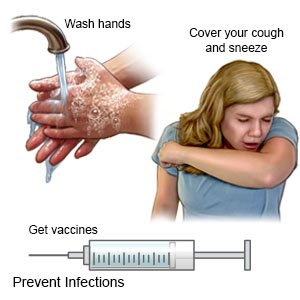 Keep your child away from other people while he or she is sick. This is especially important during the first 3 to 5 days of illness. The virus is most contagious during this time.
Have your child wash his or her hands often. He or she should wash after using the bathroom and before preparing or eating food. Have your child use soap and water. Show him or her how to rub soapy hands together, lacing the fingers. Wash the front and back of the hands, and in between the fingers. The fingers of one hand can scrub under the fingernails of the other hand. Teach your child to wash for at least 20 seconds. Use a timer, or sing a song that is at least 20 seconds. An example is the happy birthday song 2 times. Have your child rinse with warm, running water for several seconds. Then dry with a clean towel or paper towel. Your older child can use hand sanitizer with alcohol if soap and water are not available.
Remind your child to cover a sneeze or cough. Show your child how to use a tissue to cover his or her mouth and nose. Have your child throw the tissue away in a trash can right away. Then your child should wash his or her hands well or use a hand sanitizer. Show your child how to use the bend of his or her arm if a tissue is not available.
Tell your child not to share items. Examples include toys, drinks, and food.
Ask about vaccines your child needs. Vaccines help prevent some infections that cause disease. Have your child get a yearly flu vaccine as soon as it is available. Your child's healthcare provider can tell you other vaccines your child should get, and when to get them.
Call your local emergency number (911 in the US) if:
Your child has fast breathing, trouble breathing, or chest pain.
Your child has a seizure.
Your child does not want to be held and does not respond to you.
You cannot wake your child.
When should I seek immediate care?
Your child has a fever with a rash.
Your child's skin is blue or gray.
Your child's symptoms got better, but then came back with a fever or a worse cough.
Your child will not drink liquids, is not urinating, or has no tears when he or she cries.
Your child has trouble breathing, a cough, and vomits blood.
Your child's symptoms get worse.
When should I call my child's doctor?
Your child has new symptoms, such as muscle pain or weakness.
You have questions or concerns about your child's condition or care.
Care Agreement
You have the right to help plan your child's care. Learn about your child's health condition and how it may be treated. Discuss treatment options with your child's healthcare providers to decide what care you want for your child. The above information is an educational aid only. It is not intended as medical advice for individual conditions or treatments. Talk to your doctor, nurse or pharmacist before following any medical regimen to see if it is safe and effective for you.
© Copyright IBM Corporation 2022 Information is for End User's use only and may not be sold, redistributed or otherwise used for commercial purposes. All illustrations and images included in CareNotes® are the copyrighted property of A.D.A.M., Inc. or IBM Watson Health
Learn more about Influenza
Treatment options
Care guides
Symptoms and treatments
Medicine.com guides (external)
Further information
Always consult your healthcare provider to ensure the information displayed on this page applies to your personal circumstances.