Infectious Colitis
Medically reviewed by Drugs.com. Last updated on May 1, 2023.
What is infectious colitis?
Infectious colitis is swelling and irritation of your colon. It is caused by bacteria, parasites, or viruses.
What are the symptoms of infectious colitis?
Diarrhea 3 or more times in a day
Bowel movements that contain blood or mucus
Headache or body aches
Low-grade fever (less than 101.0 F)
Abdominal pain, bloating, and cramps
What increases my risk for infectious colitis?
You live or work in a skilled nursing facility
You work in a daycare center, or your child goes to daycare
You do not wash your hands after using the bathroom or before handling food
You drink contaminated water or eat contaminated food
You have recently taken antibiotics
You have a weak immune system
How is infectious colitis diagnosed and treated?
A sample of your bowel movement may be tested to identify the bacteria, virus, or parasite causing your symptoms. A colonoscopy is a procedure that may be done to look inside your colon. You may need to take medicine to treat the bacteria, virus, or parasite.
How can I care for myself?
Drink liquids to help prevent dehydration. Ask your healthcare provider how much liquid to drink each day and which liquids are best for you. You may need to drink an oral rehydration solution (ORS). An ORS contains a balance of water, salt, and sugar to replace body fluids lost during diarrhea. Ask what kind of ORS to use, how much to drink, and where to get it.
Do not take medicine to stop your diarrhea. These medicines may make your symptoms last longer.
How can I prevent infectious colitis?
Clean food and utensils thoroughly. Rinse fruits and vegetables in running water. Clean cutting boards, knives, countertops, and other areas where you prepare food before and after you cook. Wash sponges and dishtowels weekly in hot water.
Keep cooked and raw foods separate in your grocery cart, grocery bags, and refrigerator. This prevents cross contamination. Cross contamination is when germs from one food spread to another food. This happens when juices from raw meat, fish, and eggs get on cooked or ready-to-eat foods. Use a separate cutting board for raw foods. Never put cooked food on an unwashed plate that had raw meat, seafood, or eggs on it.
Cook meat as directed.

Cook ground meat to 160°F.
Cook ground poultry, whole poultry, or cuts of poultry to at least 165°F. Remove the meat from heat. Let it stand for 3 minutes before you eat it.
Cook whole cuts of meat other than poultry to at least 145°F. Remove the meat from heat. Let it stand for 3 minutes before you eat it.

Do not eat raw or undercooked oysters, clams, or mussels. These foods may be contaminated and cause infection.
Refrigerate food immediately. This will help slow down the growth of germs. Your refrigerator should be at 40°F or below to keep foods safe. Put meat, poultry, eggs, and seafood in the refrigerator or freezer within 2 hours after cooking or buying them. Always thaw food in the refrigerator, cold water, or microwave. Do not thaw food on your countertop.
Drink safe water. Drink only treated water. Do not drink water from ponds or lakes, or swimming pools. Drink bottled water when traveling.
Treatment options
The following list of medications are in some way related to or used in the treatment of this condition.
What can I do to prevent the spread of germs?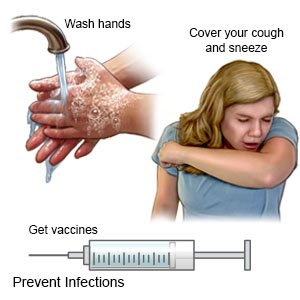 Wash your hands often. Wash your hands several times each day. Wash after you use the bathroom, change a child's diaper, and before you prepare or eat food. Use soap and water every time. Rub your soapy hands together, lacing your fingers. Wash the front and back of your hands, and in between your fingers. Use the fingers of one hand to scrub under the fingernails of the other hand. Wash for at least 20 seconds. Rinse with warm, running water for several seconds. Then dry your hands with a clean towel or paper towel. Use hand sanitizer that contains alcohol if soap and water are not available. Do not touch your eyes, nose, or mouth without washing your hands first.
Cover a sneeze or cough. Use a tissue that covers your mouth and nose. Throw the tissue away in a trash can right away. Use the bend of your arm if a tissue is not available. Wash your hands well with soap and water or use a hand sanitizer.
Stay away from others while you are sick. Avoid crowds as much as possible.
Ask about vaccines you may need. Talk to your healthcare provider about your vaccine history. He or she will tell you which vaccines you need, and when to get them.

Get the influenza (flu) vaccine as soon as recommended each year. The flu vaccine is available starting in September or October. Flu viruses change, so it is important to get a flu vaccine every year.
Get the pneumonia vaccine if recommended. This vaccine is usually recommended every 5 years. Your provider will tell you when to get this vaccine, if needed.
When should I seek immediate care?
You are urinating less than normal or not at all.
You have a headache, dizziness, or confusion.
You have irregular or fast breathing or a fast or pounding heartbeat.
You suddenly lose weight without trying.
When should I call my doctor?
You are more tired than usual or weak.
Your symptoms last for more than 30 days.
You have questions or concerns about your condition or care.
Care Agreement
You have the right to help plan your care. Learn about your health condition and how it may be treated. Discuss treatment options with your healthcare providers to decide what care you want to receive. You always have the right to refuse treatment. The above information is an educational aid only. It is not intended as medical advice for individual conditions or treatments. Talk to your doctor, nurse or pharmacist before following any medical regimen to see if it is safe and effective for you.
© Copyright Merative 2023 Information is for End User's use only and may not be sold, redistributed or otherwise used for commercial purposes.
Learn more about Infectious Colitis
Treatment options
Care guides
Further information
Always consult your healthcare provider to ensure the information displayed on this page applies to your personal circumstances.