EnBrace HR
Generic Name: prenatal/postnatal prescription folate
Dosage Form: capsule

EnBrace HR™
Multiphasic Soft Gelatin Capsules
Enhanced Prenatal/Postnatal
Prescription-Folate with other Dietary Ingredients
Product Code 64661-650-30
Rx
EnBrace HR Description
EnBrace HR™ is an orally administered enhanced prescription-folate product with other dietary ingredients formulated to improve the nutritional status of "high-risk" patients before, during, and after pregnancy. EnBrace HR™ is an oval, annatto-colored, multiphasic soft gelatin capsule imprinted with "ENL" on one side. EnBrace HR™ should be administered only under the supervision and direction of a licensed medical practitioner.
INGREDIENTS: Each soft gelatin capsule contains the following dietary ingredients*:
L-methylfolate (as L-methylfolate magnesium)
5.23 mg
Folinic acid
2.5 mg
Folic Acid, USP [as controlled-release citrated-pteroylmonoglutamic acid]
1 mg
FeGC as ferrous glycine cysteinate (1.5 mg elemental iron) from amino acid chelate
13.6 mg†
Ascorbates [as 24 mg magnesium ascorbate and 1 mg zinc ascorbate]
25 mg
Thiamine pyrophosphate
25 mcg
Flavin adenine dinucleotide (FAD)
25 mcg
Nicotinamide adenine dinucleotide hydride (NADH)
25 mcg
Pyridoxal 5' phosphate (P5P)
25 mcg
Adenosylcobalamin
50 mcg
Betaine (trimethylglycine)
500 mcg
L-threonate magnesium
1 mg
Omega-3 Fatty Acids
PS-DHA as phosphatidylserine-docosahexaenoic acid from PS-DHA-Ca
6.4 mg
PS-EPA as phosphatidylserine-eicosapentaenoate acid from PS-EPA-Ca
800 mcg
Phosphatidylserine
12 mg
OTHER INGREDIENTS: Annatto (color), citrates, gelatin (bovine), glycerin, lecithin (sunflower), natural creamy orange (flavor), olive oil, piperine1 (bioavailability enhancer), purified water, r-5-formylTHF, ubidecarenone (trace amounts), yellow beeswax,....[and other ancillary ingredients2 as needed to ensure product stability].
Contains soy and fish (blue whiting and herring). However, the soy and fish derived omega-3 fatty acids used in EnBrace HR™ do not contain detectable levels of soy and fish protein due to an extensive purification process. Nevertheless, EnBrace HR™ has been manufactured in a facility that also manufactures products containing tree nuts, peanuts, fish, egg, wheat, milk, soy and shellfish. Patients with allergic tendencies to any of these substances should use discretion and consult their healthcare practitioner for advice.
EnBrace HR™ is dye free, gluten free and does not contain any artificial flavors or sweeteners. EnBrace HR™ contains bovine gelatin.
Bioavailability enhancer piperine as BioPerine® is a registered trademark of Sabinsa Corporation, Piscataway, NJ. Protected and manufactured under US Patent Nos. 5,536,506, 5,744,161, 5,972,382; and 6,054,585.
MECHANISM OF ACTION
EnBrace HR™ supplies an array of folate-derivatives in combination with folate coenzymes, cofactors and co-metabolites that decrease the risk of bioavailability-interference such as might occur with inborn or environmental folate malabsorption. This allows the folate substrate, THF, to be utilized in transformylation and/or methylation biochemistry.
INDICATIONS
EnBrace HR™ is indicated to improve the nutritional status in "high-risk" patients who may benefit from enhanced folate supplementation prior to conception and during pregnancy, as determined by a licensed healthcare practitioner. EnBrace HR™ contains over 1000% of the Daily Value (DV) of folate and 600% of DV for cobalamin for pregnant and lactating women, which may be important depending on previous pregnancy (history of a Neural Tube Defect (NTD)-affected pregnancy), genetic disposition (MTHFR polymorphisms, etc.), and acquired factors.
EnBrace HR™ is also indicated for the clinical dietary management of metabolic imbalances associated with depression. EnBrace HR™ may be prescribed to increase folate levels in lactating or non-lactating women who are at risk of postpartum depression, depression before or during a pregnancy, and/or women of childbearing age who may become pregnant and/or are planning to become pregnant.
EnBrace HR™ should be administered only under the supervision and direction of a licensed medical practitioner.
Contraindications
EnBrace HR™ is contraindicated in patients with a known hypersensitivity to any of the ingredients.
Warnings
Accidental overdose of iron-containing products is a leading cause of fatal poisoning in children under 6. Keep this product out of reach of children. In case of accidental overdose, call a doctor or poison control center immediately.
Caution is recommended in patients taking anticonvulsant medications as folate may interfere with anticonvulsant medication, and may lower seizure threshold. Furthermore, anticonvulsant medications may interfere with folate metabolism.
Folinic acid may enhance the toxicity of fluorouracil.
Precautions
Folic acid alone is improper therapy in the treatment of pernicious anemia and other megaloblastic anemias where Vitamin B12 is deficient. Folic acid in doses above 0.1 mg daily may obscure pernicious anemia in that hematologic remission can occur while neurological manifestations progress.
Ingestion of more than 3 grams of omega-3 fatty acids (such as ALA, EPA, and DHA) per day has been shown to have potential antithrombotic effects, including an increased bleeding time and International Normalized Ratio (INR). Administration of omega-3 fatty acids should be avoided in patients taking anticoagulants and in those known to have an inherited or acquired predisposition to bleeding. Exercise caution to ensure that the prescribed dosage of DHA does not exceed 1 gram (1000 mg) per day.
Adverse Reactions
Allergic sensitization has been reported following both oral and parenteral administration of folic acid. Paresthesia, somnolence, nausea, and headaches have been reported with pyridoxine. Mild transient diarrhea, polycythemia vera, itching, transitory exanthema and the feeling of swelling of the entire body has been associated with cobalamin.
It is important to always contact your healthcare practitioner if you experience any side effects. To report SUSPECTED ADVERSE REACTIONS, contact JAYMAC Pharmaceuticals, LLC at 1-866 280-5961.
EnBrace HR Dosage and Administration
The usual adult dose is one soft gelatin capsule daily with or without food, or as prescribed by a licensed healthcare practitioner. Children under twelve should consult a healthcare practitioner. Do not exceed the recommended dose.
How is EnBrace HR Supplied
EnBrace HR™ is supplied as oval, annatto-colored soft gelatin capsules with "ENL" on one side, in bottles of 30 softgels with Product Code 64661-650-30. EnBrace HR™ is also supplied to licensed healthcare practitioners as samples, Product Code 64661-650-05.
STORAGE
Store at 20°-25°C (68°-77°F); excursions permitted to 15°-30°C (59°-86°F) [See USP Controlled Room Temperature.]
Protect from light and moisture.
Contact with moisture may produce surface discoloration and/or erosion.
KEEP OUT OF THE REACH OF CHILDREN.
Tamper Evident: Do not use if seal is broken or missing
MANUFACTURED FOR:
JAYMAC Pharmaceuticals, LLC
Sunset, LA 70584
MADE IN CANADA
PATENTS: US Patent Nos. 7,935,365; 5,965,413; 7,341,708; 6,054,585; 5,972,382; 5,744,161; 5,536,506; and other patent applications pending.
TRADEMARKS: EnBrace HR™ is a trademark of JAYMAC Pharmaceuticals, LLC (Sunset, Louisiana, USA). L-methylfolate magnesium is under license from Viva Pharmaceutical Inc. (Canada).
Rev. 04/15
PRINCIPAL DISPLAY PANEL - 30 Softgel Bottle Label
64661-650-30
Rx
EnBrace™HR™
Enhanced Prenatal/Postnatal Folate Supplement
JAYMAC
Pharmaceuticals, LLC
30 ct. Softgels • Dye and Gluten Free
Enhanced Prenatal
Vitamin Supplement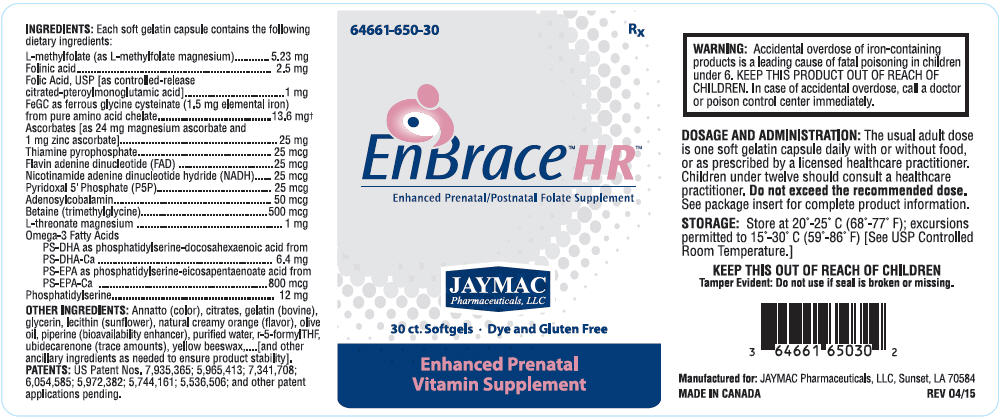 EnBrace HR
levomefolate magnesium, leucovorin, folic acid, ferrous cysteine glycinate, magnesium ascorbate, zinc ascorbate, cocarboxylase, flavin adenine dinucleotide, nadh, pyridoxal phosphate anhydrous, cobamamide, betaine, magnesium l-threonate, 1,2-docosahexanoyl-sn-glycero-3-phosphoserine calcium, 1,2-icosapentoyl-sn-glycero-3-phosphoserine calcium, and phosphatidyl serine capsule, delayed release pellets
Product Information
Product Type
HUMAN PRESCRIPTION DRUG LABEL
Item Code (Source)
NDC:64661-650
Route of Administration
ORAL
DEA Schedule
Active Ingredient/Active Moiety
Ingredient Name
Basis of Strength
Strength
LEVOMEFOLATE MAGNESIUM (LEVOMEFOLIC ACID)
LEVOMEFOLIC ACID
5.23 mg
LEUCOVORIN (LEUCOVORIN)
LEUCOVORIN
2.5 mg
FOLIC ACID (FOLIC ACID)
FOLIC ACID
1 mg
FERROUS CYSTEINE GLYCINATE (FERROUS CATION)
FERROUS CYSTEINE GLYCINATE
13.6 mg
MAGNESIUM ASCORBATE (ASCORBIC ACID)
MAGNESIUM ASCORBATE
24 mg
ZINC ASCORBATE (ASCORBIC ACID)
ZINC ASCORBATE
1 mg
COCARBOXYLASE (COCARBOXYLASE)
COCARBOXYLASE
25 ug
FLAVIN ADENINE DINUCLEOTIDE (FLAVIN ADENINE DINUCLEOTIDE)
FLAVIN ADENINE DINUCLEOTIDE
25 ug
NADH (NADH)
NADH
25 ug
PYRIDOXAL PHOSPHATE ANHYDROUS (PYRIDOXAL PHOSPHATE ANHYDROUS)
PYRIDOXAL PHOSPHATE ANHYDROUS
25 ug
COBAMAMIDE (COBAMAMIDE)
COBAMAMIDE
50 ug
BETAINE (BETAINE)
BETAINE
500 ug
MAGNESIUM L-THREONATE (THREONIC ACID, DL-)
MAGNESIUM L-THREONATE
1 mg
1,2-DOCOSAHEXANOYL-SN-GLYCERO-3-PHOSPHOSERINE CALCIUM (1,2-DOCOSAHEXANOYL-SN-GLYCERO-3-PHOSPHOSERINE)
1,2-DOCOSAHEXANOYL-SN-GLYCERO-3-PHOSPHOSERINE CALCIUM
6.4 mg
1,2-ICOSAPENTOYL-SN-GLYCERO-3-PHOSPHOSERINE CALCIUM (1,2-ICOSAPENTOYL-SN-GLYCERO-3-PHOSPHOSERINE)
1,2-ICOSAPENTOYL-SN-GLYCERO-3-PHOSPHOSERINE CALCIUM
800 ug
PHOSPHATIDYL SERINE (PHOSPHATIDYL SERINE)
PHOSPHATIDYL SERINE
12 mg
Inactive Ingredients
Ingredient Name
Strength
ANNATTO
SODIUM CITRATE
CITRIC ACID MONOHYDRATE
GELATIN
GLYCERIN
LECITHIN, SUNFLOWER
ORANGE
OLIVE OIL
PIPERINE
WATER
UBIDECARENONE
YELLOW WAX
Product Characteristics
Color
BROWN (ANNATTO)
Score
no score
Shape
CAPSULE (oval)
Size
14mm
Flavor
Imprint Code
ENL
Contains
Packaging
#
Item Code
Package Description
1
NDC:64661-650-30
30 CAPSULE, DELAYED RELEASE PELLETS in 1 BOTTLE
Marketing Information
Marketing Category
Application Number or Monograph Citation
Marketing Start Date
Marketing End Date
UNAPPROVED DRUG OTHER
04/08/2015
Labeler - JAYMAC Pharmaceuticals, LLC (830767260)
Revised: 04/2015
JAYMAC Pharmaceuticals, LLC