Peramivir
Pronunciation
(pe RA mi veer)
Index Terms
Dosage Forms
Excipient information presented when available (limited, particularly for generics); consult specific product labeling.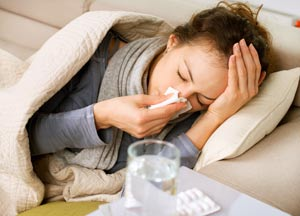 Solution, Intravenous [preservative free]:
Rapivab: 200 mg/20 mL (20 mL)
Brand Names: U.S.
Pharmacologic Category
Antiviral Agent
Neuraminidase Inhibitor
Pharmacology
Peramivir, a cyclopentane analogue, selectively inhibits the influenza virus neuraminidase enzyme, preventing the release of viral particles from infected cells.
Distribution
Vd: 12.45 L
Metabolism
Not significantly metabolized
Excretion
Urine (~90% as unchanged drug)
Half-Life Elimination
~20 hours
Protein Binding
<30%
Special Populations: Renal Function Impairment
AUC increased with increasing degree of renal impairment
Use: Labeled Indications
Influenza: Treatment of acute, uncomplicated influenza in adults who have been symptomatic ≤2 days.
Limitations of use:
Efficacy has not been established for patients with serious influenza requiring hospitalization.
Efficacy is based on clinical trials in which influenza A was the predominant virus; a limited number of subjects with influenza B have been studied.
Contraindications
Serious hypersensitivity or anaphylaxis to peramivir or any component of the formulation.
Dosing: Adult
Influenza: IV: 600 mg as a single dose
Dosing: Geriatric
Refer to adult dosing.
Dosing: Renal Impairment
Note: Renal function may be estimated using the Cockcroft-Gault formula.
CrCl ≥50 mL/minute: No dosage adjustment necessary.
CrCl 30 to 49 mL/minute: 200 mg as a single dose
CrCl 10 to 29 mL/minute: 100 mg as a single dose
End-stage renal disease requiring (ESRD) intermittent hemodialysis (IHD): 100 mg as a single dose, administered after dialysis
Dosing: Hepatic Impairment
There are no dosage adjustments provided in the manufacturer's labeling (has not been studied); however, not significantly metabolized hepatically.
Reconstitution
Dilute solution in D5W, NS, ½ NS, or LR to a maximum volume of 100 mL; administer immediately. If refrigerated, allow diluted solution to reach room temperature then administer immediately.
Administration
Administer as an intravenous infusion over 15 to 30 minutes.
Storage
Store intact vials in original carton at 20°C to 25°C (68°F to 77°F); excursions are permitted between 15°C and 30°C (59°F and 86°F). After dilution, administer immediately or store at 2°C to 8°C (36°F to 46°F) for up to 24 hours. Discard unused diluted solution after 24 hours.
Drug Interactions
Influenza Virus Vaccine (Live/Attenuated): Antiviral Agents (Influenza A and B) may diminish the therapeutic effect of Influenza Virus Vaccine (Live/Attenuated). Management: Avoid anti-influenza antivirals during the period beginning 48 hours prior to and ending 2 weeks after vaccine administration. Persons receiving these agents within 2 weeks of the live intranasal spray vaccine should receive a repeat vaccine dose. Consider therapy modification
Adverse Reactions
1% to 10%:
Cardiovascular: Hypertension (2%)
Central nervous system: Insomnia (3%)
Endocrine: Increased serum glucose (>160 mg/dL: 5%)
Gastrointestinal: Diarrhea (8%), constipation (4%)
Hematologic and oncologic: Neutropenia (<1 x 109/L: 8%)
Hepatic: Increased serum ALT (>2.5 x ULN: 3%), increased serum AST (3%)
Neuromuscular & skeletal: Increased creatine phosphokinase (≥6 x ULN: 4%)
<1% (Limited to important or life-threatening): Abnormal behavior, anaphylactoid reaction, anaphylaxis, delirium, erythema multiforme, exfoliative dermatitis, hallucination, skin rash, Stevens-Johnson syndrome
Warnings/Precautions
Concerns related to adverse effects:
• Dermatologic reactions: Rare serious skin reactions (eg, erythema multiforme, Stevens-Johnson syndrome) have been reported. If skin reactions are suspected or occur, discontinue infusion immediately and institute appropriate supportive treatment.
• Hypersensitivity reactions: Serious hypersensitivity reactions (eg, anaphylaxis) have been reported. Discontinue infusion immediately and institute appropriate supportive treatment.
• Neuropsychiatric events: Rare occurrences of neuropsychiatric events (including abnormal behavior, delirium, and hallucinations), including fatalities have been reported, primarily among pediatric patients. Onset is often abrupt and subsequent resolution is rapid. These events may occur in patients with encephalitis, encephalopathy, or in uncomplicated influenza. Closely monitor for signs of abnormal behavior.
Disease-related concerns:
• Renal impairment: Elimination is primarily renal; dosage adjustment is required in patients with CrCl <50 mL/minute.
Concurrent drug therapy issues:
• Drug-drug interactions: Potentially significant interactions may exist, requiring dose or frequency adjustment, additional monitoring, and/or selection of alternative therapy. Consult drug interactions database for more detailed information.
Other warnings/precautions:
• Appropriate use: Emergence of resistance substitutions or other factors (eg, viral virulence) could decrease drug effectiveness. Consider available information on influenza drug susceptibility patterns/treatment effects when using; efficacy in patients with serious influenza requiring hospitalization has not been established. Has not been shown to prevent secondary serious bacterial infections occurring during influenza course; if bacterial infections occur, treat with antibiotics as appropriate.
Monitoring Parameters
Baseline BUN and serum creatinine, neurologic abnormalities (eg, abnormal behavior), rash after administration.
Pregnancy Risk Factor
C
Pregnancy Considerations
Adverse events were observed in some animal reproduction studies. Information related to the use of peramivir in pregnancy is limited (Hernandez 2011; Sorbello 2012). Based on information from one case, the pharmacokinetics of peramivir may be changed with pregnancy (Clay 2011).
Untreated influenza infection is associated with an increased risk of adverse events to the fetus and an increased risk of complications or death to the mother (CDC 62[07], 2013). Neuraminidase inhibitors are currently recommended for the treatment or prophylaxis of influenza in pregnant women and women up to 2 weeks postpartum (CDC 60[1], 2011; CDC March 13, 2014; CDC January 2015).
Patient Education
• Discuss specific use of drug and side effects with patient as it relates to treatment. (HCAHPS: During this hospital stay, were you given any medicine that you had not taken before? Before giving you any new medicine, how often did hospital staff tell you what the medicine was for? How often did hospital staff describe possible side effects in a way you could understand?)
• Patient may experience diarrhea. Have patient report immediately to prescriber signs of Stevens-Johnson syndrome/toxic epidermal necrolysis (red, swollen, blistered, or peeling skin [with or without fever]; red or irritated eyes; or sores in mouth, throat, nose, or eyes), confusion, behavioral changes, altered speech, tremors, seizures, or hallucinations (HCAHPS).
• Educate patient about signs of a significant reaction (eg, wheezing; chest tightness; fever; itching; bad cough; blue skin color; seizures; or swelling of face, lips, tongue, or throat). Note: This is not a comprehensive list of all side effects. Patient should consult prescriber for additional questions.
Intended Use and Disclaimer: Should not be printed and given to patients. This information is intended to serve as a concise initial reference for health care professionals to use when discussing medications with a patient. You must ultimately rely on your own discretion, experience, and judgment in diagnosing, treating, and advising patients.
More about peramivir
Consumer resources
Professional resources
Other brands: Rapivab
Related treatment guides