Claritin-D 24 Hour Brands
We have 2 labels with the same name. Please choose the one you want:
Filter by labeler: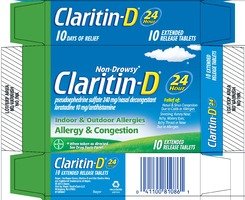 Bayer HealthCare LLC.
Name: Claritin-D 24 Hour
Form: tablet, extended release
Ingredients: LORATADINE 10mg, PSEUDOEPHEDRINE SULFATE 240mg
Date: 2017-07-20
Labeler: Bayer HealthCare LLC.
NDC code: 11523-4332

View Details
REMEDYREPACK INC.
Name: Claritin-D 24 Hour
Form: tablet, extended release
Ingredients: LORATADINE 10mg, PSEUDOEPHEDRINE SULFATE 240mg
Date: 2017-09-21
Labeler: REMEDYREPACK INC.
NDC code: 61786-917

View Details