Liver Abscess
Medically reviewed by Drugs.com. Last updated on Dec 4, 2023.
What is a liver abscess?
A liver abscess is a collection of pus in the liver caused by bacteria, fungi, or parasites. You may have more than one abscess. The liver makes enzymes and bile that help digest food and gives your body energy. It also removes harmful material from your body, such as alcohol and other chemicals.
What increases my risk for liver abscess?
Traveling to places where infection is common
Age older than 70 years
Medical conditions, such as cancer, diabetes, or a weak immune system
Medicines, such as steroids or chemotherapy
Alcohol
Poor nutrition
What are the signs and symptoms of liver abscess?
Pain in the upper right part of the abdomen, just below the ribs
A cough, or feeling tired and weak
Fever and night sweats
Nausea or vomiting
Loss of appetite
Yellowing of the skin or the whites of the eyes
How is liver abscess diagnosed?
Blood tests will show which germ is causing your infection.
An x-ray, ultrasound, CT, or MRI may show the liver abscess. You may be given contrast dye to help the abscess show up better in the pictures. Tell the healthcare provider if you have ever had an allergic reaction to contrast dye. Do not enter the MRI room with anything metal. Metal can cause serious injury. Tell the healthcare provider if you have any metal in or on your body.
How is liver abscess treated?
Medicine can help treat an infection caused by bacteria, a fungus, or a parasite.
Needle aspiration is a procedure to drain fluid with a needle.
Catheter drainage is a procedure to drain fluid through a catheter inserted into an incision.
Surgery may be needed if your abscess is large or if you have more than one. Surgery may also be needed if your abscess bursts.
How can I manage my symptoms?
Eat a variety of healthy foods. Healthy foods include fruits, vegetables, whole-grain breads, low-fat dairy products, beans, lean meats, and fish.
Do not drink alcohol. Alcohol can damage your liver and increase your risk for another abscess. A drink of alcohol is 12 ounces of beer, 5 ounces of wine, or 1½ ounces of liquor.
What can I do to prevent the spread of germs?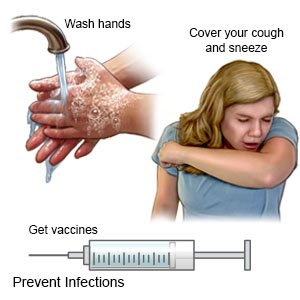 Wash your hands often. Wash your hands several times each day. Wash after you use the bathroom, change a child's diaper, and before you prepare or eat food. Use soap and water every time. Rub your soapy hands together, lacing your fingers. Wash the front and back of your hands, and in between your fingers. Use the fingers of one hand to scrub under the fingernails of the other hand. Wash for at least 20 seconds. Rinse with warm, running water for several seconds. Then dry your hands with a clean towel or paper towel. Use hand sanitizer that contains alcohol if soap and water are not available. Do not touch your eyes, nose, or mouth without washing your hands first.
Cover a sneeze or cough. Use a tissue that covers your mouth and nose. Throw the tissue away in a trash can right away. Use the bend of your arm if a tissue is not available. Wash your hands well with soap and water or use a hand sanitizer.
Stay away from others while you are sick. Avoid crowds as much as possible.
Ask about vaccines you may need. Talk to your healthcare provider about your vaccine history. He or she will tell you which vaccines you need, and when to get them.

Get the influenza (flu) vaccine as soon as recommended each year. The flu vaccine is available starting in September or October. Flu viruses change, so it is important to get a flu vaccine every year.
Get the pneumonia vaccine if recommended. This vaccine is usually recommended every 5 years. Your provider will tell you when to get this vaccine, if needed.
Call your local emergency number (911 in the US) if:
You have sudden trouble breathing.
You are vomiting or have seizures.
When should I call my doctor?
You have pain in your abdomen or it feels fuller than normal.
You have a fever.
You have a cough or feel weak and achy.
You have a rash.
You have questions or concerns about your condition or care.
Care Agreement
You have the right to help plan your care. Learn about your health condition and how it may be treated. Discuss treatment options with your healthcare providers to decide what care you want to receive. You always have the right to refuse treatment. The above information is an educational aid only. It is not intended as medical advice for individual conditions or treatments. Talk to your doctor, nurse or pharmacist before following any medical regimen to see if it is safe and effective for you.
© Copyright Merative 2023 Information is for End User's use only and may not be sold, redistributed or otherwise used for commercial purposes.
Learn more about Liver Abscess
Treatment options
Care guides
Further information
Always consult your healthcare provider to ensure the information displayed on this page applies to your personal circumstances.