60-Second Fluoride Gel
Generic Name: sodium fluoride
Dosage Form: gel

Show On This Page
For further information about unapproved drugs, click here.
INDICATIONS
For topical application to aid in the protection against dental caries.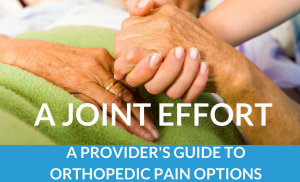 CONTAINS
Fluoride (Sodium Fluoride) – 1.23% w/w.
DOSAGE & ADMINISTRATION
Fill fluoride tray with 2-3ml of fluoride gel per arch. Dry tooth surface and insert tray(s) in mouth. Have patient bite down for 60 seconds (or up to 4 minutes). Slight chewing motion provides interproximal coverage. Remove tray(s) and have patient expectorate excess gel. Inform patient not to eat, drink or rinse for 30 minutes.
CAUTION
For Professional Office use only. This product is not intended for home or unsupervised consumer use.
Warning
Keep out of reach of children. If more than is used for a fluoride application is swallowed, get medical help or contact a Poison Control Center right away.
Store at controlled room temperature:
68-77°F (20-25°C). Prevent from freezing.
Shake well before each use.
Made in U.S.A.
PRINCIPAL DISPLAY PANEL - 454 g Mint Bottle Label
PATTERSON
DENTAL
NDC# 50227-3221-6
60-Second
Fluoride Gel
(APF*)
*Acidulated Phosphate Fluoride
1.23% F Ion
MINT
NET WT. 16 OZ
Reorder Number
088-4288
Manufactured for:
PATTERSON
DENTAL
Patterson Dental Supply, Inc.
1031 Mendota Heights Road
Saint Paul, MN 55120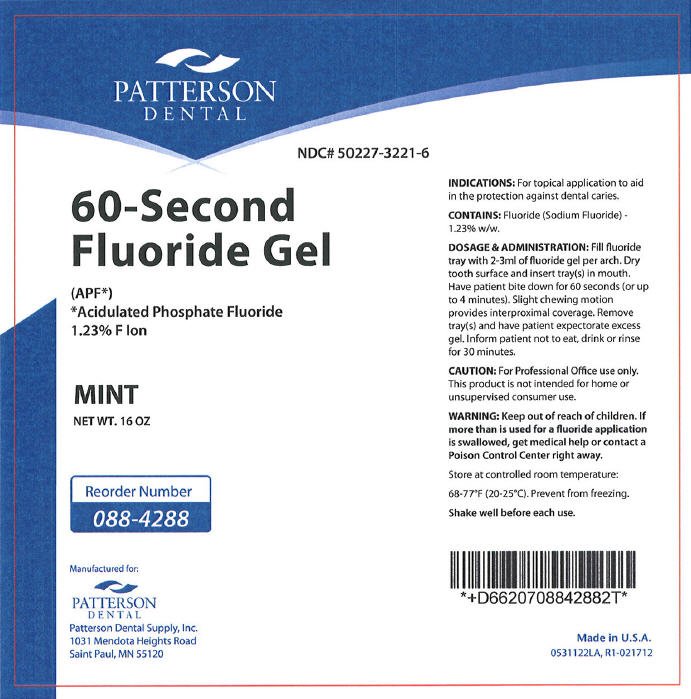 PRINCIPAL DISPLAY PANEL - 454 g Grape Bottle Label
PATTERSON
DENTAL
NDC# 50227-3231-6
60-Second
Fluoride Gel
(APF*)
*Acidulated Phosphate Fluoride
1.23% F Ion
GRAPE
NET WT. 16 OZ
Reorder Number
088-4296
Manufactured for:
PATTERSON
DENTAL
Patterson Dental Supply, Inc.
1031 Mendota Heights Road
Saint Paul, MN 55120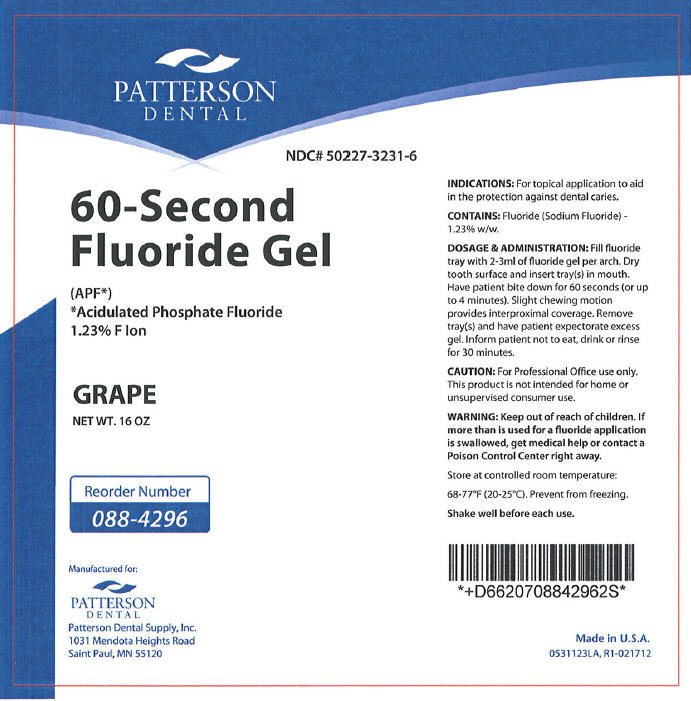 PRINCIPAL DISPLAY PANEL - 454 g Bubble Gum Bottle Label
PATTERSON
DENTAL
NDC# 50227-3251-6
60-Second
Fluoride Gel
(APF*)
*Acidulated Phosphate Fluoride
1.23% F Ion
BUBBLE GUM
NET WT. 16 OZ
Reorder Number
088-4247
Manufactured for:
PATTERSON
DENTAL
Patterson Dental Supply, Inc.
1031 Mendota Heights Road
Saint Paul, MN 55120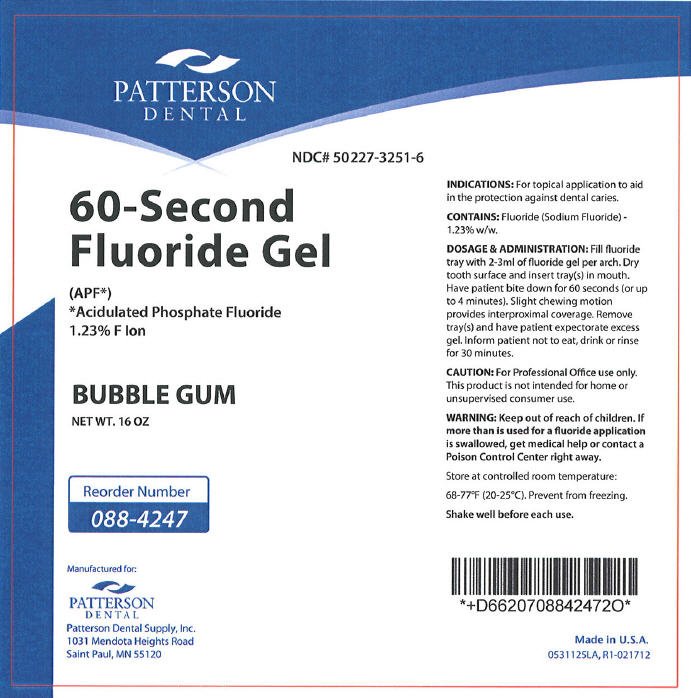 PRINCIPAL DISPLAY PANEL - 454 g Strawberry Bottle Label
PATTERSON
DENTAL
NDC# 50227-3281-6
60-Second
Fluoride Gel
(APF*)
*Acidulated Phosphate Fluoride
1.23% F Ion
STRAWBERRY
NET WT. 16 OZ
Reorder Number
088-4270
Manufactured for:
PATTERSON
DENTAL
Patterson Dental Supply, Inc.
1031 Mendota Heights Road
Saint Paul, MN 55120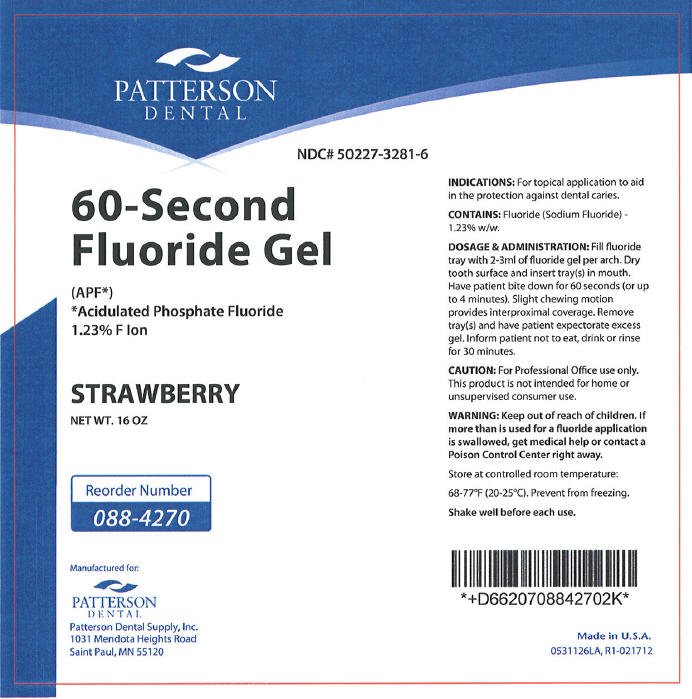 PRINCIPAL DISPLAY PANEL - 454 g Orange Cream Bottle Label
PATTERSON
DENTAL
NDC# 50227-3271-6
60-Second
Fluoride Gel
(APF*)
*Acidulated Phosphate Fluoride
1.23% F Ion
ORANGE CREAM
NET WT. 16 OZ
Reorder Number
088-4262
Manufactured for:
PATTERSON
DENTAL
Patterson Dental Supply, Inc.
1031 Mendota Heights Road
Saint Paul, MN 55120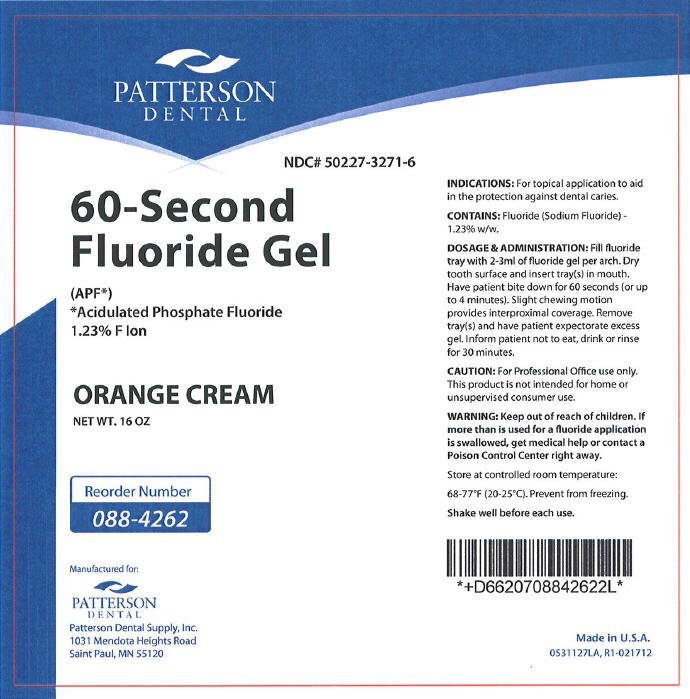 PRINCIPAL DISPLAY PANEL - 454 g Marshmallow Bottle Label
PATTERSON
DENTAL
NDC# 50227-3261-6
60-Second
Fluoride Gel
(APF*)
*Acidulated Phosphate Fluoride
1.23% F Ion
MARSHMALLOW
NET WT. 16 OZ
Reorder Number
088-4254
Manufactured for:
PATTERSON
DENTAL
Patterson Dental Supply, Inc.
1031 Mendota Heights Road
Saint Paul, MN 55120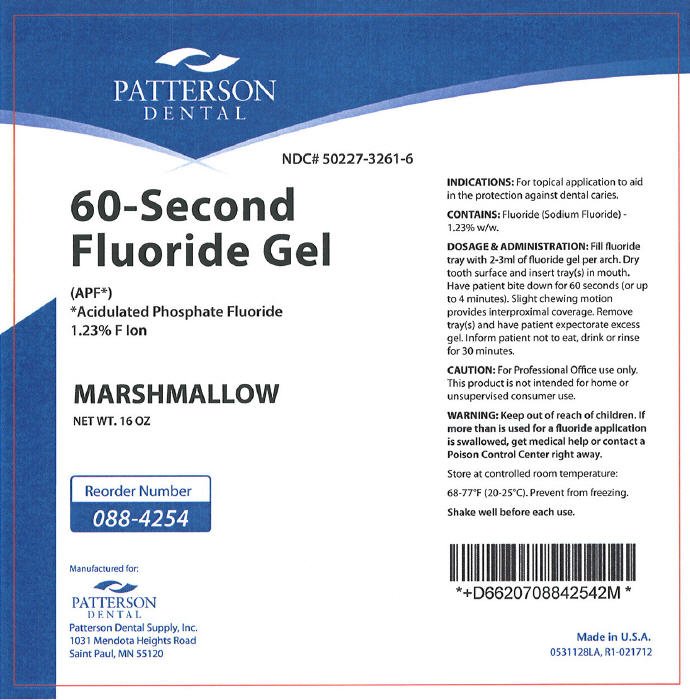 PRINCIPAL DISPLAY PANEL - 454 g Cherry Bottle Label
PATTERSON
DENTAL
NDC# 50227-3211-6
60-Second
Fluoride Gel
(APF*)
*Acidulated Phosphate Fluoride
1.23% F Ion
CHERRY
NET WT. 16 OZ
Reorder Number
088-4353
Manufactured for:
PATTERSON
DENTAL
Patterson Dental Supply, Inc.
1031 Mendota Heights Road
Saint Paul, MN 55120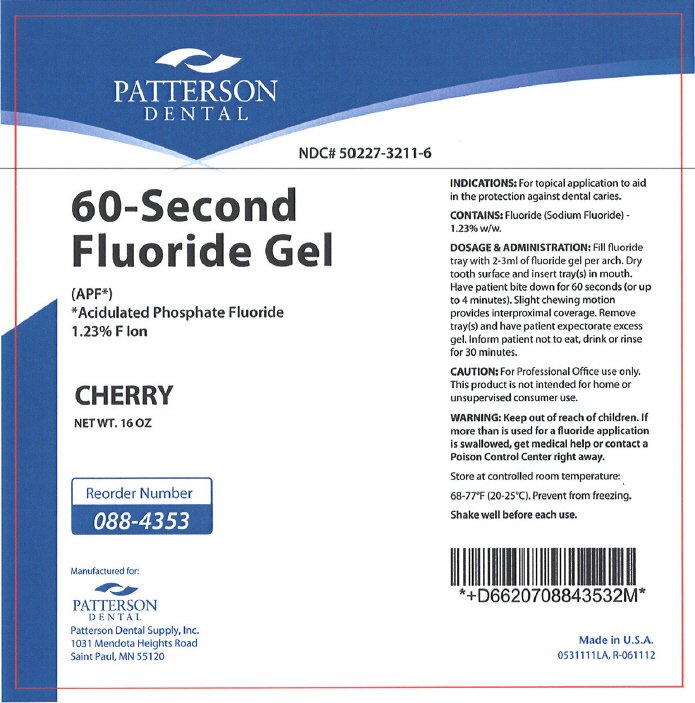 PRINCIPAL DISPLAY PANEL - 454 g Piña Colada Bottle Label
PATTERSON
DENTAL
NDC# 50227-3241-6
60-Second
Fluoride Gel
(APF*)
*Acidulated Phosphate Fluoride
1.23% F Ion
PIÑA COLADA
NET WT. 16 OZ
Reorder Number
088-4346
Manufactured for:
PATTERSON
DENTAL
Patterson Dental Supply, Inc.
1031 Mendota Heights Road
Saint Paul, MN 55120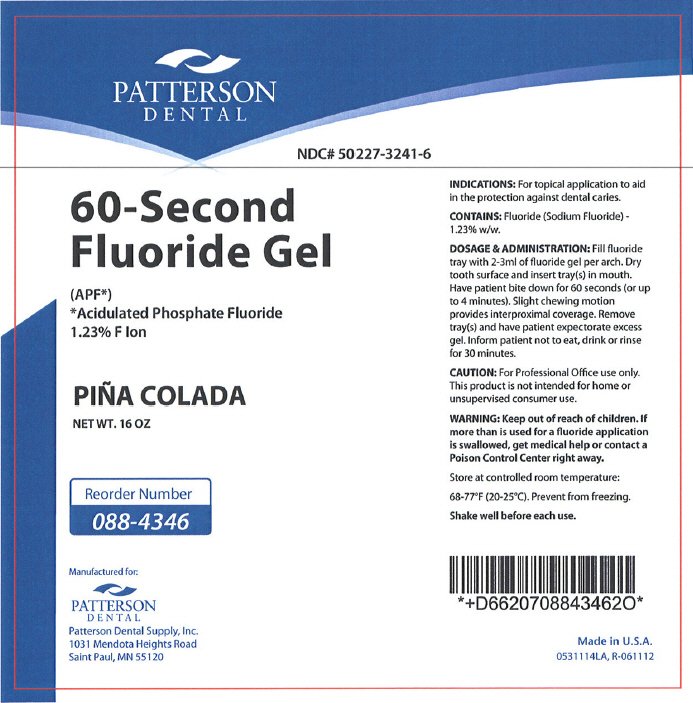 60-SECOND FLUORIDE MINT
sodium fluoride gel
Product Information
Product Type
HUMAN PRESCRIPTION DRUG LABEL
Item Code (Source)
NDC:50227-3221
Route of Administration
DENTAL
DEA Schedule
Active Ingredient/Active Moiety
Ingredient Name
Basis of Strength
Strength
Sodium Fluoride (Fluoride Ion)
Fluoride Ion
12.3 mg in 1 g
Inactive Ingredients
Ingredient Name
Strength
Water
MAGNESIUM ALUMINUM SILICATE
Phosphoric Acid
Hydrofluoric Acid
Anhydrous Citric Acid
Xanthan Gum
Xylitol
Polysorbate 20
SACCHARIN SODIUM DIHYDRATE
Sodium Benzoate
Titanium Dioxide
Product Characteristics
Color
GREEN
Score
Shape
Size
Flavor
MINT
Imprint Code
Contains
Packaging
#
Item Code
Package Description
1
NDC:50227-3221-6
454 g in 1 BOTTLE, PLASTIC
Marketing Information
Marketing Category
Application Number or Monograph Citation
Marketing Start Date
Marketing End Date
UNAPPROVED DRUG OTHER
01/01/1978
60-SECOND FLUORIDE GRAPE
sodium fluoride gel
Product Information
Product Type
HUMAN PRESCRIPTION DRUG LABEL
Item Code (Source)
NDC:50227-3231
Route of Administration
DENTAL
DEA Schedule
Active Ingredient/Active Moiety
Ingredient Name
Basis of Strength
Strength
Sodium Fluoride (Fluoride Ion)
Fluoride Ion
12.3 mg in 1 g
Inactive Ingredients
Ingredient Name
Strength
Water
MAGNESIUM ALUMINUM SILICATE
Phosphoric Acid
Hydrofluoric Acid
Anhydrous Citric Acid
Xanthan Gum
Xylitol
Polysorbate 20
SACCHARIN SODIUM DIHYDRATE
Sodium Benzoate
Titanium Dioxide
Product Characteristics
Color
PURPLE
Score
Shape
Size
Flavor
GRAPE
Imprint Code
Contains
Packaging
#
Item Code
Package Description
1
NDC:50227-3231-6
454 g in 1 BOTTLE, PLASTIC
Marketing Information
Marketing Category
Application Number or Monograph Citation
Marketing Start Date
Marketing End Date
UNAPPROVED DRUG OTHER
01/01/1978
10/01/2012
60-SECOND FLUORIDE BUBBLE GUM
sodium fluoride gel
Product Information
Product Type
HUMAN PRESCRIPTION DRUG LABEL
Item Code (Source)
NDC:50227-3251
Route of Administration
DENTAL
DEA Schedule
Active Ingredient/Active Moiety
Ingredient Name
Basis of Strength
Strength
Sodium Fluoride (Fluoride Ion)
Fluoride Ion
12.3 mg in 1 g
Inactive Ingredients
Ingredient Name
Strength
Water
MAGNESIUM ALUMINUM SILICATE
Phosphoric Acid
Hydrofluoric Acid
Anhydrous Citric Acid
Xanthan Gum
Xylitol
Polysorbate 20
SACCHARIN SODIUM DIHYDRATE
Sodium Benzoate
Titanium Dioxide
Product Characteristics
Color
PINK
Score
Shape
Size
Flavor
BUBBLE GUM
Imprint Code
Contains
Packaging
#
Item Code
Package Description
1
NDC:50227-3251-6
454 g in 1 BOTTLE, PLASTIC
Marketing Information
Marketing Category
Application Number or Monograph Citation
Marketing Start Date
Marketing End Date
UNAPPROVED DRUG OTHER
01/01/1978
60-SECOND FLUORIDE STRAWBERRY
sodium fluoride gel
Product Information
Product Type
HUMAN PRESCRIPTION DRUG LABEL
Item Code (Source)
NDC:50227-3281
Route of Administration
DENTAL
DEA Schedule
Active Ingredient/Active Moiety
Ingredient Name
Basis of Strength
Strength
Sodium Fluoride (Fluoride Ion)
Fluoride Ion
12.3 mg in 1 g
Inactive Ingredients
Ingredient Name
Strength
Water
MAGNESIUM ALUMINUM SILICATE
Phosphoric Acid
Hydrofluoric Acid
Anhydrous Citric Acid
Xanthan Gum
Xylitol
Polysorbate 20
SACCHARIN SODIUM DIHYDRATE
Sodium Benzoate
Titanium Dioxide
Product Characteristics
Color
PINK
Score
Shape
Size
Flavor
STRAWBERRY
Imprint Code
Contains
Packaging
#
Item Code
Package Description
1
NDC:50227-3281-6
454 g in 1 BOTTLE, PLASTIC
Marketing Information
Marketing Category
Application Number or Monograph Citation
Marketing Start Date
Marketing End Date
UNAPPROVED DRUG OTHER
01/01/1978
10/01/2012
60-SECOND FLUORIDE ORANGE CREAM
sodium fluoride gel
Product Information
Product Type
HUMAN PRESCRIPTION DRUG LABEL
Item Code (Source)
NDC:50227-3271
Route of Administration
DENTAL
DEA Schedule
Active Ingredient/Active Moiety
Ingredient Name
Basis of Strength
Strength
Sodium Fluoride (Fluoride Ion)
Fluoride Ion
12.3 mg in 1 g
Inactive Ingredients
Ingredient Name
Strength
Water
MAGNESIUM ALUMINUM SILICATE
Phosphoric Acid
Hydrofluoric Acid
Anhydrous Citric Acid
Xanthan Gum
Xylitol
Polysorbate 20
SACCHARIN SODIUM DIHYDRATE
Sodium Benzoate
Titanium Dioxide
Product Characteristics
Color
ORANGE
Score
Shape
Size
Flavor
ORANGE (Orange Cream)
Imprint Code
Contains
Packaging
#
Item Code
Package Description
1
NDC:50227-3271-6
454 g in 1 BOTTLE, PLASTIC
Marketing Information
Marketing Category
Application Number or Monograph Citation
Marketing Start Date
Marketing End Date
UNAPPROVED DRUG OTHER
01/01/1978
60-SECOND FLUORIDE MARSHMALLOW
sodium fluoride gel
Product Information
Product Type
HUMAN PRESCRIPTION DRUG LABEL
Item Code (Source)
NDC:50227-3261
Route of Administration
DENTAL
DEA Schedule
Active Ingredient/Active Moiety
Ingredient Name
Basis of Strength
Strength
Sodium Fluoride (Fluoride Ion)
Fluoride Ion
12.3 mg in 1 g
Inactive Ingredients
Ingredient Name
Strength
Water
MAGNESIUM ALUMINUM SILICATE
Phosphoric Acid
Hydrofluoric Acid
Anhydrous Citric Acid
Xanthan Gum
Xylitol
Polysorbate 20
SACCHARIN SODIUM DIHYDRATE
Sodium Benzoate
Titanium Dioxide
Product Characteristics
Color
YELLOW
Score
Shape
Size
Flavor
MARSHMALLOW
Imprint Code
Contains
Packaging
#
Item Code
Package Description
1
NDC:50227-3261-6
454 g in 1 BOTTLE, PLASTIC
Marketing Information
Marketing Category
Application Number or Monograph Citation
Marketing Start Date
Marketing End Date
UNAPPROVED DRUG OTHER
01/01/1978
10/01/2012
60-SECOND FLUORIDE CHERRY
sodium fluoride gel
Product Information
Product Type
HUMAN PRESCRIPTION DRUG LABEL
Item Code (Source)
NDC:50227-3211
Route of Administration
DENTAL
DEA Schedule
Active Ingredient/Active Moiety
Ingredient Name
Basis of Strength
Strength
Sodium Fluoride (Fluoride Ion)
Fluoride Ion
12.3 mg in 1 g
Inactive Ingredients
Ingredient Name
Strength
Water
MAGNESIUM ALUMINUM SILICATE
Phosphoric Acid
Hydrofluoric Acid
Anhydrous Citric Acid
Xanthan Gum
Xylitol
Polysorbate 20
SACCHARIN SODIUM DIHYDRATE
Sodium Benzoate
Titanium Dioxide
Product Characteristics
Color
RED
Score
Shape
Size
Flavor
CHERRY
Imprint Code
Contains
Packaging
#
Item Code
Package Description
1
NDC:50227-3211-6
454 g in 1 BOTTLE, PLASTIC
Marketing Information
Marketing Category
Application Number or Monograph Citation
Marketing Start Date
Marketing End Date
UNAPPROVED DRUG OTHER
01/01/1978
60-SECOND FLUORIDE PINA COLADA
sodium fluoride gel
Product Information
Product Type
HUMAN PRESCRIPTION DRUG LABEL
Item Code (Source)
NDC:50227-3241
Route of Administration
DENTAL
DEA Schedule
Active Ingredient/Active Moiety
Ingredient Name
Basis of Strength
Strength
Sodium Fluoride (Fluoride Ion)
Fluoride Ion
12.3 mg in 1 g
Inactive Ingredients
Ingredient Name
Strength
Water
MAGNESIUM ALUMINUM SILICATE
Phosphoric Acid
Hydrofluoric Acid
Anhydrous Citric Acid
Xanthan Gum
Xylitol
Polysorbate 20
SACCHARIN SODIUM DIHYDRATE
Sodium Benzoate
Titanium Dioxide
Product Characteristics
Color
WHITE
Score
Shape
Size
Flavor
COCONUT (Pina Colada)
Imprint Code
Contains
Packaging
#
Item Code
Package Description
1
NDC:50227-3241-6
454 g in 1 BOTTLE, PLASTIC
Marketing Information
Marketing Category
Application Number or Monograph Citation
Marketing Start Date
Marketing End Date
UNAPPROVED DRUG OTHER
01/01/1978
Labeler - Patterson Dental Supply Inc (171843584)
Revised: 10/2012
Patterson Dental Supply Inc