Sepsis in Children
Medically reviewed by Drugs.com. Last updated on Dec 2, 2022.
What is sepsis?
Sepsis happens when an infection spreads and causes your child's body to react strongly. Your child's immune system normally releases chemicals to fight off infection at the infected area. When infection spreads, chemicals are released throughout your child's body. The chemicals cause inflammation and clotting in small blood vessels that are hard to control. Inflammation and clotting decrease blood flow and oxygen to your child's organs. This may cause your child's organs to stop working correctly. Sepsis is a life-threatening emergency.
What increases my child's risk for sepsis?
Age younger than 1 year
An infection anywhere in your child's body, especially the lungs, blood, or urinary tract
An implanted catheter
Birth before 37 weeks or birth more than 18 hours after the mother's amniotic sac (water) broke
An infection in the placenta or mother's uterus during pregnancy
A weakened immune system from a condition or medicine
Heart problems, large burns, or multiple injuries
Recent surgery
What are the signs and symptoms of sepsis?
Seek care immediately for any of the following:
Fast heartbeat in older children and very slow heartbeat in newborns
Shortness of breath or fast breathing
Confusion, dizziness, extreme sleepiness
Cold, pale, or clammy skin
Speckled or spotted skin on arms and legs
Fever or very low body temperature
Severe pain
Extreme fussiness, or poor feeding
How is sepsis diagnosed?
Measurement of your child's vital signs may show an abnormal temperature, heart rate, or blood pressure. Healthcare providers may use certain tests or checklists to track measurements. They may also track your child's level of consciousness, signs of organ damage, or problems with blood clotting.
Blood and urine tests may show signs of infection or organ function. The tests may also show which germ is causing the infection.
How is sepsis treated?
Several treatments may be needed if sepsis causes one or more organs to stop working correctly. Treatments are often started in the emergency room and continued in an intensive care or critical care unit of a hospital. Your child may need any of the following:
Medicines will be given to treat the infection. Medicines may be given to increase your child's blood pressure and blood flow to his or her organs. Medicines may also be given to control your child's heart rate or blood sugar level, or to prevent blood clots.
Removal or change of a catheter or drain may be needed to get rid of the infection.
IV fluids may be given to treat or prevent dehydration. IV fluids also help increase blood flow to your child's organs, and increase his or her blood pressure.
Oxygen may be needed if your child's blood oxygen level is lower than it should be.
A ventilator is a machine that gives your child oxygen and breathes for him or her when he or she cannot breathe well. An endotracheal (ET) tube is put into your child's mouth or nose and attached to the ventilator.
A blood transfusion may be needed if bleeding occurs or platelet levels drop. This can happen in severe sepsis.
Dialysis may be needed if your child's kidneys stop working correctly or are damaged during sepsis. Dialysis is a procedure to remove chemicals, wastes, and extra fluid from your child's blood.
Treatment options
The following list of medications are in some way related to or used in the treatment of this condition.
What can I do to prevent sepsis in my child?
Wash your hands and your child's hands often. This can help decrease your child's risk for infections. Have your child wash his or her hands before he or she eats. Also have your child wash his or her hands after he or she uses the bathroom. Wash your hands before you prepare your child's meal. Also wash your hands after you use the bathroom. You and your child should use soap and water or an alcohol-based hand sanitizer.
Ask about vaccines your child may need. Vaccines can help prevent some infections that may lead to sepsis. Have your child get a flu vaccine every year as soon as recommended, usually in September or October. Children 6 months or older should get a COVID-19 vaccine and recommended boosters. Your child's healthcare provider can tell you if your child also needs other vaccines, and when to get them.
Prevent the spread of germs. Keep your child home from school or daycare if others are sick. Try to keep your child away from people who have a cold or the flu. If your child is sick, keep him or her away from others as much as possible.
Care for your child's wounds and incisions as directed. Keep your child's wounds and incisions clean and dry. Change your child's bandages when they get wet or dirty. Tell your child's healthcare provider immediately if you see signs of a wound infection. Signs include redness, warmth, swelling, or pus.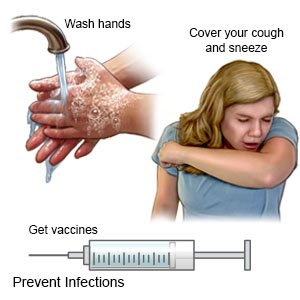 Care Agreement
You have the right to help plan your child's care. Learn about your child's health condition and how it may be treated. Discuss treatment options with your child's healthcare providers to decide what care you want for your child. The above information is an educational aid only. It is not intended as medical advice for individual conditions or treatments. Talk to your doctor, nurse or pharmacist before following any medical regimen to see if it is safe and effective for you.
© Copyright Merative 2022 Information is for End User's use only and may not be sold, redistributed or otherwise used for commercial purposes.
Learn more about Sepsis
Treatment options
Care guides
Medicine.com guides (external)
Further information
Always consult your healthcare provider to ensure the information displayed on this page applies to your personal circumstances.