Myelodysplastic Syndromes
Medically reviewed by Drugs.com. Last updated on Oct 31, 2022.
What are myelodysplastic syndromes (MDS)?
MDS are a group of conditions that prevent stem cells in your bone marrow from working properly. Stem cells normally make red blood cells (RBCs), white blood cells (WBCs), and platelets. MDS cause stem cells to grow and increase in number without control or order. The RBCs, WBCs, and platelets produced are faulty and too few in number. This increases your risk for anemia (low numbers of RBCs), abnormal bleeding, infections, and leukemia. MDS usually affect people older than 70 years.
What increases my risk for MDS?
Treatments such as chemotherapy and radiation that damage your stem cells
Immune system disorders, such as an autoimmune disease
A family history of MDS
Use of tobacco products
Exposure to certain chemicals, such as benzene or pesticides
A disorder such as Fanconi anemia or severe congenital neutropenia
What are the signs and symptoms of MDS?
Pale skin, weakness, or fatigue
Low blood pressure or dizziness when you stand up too quickly
Fevers or infections that happen often
Bruising or bleeding easily
Blood in your vomit or bowel movements
Weight loss
How are MDS diagnosed?
Your healthcare provider will ask about other medical conditions you may have. He or she will also ask if you have a family history of MDS or autoimmune disease. You may need any of the following tests:
Blood tests can show the number of RBCs, WBCs, and platelets. They may also show if your blood cells are working correctly.
A bone marrow biopsy is a procedure to take a small amount of bone marrow from the bone in your hip. It will help your healthcare provider see what kind and how many blood forming cells are in your bone marrow.
How are MDS treated?
Medicines may help stop the growth of faulty stem cells. They may help prevent normal stem cells from becoming defective. Other medicine will increase the number of RBCs, WBCs, or platelets. You may also need medicine to stop your immune system from attacking your stem cells, RBCs, WBCs, or platelets. Medicine may be given to prevent or treat an infection.
A blood transfusion may be given to increase RBCs or other blood cells.
A blood or bone marrow stem cell transplant is a procedure to put bone marrow or stem cells in your blood through an IV. The stem cells should go to your bone marrow and begin to make new, healthy blood cells.
Treatment options
The following list of medications are in some way related to or used in the treatment of this condition.
How can I manage MDS?
It is important to lower your risk for bleeding or bruising, and to prevent infections:
Wash your hands often. Wash your hands after you use the bathroom, change a child's diapers, or sneeze. Wash your hands before you prepare or eat food. Use soap and water. Rub your soapy hands together, lacing your fingers. Wash the front and back of each hand, and in between your fingers. Use the fingers of one hand to scrub under the nails of the other hand. Rinse under running water. Dry your hands with a clean towel or a paper towel. You can use a hand sanitizer that contains alcohol if soap and water are not available.
Protect yourself from sneezes and coughs. Turn your head and cover your face if you are around someone who is sneezing or coughing. You can cover your face with a tissue or use the bend of your arm.
Avoid anyone who has a cold or the flu. Also try to avoid large groups. This will lower your risk for getting sick. Treatment for MDS can lower your ability to fight infection.
Ask about vaccines you may need. Get a flu vaccine as soon as recommended each year, usually starting in September or October. A pneumonia vaccine may be recommended every 5 years. Your healthcare provider can tell you if you need other vaccines, and when to get them.
Ask which activities are safe for you. Contact sports may increase your risk for bleeding or bruising.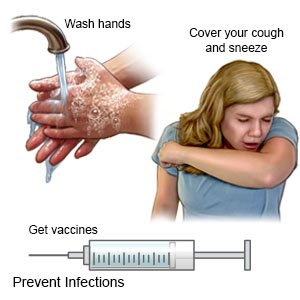 Call your local emergency number (911 in the US) if:
You feel lightheaded, short of breath, or have chest pain.
You cough up blood.
When should I seek immediate care?
Your arm or leg feels warm, tender, and painful. It may look swollen and red.
You have blood in your bowel movement.
You vomit blood.
You have a wound that does not stop bleeding after 10 minutes of direct pressure.
You have severe abdominal pain.
When should I call my doctor?
You have a fever.
You are dizzy and feel like fainting.
You have chills, a cough, or feel weak and achy.
You have questions or concerns about your condition or care.
Care Agreement
You have the right to help plan your care. Learn about your health condition and how it may be treated. Discuss treatment options with your healthcare providers to decide what care you want to receive. You always have the right to refuse treatment. The above information is an educational aid only. It is not intended as medical advice for individual conditions or treatments. Talk to your doctor, nurse or pharmacist before following any medical regimen to see if it is safe and effective for you.
© Copyright IBM Corporation 2022 Information is for End User's use only and may not be sold, redistributed or otherwise used for commercial purposes. All illustrations and images included in CareNotes® are the copyrighted property of A.D.A.M., Inc. or IBM Watson Health
Learn more about Myelodysplastic Syndromes
Treatment options
Further information
Always consult your healthcare provider to ensure the information displayed on this page applies to your personal circumstances.