Myelodysplastic Syndromes
Medically reviewed by Drugs.com. Last updated on Mar 5, 2023.
Myelodysplastic syndromes (MDS) are a group of conditions that prevent stem cells in your bone marrow from working properly. Stem cells make red blood cells (RBCs), white blood cells (WBCs), and platelets. MDS cause stem cells to grow and increase in number without control or order. The RBCs, WBCs, and platelets produced are faulty and too few in number. This increases your risk for anemia (low levels of RBC), bleeding, infections, and leukemia. MDS usually affect people older than 70 years.
DISCHARGE INSTRUCTIONS:
Call your local emergency number (911 in the US) if:
You feel lightheaded, short of breath, or have chest pain.
You cough up blood.
Return to the emergency department if:
Your arm or leg feels warm, tender, and painful. It may look swollen and red.
You have blood in your bowel movement.
You vomit blood.
You have a wound that does not stop bleeding after 10 minutes of direct pressure.
You have severe abdominal pain.
Call your doctor if:
You have a fever.
You are dizzy and feel like fainting.
You have chills, a cough, or feel weak and achy.
You have questions or concerns about your condition or care.
Medicines:
You may need any of the following:
Antibiotics may help prevent or treat an infection caused by bacteria.
Steroids may be used to stop your immune system from attacking your body's own cells, such as RBCs, WBCs, and platelets.
Immunosuppressives help stop your immune system from attacking your body's own cells. They may also prevent death of normal RBCs, WBCs, and platelets.
Take your medicine as directed. Contact your healthcare provider if you think your medicine is not helping or if you have side effects. Tell your provider if you are allergic to any medicine. Keep a list of the medicines, vitamins, and herbs you take. Include the amounts, and when and why you take them. Bring the list or the pill bottles to follow-up visits. Carry your medicine list with you in case of an emergency.
Treatment options
The following list of medications are in some way related to or used in the treatment of this condition.
Prevent infections:
It is important to lower your risk for bleeding or bruising, and to prevent infections:
Wash your hands often. Wash your hands after you use the bathroom, change a child's diapers, or sneeze. Wash your hands before you prepare or eat food. Use soap and water. Rub your soapy hands together, lacing your fingers. Wash the front and back of each hand, and in between your fingers. Use the fingers of one hand to scrub under the nails of the other hand. Rinse under running water. Dry your hands with a clean towel or a paper towel. You can use a hand sanitizer that contains alcohol if soap and water are not available.
Protect yourself from sneezes and coughs. Turn your head and cover your face if you are around someone who is sneezing or coughing. You can cover your face with a tissue or use the bend of your arm.
Avoid anyone who has a cold or the flu. Also try to avoid large groups. This will lower your risk for getting sick. Treatment for MDS can lower your ability to fight infection.
Ask about vaccines you may need. Get a flu vaccine as soon as recommended each year, usually starting in September or October. A pneumonia vaccine may be recommended every 5 years. Your healthcare provider can tell you if you need other vaccines, and when to get them.
Ask which activities are safe for you. Contact sports may increase your risk for bleeding or bruising.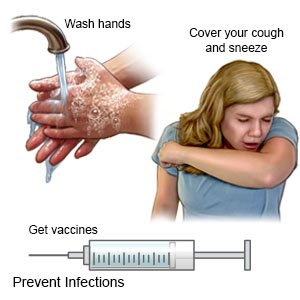 Follow up with your doctor or hematologist-oncologist as directed:
It is important for you to go to all follow-up appointments. You will need ongoing tests, and you may need more treatment. Write down your questions so you remember to ask them during your visits.
© Copyright Merative 2023 Information is for End User's use only and may not be sold, redistributed or otherwise used for commercial purposes.
The above information is an educational aid only. It is not intended as medical advice for individual conditions or treatments. Talk to your doctor, nurse or pharmacist before following any medical regimen to see if it is safe and effective for you.
Learn more about Myelodysplastic Syndromes
Treatment options
Care guides
Further information
Always consult your healthcare provider to ensure the information displayed on this page applies to your personal circumstances.