Mytelase Prescribing Information
Package insert / product label
Generic name: ambenonium chloride
Dosage form: tablet
Drug class: Cholinergic muscle stimulants
Medically reviewed by Drugs.com. Last updated on Oct 24, 2022.
On This Page
Mytelase Description
Mytelase, brand of ambenonium chloride, is [Oxalylbis (iminoethylene)] bis[(o-chlorobenzyl) diethylammonium] dichloride, a white crystalline powder, soluble in water to 20 percent (w/v).
Inactive Ingredients: Acacia, Dibasic Calcium Phosphate, Gelatin, Lactose, Magnesium Stearate, Starch, Sucrose.
Mytelase - Clinical Pharmacology
The compound is a cholinesterase inhibitor with all the pharmacologic actions of acetylcholine, both the muscarinic and nicotinic types. Cholinesterase inactivates acetylcholine. Like neostigmine, Mytelase suppresses cholinesterase but has the advantage of longer duration of action and fewer side effects on the gastrointestinal tract. The longer duration of action also results in more even strength, better endurance, and greater residual effect during the night and on awakening than is produced by shorter-acting anticholinesterase compounds.
INDICATION AND USAGE
This drug is indicated for the treatment of myasthenia gravis.
Contraindications
Routine administration of atropine with Mytelase is contraindicated since belladonna derivatives may suppress the parasympathomimetic (muscarinic) symptoms of excessive gastrointestinal stimulation, leaving only the more serious symptoms of fasciculation and paralysis of voluntary muscles as signs of overdosage.
Mytelase should not be administered to patients receiving mecamylamine, or any other ganglionic blocking agents. Mytelase should also not be administered to patients with a known hypersensitivity to ambenonium chloride or any other ingredients of Mytelase.
Warnings
Because this drug has a more prolonged action than other antimyasthenic drugs, simultaneous administration with other cholinergics is contraindicated except under strict medical supervision. The overlap in duration of action of several drugs complicates dosage schedules. Therefore, when a patient is to be given the drug, the administration of all other cholinergics should be suspended until the patient has been stabilized. In most instances the myasthenic symptoms are effectively controlled by its use alone.
Precautions
Great care and supervision are required, since the warning of overdosage is minimal and the requirements of patients vary tremendously. It must be borne in mind constantly that a narrow margin exists between the first appearance of side effects and serious toxic effects. Caution in increasing the dosage is essential.
The drug should be used with caution in patients with asthma, Parkinson's Disease or in patients with mechanical intestinal or urinary obstruction.
Usage in Pregnancy
Safe use of this drug during pregnancy has not been established. Therefore, before use of Mytelase in pregnant women or women of childbearing potential, the potential benefits should be weighed against possible risks to mother and fetus.
Nursing Mothers
It is not known whether this drug is excreted in human milk. Because many drugs are excreted in human milk and because of the potential for serious adverse reactions in nursing infants from Mytelase, a decision should be made whether to discontinue nursing or to discontinue the drug, taking into account the importance of the drug to the mother.
Pediatric Use
Safety and effectiveness in pediatric patients have not been established.
Geriatric Use
Clinical Studies of Mytelase did not include sufficient numbers of subjects aged 65 and over to determine whether they respond differently from younger subjects. Other reported clinical experience has not identified differences in responses between the elderly and younger patients. In general, dose selection for an elderly patient should be cautious, usually starting at the low end of the dosing range, reflecting the greater frequency of decreased hepatic, renal, or cardiac function, and of concomitant disease or other drug therapy.
Adverse Reactions
Adverse effects of anticholinesterase agents such as Mytelase usually result from overdosage and include muscarinic effects such as excessive salivation, abdominal cramps, diarrhea, miosis, urinary urgency, sweating, nausea, increase in bronchial and lachrymal secretions, and vomiting, and nicotinic effects such as muscle cramps, fasciculation of voluntary muscles, and rarely generalized malaise with anxiety and vertigo. (See OVERDOSAGE.)
Mytelase Dosage and Administration
The oral dose must be individualized according to the patient's response because the disease varies widely in its severity in different patients and because patients vary in their sensitivity to cholinergic drugs. Since the point of maximum therapeutic effectiveness with optimal muscle strength and no gastrointestinal disturbances is a highly critical one, the close supervision of a physician familiar with the disease is necessary.
Because its action is longer, administration of Mytelase is necessary only every three or four hours, depending on the clinical response. Usually medication is not required throughout the night, so that the patient can sleep uninterruptedly.
For the patient with moderately severe myasthenia, from 5 mg to 25 mg of Mytelase three or four times daily is an effective dose. In some patients a 5 mg dose is effective, whereas other patients require as much as from 50 mg to 75 mg per dose. The physician should start with a 5 mg dose, carefully observing the effect of the drug on the patient. The dosage may then be increased gradually to determine the effective and safe dose. The longer duration of action of Mytelase makes it desirable to adjust dosage at intervals of one to two days to avoid drug accumulation and overdosage. (See OVERDOSAGE.)
In addition to individual variations in dosage requirements, the amount of cholinergic medication necessary to control symptoms may fluctuate in each patient, depending on his activity and the current status of the disease, including spontaneous remission. A few patients have required greater doses for adequate control of myasthenic symptoms, but increasing the dosage above 200 mg daily requires exacting supervision of a physician well aware of the signs and treatment of overdosage with cholinergic medication.
Edrophonium (Tensilon®) may be used to evaluate the adequacy of the maintenance dose of anti-cholinesterase medication. Two mg edrophonium are administered intravenously one hour after the last anticholinesterase dose. A transient increase in strength occurring about 30 seconds later and lasting 3 to 5 minutes indicates insufficient maintenance dose. If the dose is adequate or excessive, no change or a transient decrease in strength will occur, sometimes accompanied by muscarinic symptoms.
Overdosage
When the drug produces overstimulation, the clinical picture is one of increasing parasympathomimetic action that is more or less characteristic when not masked by the use of atropine.
Signs and symptoms of overdosage, including cholinergic crises, vary considerably. They are usually manifested by increasing gastrointestinal stimulation with epigastric distress, abdominal cramps, diarrhea and vomiting, excessive salivation, pallor, pollakiuria, cold sweating, urinary urgency, blurring of vision, and eventually fasciculation and paralysis of voluntary muscles, including those of the tongue (thick tongue and difficulty in swallowing), shoulder, neck, and arms. Rarely, generalized malaise and vertigo may occur. Miosis, increase in blood pressure with or without bradycardia, and finally, subjective sensations of internal trembling, and often severe anxiety and panic may complete the picture. A cholinergic crisis is usually differentiated from the weakness and paralysis of myasthenia gravis insufficiently treated by cholinergic drugs by the fact that myasthenic weakness is not accompanied by any of the above signs and symptoms, except the last two subjective ones (anxiety and panic).
Since the warning of overdosage is minimal, the existence of a narrow margin between the first appearance of side effects and serious toxic effects must be borne in mind constantly. If signs of overdosage occur (excessive gastrointestinal stimulation, excessive salivation, miosis, and more serious fasciculations of voluntary muscles) discontinue temporarily all cholinergic medication and administer from 0.5 mg to 1 mg (1/120 to 1/60 grain) of atropine intravenously. It must be noted that atropine reverses effects of excessive acetylcholine due to overdosage at the muscarinic receptors but not the effects at the nicotinic receptors such as fasciculations and paralysis of respiratory muscles. Pralidoxime chloride may be used to alleviate these effects at the nicotinic receptors since pralidoxime has its most critical effect in relieving paralysis of the muscles of respiration. However, because pralidoxime is less effective in relieving depression of the respiratory center, atropine is always required concomitantly to block the effect of accumulated acetylcholine at this site. Give other supportive treatment as indicated (e.g. artificial respiration, tracheotomy, oxygen, and hospitalization).
How is Mytelase Supplied
Scored, white, capsule – shaped tablets (caplets) with a stylized "W" on one side and "M" score "87" on the other side, 10 mg, bottles of 100 (NDC 0024-1287-04)
Store at room temperature up to 25° C (77° F).
Revised August 2011
Manufactured for:
sanofi-aventis U.S. LLC
Bridgewater, NJ 08807
©2011 sanofi-aventis U.S. LLC
PRINCIPAL DISPLAY PANEL - 10 mg Caplet Label
M-870
NDC 0024-1287-04
100 Caplets
Mytelase®
ambenonium chloride
10 mg
Dispense in tight, light-resistant
container as defined in theUSP/NF.
Rx only
sanofi aventis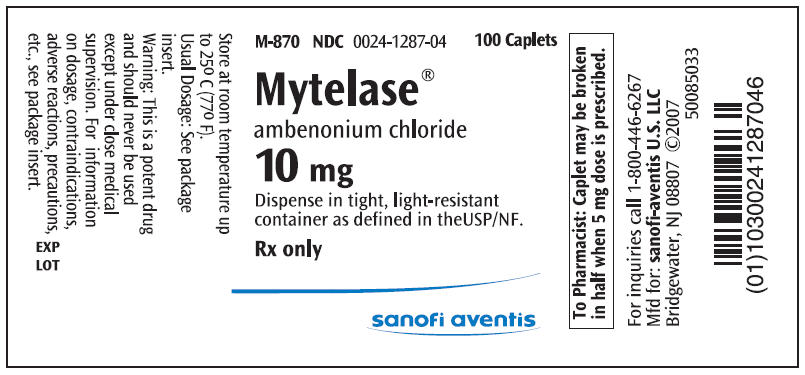 Mytelase
ambenonium chloride tablet
Product Information
Product Type
HUMAN PRESCRIPTION DRUG LABEL
Item Code (Source)
NDC:0024-1287
Route of Administration
ORAL
DEA Schedule
Active Ingredient/Active Moiety
Ingredient Name
Basis of Strength
Strength
Ambenonium Chloride (Ambenonium)
Ambenonium Chloride
10 mg
Inactive Ingredients
Ingredient Name
Strength
Acacia
Anhydrous Dibasic Calcium Phosphate
Gelatin
Lactose
Magnesium Stearate
Sucrose
Product Characteristics
Color
WHITE
Score
2 pieces
Shape
OVAL (CAPSULE-SHAPED)
Size
10mm
Flavor
Imprint Code
W;M;87
Contains
Packaging
#
Item Code
Package Description
1
NDC:0024-1287-04
100 TABLET (TABLET) in 1 BOTTLE
Marketing Information

Marketing Category
Application Number or Monograph Citation
Marketing Start Date
Marketing End Date
NDA
NDA010155
09/08/1971
03/31/2013
Labeler -

sanofi-aventis U.S. LLC (824676584)
Establishment

Name
Address
ID/FEI
Operations
Bayer Corp Consumer Care Division
072827066
MANUFACTURE, ANALYSIS, LABEL, PACK
sanofi-aventis U.S. LLC
More about Mytelase (ambenonium)
Related treatment guides