TYPHIM Vi Dosage
Generic name: SALMONELLA TYPHI TY2 VI POLYSACCHARIDE ANTIGEN 25ug in 0.5mL
Dosage form: intramuscular injection, solution
Drug class: Bacterial vaccines
Medically reviewed by Drugs.com. Last updated on Jan 9, 2023.
For intramuscular use only.
Dosage
The immunizing dose for adults and children is a single injection of 0.5 mL.
A reimmunizing dose is 0.5 mL. Reimmunization consisting of a single dose for US travelers every two years under conditions of repeated or continued exposure to the S typhi organism is recommended at this time. (14)
Preparation for Administration
The syringe or vial and its packaging should be inspected prior to use for evidence of leakage, premature activation of the plunger, or a faulty tip seal. If any of these conditions exists, do NOT administer the vaccine.
Picture A: Luer-Lok™ syringe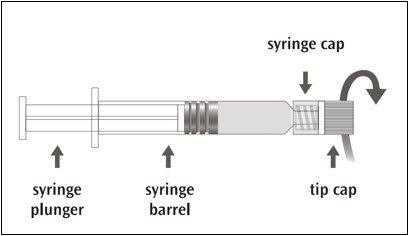 Step 1:

Holding the syringe cap in one hand (avoid holding the syringe plunger or barrel), unscrew the tip cap by twisting it counterclockwise.

Step 2:

To attach the needle to the syringe, gently twist the needle clockwise into the syringe until slight resistance is felt.
The syringe is intended for single use only, must not be reused, and must be disposed of properly and promptly following its use.
Tear off upper seal of vial cap. Cleanse top of rubber stopper of the vial with a suitable antiseptic.
Use a separate sterile syringe and needle or a sterile disposable unit for each individual patient to prevent the transmission of infectious agents from person to person. Needles should not be recapped and should be properly disposed.
Administration
Parenteral drug products should be inspected visually for particulate matter and discoloration prior to administration, whenever solution and container permit. If any of this conditions exists, do NOT administer the vaccine.
In adults, the intramuscular injection is typically given in the deltoid. In children, the intramuscular injection is given either in the deltoid or the anterolateral thigh.
Do NOT inject this vaccine into the gluteal area or areas where there may be a nerve trunk.
Do NOT inject intravenously.
More about Typhim Vi (typhoid vaccine, inactivated)
Patient resources
Professional resources
Related treatment guides
Further information
Always consult your healthcare provider to ensure the information displayed on this page applies to your personal circumstances.