This material must not be used for commercial purposes, or in any hospital or medical facility. Failure to comply may result in legal action.
Prevención De Caídas
LO QUE NECESITA SABER:
Las condiciones de salud que causan cambios en su presión arterial, vista, fuerza muscular y coordinación pueden llegar a aumentar su riesgo de caídas. Los medicamentos también pueden aumentar su riesgo de caídas si le provocan mareos, debilidad o somnolencia.
INSTRUCCIONES SOBRE EL ALTA HOSPITALARIA:
Acuda a sus consultas de control con su médico según le indicaron.
Anote sus preguntas para que se acuerde de hacerlas durante sus visitas.
Recomendaciones para prevenir caídas:
Póngase de pie o siéntese despacio. Esto puede ayudarlo a mantener su equilibrio y prevenir una caída.
Use dispositivos de apoyo como se le indique. Su médico le puede recomendar que use un bastón o un caminador para que lo asista en su equilibrio. Es posible que necesite que le instalen barandas en el baño cerca al inodoro o en la ducha.
Use calzado que le quede bien y tenga suelas antideslizantes. Use zapatos dentro y fuera de casa. Utilice pantunflas con una suela de buen agarre. Evite los zapatos de tacón alto.
Utilizar un dispositivo de alerta médica. Este es un dispositivo que puede llevar puesto y le permite llamar al 911 en caso que necesite ayuda. Pídale a su médico más información.
Manténgase activo. El ejercicio puede ayudar a fortalecer los músculos y mejorar su equilibrio. Su médico le puede recomendar hacer ejercicios aeróbicos acuáticos o caminar. También le puede recomendar la fisioterapia para mejorar su coordinación. Nunca empiece un programa de ejercicios sin antes consultar con su médico.
Controle sus afecciones médicas. Cumpla con todas las citas con sus médicos. Visite al oculista como se le ha indicado.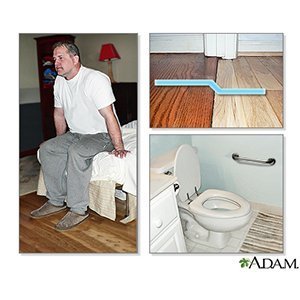 Recomendaciones para la seguridad en el hogar:
Mantener los pasillos despejados. Despeje las vías y las escaleras por donde camina retirando los libros, los zapatos u otros objetos. Coloque los cables del teléfono y las lámparas fuera de su camino para que no tenga que caminar sobre ellos. Lo cual evitará que se tropiece con éstos.
Retire los tapetes pequeños o asegúrelos con cinta adhesiva de doble faz al piso o a la alfombra.
No camine en zonas mojadas. Use tapetes antideslizantes en la ducha o la tina.
Instale una buena iluminación en su hogar. Use lamparillas de noche para ayudar a iluminar los pasillos al baño o a la cocina.
Mantenga los objetos que usa con frecuencia en estantes dentro de su alcance. Evite el uso de un banquillo o una escalerita para alcanzar cosas.
Pinte o coloque cinta reflectiva en los bordes de las escaleras. Lo cual puede ayudarle a ver mejor las escaleras.
© 2016 Truven Health Analytics Inc. Information is for End User's use only and may not be sold, redistributed or otherwise used for commercial purposes. All illustrations and images included in CareNotes® are the copyrighted property of A.D.A.M., Inc. or Truven Health Analytics.
Esta información es sólo para uso en educación. Su intención no es darle un consejo médico sobre enfermedades o tratamientos. Colsulte con su médico, enfermera o farmacéutico antes de seguir cualquier régimen médico para saber si es seguro y efectivo para usted.