Fall Prevention for Children
Medically reviewed by Drugs.com. Last updated on Mar 5, 2023.
What is fall prevention?
Fall prevention includes ways to make your home and other areas safer. It also includes ways you can help your child move more carefully to prevent a fall.
What increases my child's risk for a fall?
Being left alone on a changing table, bed, or sofa (infants and toddlers)
Going up or down stairs, or using a baby walker around the house
Furniture that is not secured to the wall
Windows that are not locked or covered with a safety screen device
Riding in a shopping cart without being secured with a safety belt
Not playing safely on playground equipment
What can I do to help my child prevent falls?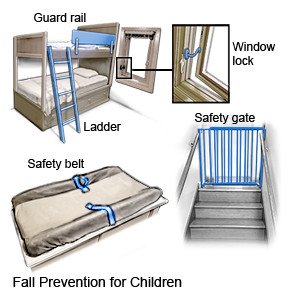 Use safety gates at the top and bottom of stairs for young children. Make sure the gates fit tightly. Keep the gates closed and locked at all times.
Secure windows. Place locks on the windows that are not emergency exits. Window locks prevent the window from opening more than 4 inches. Place window guards on windows that are above the first floor. If you keep a window open during the summer months, make sure your child cannot reach the window. A screen will not stop your child from falling out a window.
Add items to prevent falls in the bathroom. Put nonslip strips on your bath or shower floor to prevent your child from slipping. Use a bath mat if you do not have carpet in the bathroom. This will prevent your child from falling when he or she steps out of the bath or shower. Have your child sit on the toilet or a chair in the bathroom while drying off and putting on clothing. This will prevent your child from losing his or her balance while standing.
Keep paths clear. Remove books, shoes, and other objects from walkways and stairs. Place cords for telephones and lamps out of the way so that your child does not need to walk over them. Tape them down if you cannot move them. Remove small rugs. If you cannot remove a rug, secure it with double-sided tape. This will prevent your child from tripping.
Install bright lights in your home. Use night lights to help light paths to the bathroom or kitchen. Teach your child to turn on the light before he or she starts walking.
Do not allow your child to climb on furniture. This includes bookshelves, dressers, and kitchen counters and cabinets. If your child sleeps in a bunk bed, make sure he or she uses the ladder correctly to go up and down. Use guard rails to prevent your child from falling from the top bed.
Do not leave your child alone on or in furniture. Use safety belts on changing tables and put crib guardrails up while your infant is in the crib. Move cribs and other furniture away from windows to prevent children from climbing on them to reach the window.
Do not use baby walkers on wheels. Use an activity center that is like a baby walker but does not have wheels. These allow children to bounce and rotate around while they stay in place.
Do not let your child play on unsafe playgrounds or play sets. A playground is not safe if it has asphalt, concrete, grass, or hard soil under the equipment. Choose a playground that is the appropriate for your child's age. Use shredded rubber, wood chips, mulch, or sand underneath your play set at home. These materials should be at least 9 inches deep and extend 6 feet around the equipment. Watch your child at all times.
What should I know about falls if my child has a disability?
Your child's risk for falls is higher if he or she has a medical condition that decreases movement. Your child can fall while he or she is being moved or the position is being changed. If your child is in a wheelchair, he or she can fall from or tip over the wheelchair. Wheelchairs that are not adjusted well or have a knapsack on the back can also cause falls. Support for wheelchair seats such as seat belts, seat angles, and custom molding may stop wheelchairs from tipping. Check your child's wheelchair or other equipment to make sure they are safe to use.
Call your local emergency number (911 in the US) if:
Your child has fallen and is unconscious.
Your child has fallen and cannot move a part of his or her body.
When should I call my child's doctor?
Your child has fallen and has pain or a headache.
You have questions or concerns about your child's condition or care.
Care Agreement
You have the right to help plan your child's care. Learn about your child's health condition and how it may be treated. Discuss treatment options with your child's healthcare providers to decide what care you want for your child. The above information is an educational aid only. It is not intended as medical advice for individual conditions or treatments. Talk to your doctor, nurse or pharmacist before following any medical regimen to see if it is safe and effective for you.
© Copyright Merative 2023 Information is for End User's use only and may not be sold, redistributed or otherwise used for commercial purposes.
Learn more about Fall Prevention for Children
Care guides
Further information
Always consult your healthcare provider to ensure the information displayed on this page applies to your personal circumstances.