Social Distancing Guidelines for Covid-19
Medically reviewed by Drugs.com. Last updated on Dec 4, 2023.
What do I need to know about COVID-19 and social distancing?
Social distancing means avoiding close physical contact so the coronavirus that causes COVID-19 cannot spread between people. Close personal contact means being within 6 feet (2 meters) of another person for at least 15 minutes over 24 hours. The virus has changed into new forms, called variants. Some variants may spread even more easily than the original virus.
How does the 2019 coronavirus spread?
The virus travels in droplets that form when a person talks, sings, coughs, or sneezes. The droplets can also float in the air for minutes or hours. Infection happens when you breathe in the droplets or get them in your eyes or nose.
Person-to-person contact can spread the virus. For example, a person with the virus on his or her hands can spread it by shaking hands with someone.
The virus can stay on objects and surfaces for hours to days. You may become infected by touching the object or surface and then touching your eyes or mouth.
What do I need to know about COVID-19 vaccines?
Healthcare providers recommend vaccination, even if you already had COVID-19.
Get a COVID-19 vaccine as directed. Vaccination is recommended for everyone 6 months or older. COVID-19 vaccines are given as a shot in 1 to 3 doses as a primary series. This depends on the vaccine brand and the age of the person who receives it. A booster dose is recommended for everyone 5 years or older after the primary series is complete. A second booster is recommended for all adults 50 or older and for immunocompromised adolescents. The second booster is also recommended for anyone who got the 1-dose brand of vaccine for the first dose and a booster. Your provider can give you more information on boosters and help you schedule all needed doses.
Continue to protect yourself and others. You can become infected even after you get the vaccine. You may also be able to pass the virus to others without knowing you are infected.
After you get the vaccine, check local, national, and international travel rules. You may need to be tested before you travel. Some countries require proof of a negative test before you travel. You may also need to quarantine after you return.
Medicine may be given to prevent infection. The medicine can be given if you are at high risk for infection and cannot get the vaccine. It can also be given if your immune system does not respond well to the vaccine.
How do I follow social distancing guidelines to help lower the risk for COVID-19?
Stay home if you are sick or think you may have COVID-19. It is important to stay home if you are waiting for a testing appointment or for test results.
Wear a face covering (mask) when needed. The covering may be a disposable non-medical mask or a cloth covering. A cloth covering should have at least 2 layers. You can also create layers by putting a cloth covering over a disposable non-medical mask. Cover your mouth and your nose.
Try to keep space between you and others when you are out of the house. Avoid crowds as much as possible. Wear a face covering when you must be around a large group and cannot keep space between you and others.
What else can I do to lower the risk for COVID-19?
Wash your hands often throughout the day. Use soap and water whenever possible. Wash for at least 20 seconds. Dry your hands with a clean towel or paper towel. Use hand sanitizer that contains alcohol if soap and water are not available. Teach children how to wash their hands and use hand sanitizer.
Cover sneezes and coughs. Turn your face away and cover your mouth and nose with a tissue. Throw the tissue away. Use the bend of your arm if a tissue is not available. Then wash your hands with soap and water or use hand sanitizer. Teach children how to cover a cough or sneeze.
Clean and disinfect high-touch surfaces and objects often. Use disinfecting wipes or make a solution of 4 teaspoons of bleach in 1 quart (4 cups) of water.
Ask about other vaccines you may need. Get the influenza (flu) vaccine as soon as recommended each year, usually starting in September or October. Get the pneumonia vaccine if recommended. Your healthcare provider can tell you if you should also get other vaccines, and when to get them.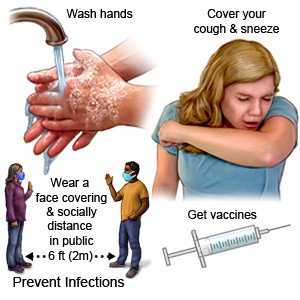 Where can I find more information?
Centers for Disease Control and Prevention
1600 Clifton Road
Atlanta , GA 30333
Phone: 1- 800 - 232-4636
Web Address: http://www.cdc.gov

When should I call my doctor?
You have symptoms of COVID-19.
You have questions or concerns about your condition or care.
Care Agreement
You have the right to help plan your care. Learn about your health condition and how it may be treated. Discuss treatment options with your healthcare providers to decide what care you want to receive. You always have the right to refuse treatment. The above information is an educational aid only. It is not intended as medical advice for individual conditions or treatments. Talk to your doctor, nurse or pharmacist before following any medical regimen to see if it is safe and effective for you.
© Copyright Merative 2023 Information is for End User's use only and may not be sold, redistributed or otherwise used for commercial purposes.
Further information
Always consult your healthcare provider to ensure the information displayed on this page applies to your personal circumstances.