This material must not be used for commercial purposes, or in any hospital or medical facility. Failure to comply may result in legal action.
Social Distancing Guidelines for Covid-19
WHAT YOU NEED TO KNOW:
Social distancing means avoiding close physical contact so the coronavirus that causes COVID-19 cannot spread between people. Close personal contact means being within 6 feet (2 meters) of another person for at least 15 minutes over 24 hours. It is important to follow worldwide, national, and local social distancing guidelines. The guidelines help prevent the spread of the coronavirus that causes COVID-19.
DISCHARGE INSTRUCTIONS:
Call your doctor if:
You do not have symptoms of COVID-19 but had close physical contact within 14 days with someone who tested positive.
You have questions or concerns about your condition or care.
How the 2019 coronavirus spreads:
The virus spreads quickly and easily. The virus can be passed starting 2 days before symptoms begin or before a positive test if symptoms never begin. The following are ways the virus is thought to spread, but more information may be coming:
Droplets are the main way all coronaviruses spread. The virus travels in droplets that form when a person talks, coughs, or sneezes. The droplets can also float in the air for minutes or hours. Infection happens when you breathe in the droplets or get them in your eyes or nose. Close personal contact with an infected person increases your risk for infection.
Person-to-person contact can spread the virus. For example, a person with the virus on his or her hands can spread it by shaking hands with someone.
The virus can stay on objects and surfaces for a short time. You may become infected by touching the object or surface and then touching your eyes or mouth.
An infected animal may be able to infect a person who touches it. This may happen at live markets or on a farm.
Follow social distancing guidelines to help lower the risk for COVID-19:
National and local social distancing rules vary. Rules may change over time as restrictions are lifted. Restrictions may return if an outbreak happens where you live. It is important to know and follow all current social distancing rules in your area. The following are general guidelines:
Limit trips out of your home. Have food, medicines, and other supplies delivered when possible. Have delivered items left at your door or other area to prevent contact with the delivery person. Plan trips out of your home so you make the fewest stops possible to limit contact. Keep track of places you go. This will help contact tracers notify others if you become infected.
Do not have close physical contact with anyone who does not live in your home. Do not shake hands with, hug, or kiss a person as a greeting. Stand or walk as far from others as possible. If you must use public transportation (such as a bus or subway), try to sit or stand away from others. You can stay safely connected with others through phone calls, e-mail messages, social media websites, and video chats. Check in on anyone who lives alone.
Only allow necessary people into your home. Wear a face covering, and remind others to wear a face covering. Remind them to wash their hands when they arrive and before they leave. Do not let a visitor into your home, even if you and the visitor do not feel sick. A person can pass the virus to others before symptoms of COVID-19 begin. Some people never even develop symptoms. Children commonly have mild symptoms or no symptoms. It may be hard to tell a child not to hug or kiss you. Explain that this is how he or she can help you stay healthy.
Do not go to someone else's home unless it is necessary. Do not go over to visit, even if the person is lonely. Only go if you need to help him or her. Make sure you both wear face coverings while you are there.
Avoid in-person gatherings and crowds. Gatherings or crowds of 10 or more individuals can cause the virus to spread. Avoid places such as parks, beaches, sporting events, and tourist attractions. For events such as parties, holiday meals, religious services, and conferences, attend virtually (on a computer), if possible.
Ask your healthcare provider for other ways to have appointments. Some providers offer phone, video, or other types of appointments. You may also be able to get prescriptions for a few months of your medicines at a time.
Stay safe if you must go out to work. Keep physical distance between you and other workers as much as possible. Follow your employer's rules so everyone stays safe.
Other ways to lower the risk for COVID-19:
The best way to prevent infection is to avoid anyone who is infected, but this can be hard to do. An infected person can spread the virus before signs or symptoms begin, or even if signs or symptoms never develop. The following can help lower the risk for infection: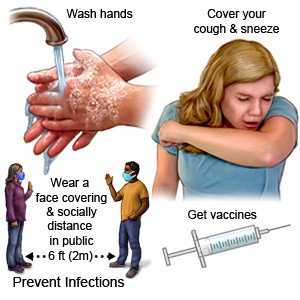 Wash your hands often throughout the day. Use soap and water whenever possible. Wash for at least 20 seconds. Dry your hands with a clean towel or paper towel. Use hand sanitizer that contains alcohol if soap and water are not available. Teach children how to wash their hands and use hand sanitizer.
Wear a face covering (mask) around anyone who does not live in your home. A covering helps protect the person wearing it from being infected or passing the virus to others. Do not wear a plastic face shield instead of a covering. Use a disposable non-medical mask, or make a cloth covering with at least 2 layers. Cover your mouth and your nose. Securely fasten it under your chin and on the sides of your face. A face covering is not a substitute for social distancing.
Cover sneezes and coughs. Turn your face away and cover your mouth and nose with a tissue. Throw the tissue away. Use the bend of your arm if a tissue is not available. Then wash your hands well with soap and water or use hand sanitizer. Teach children how to cover a cough or sneeze.
Stay home if you are sick or think you may have COVID-19. It is important to stay home if you are waiting for a testing appointment or for test results. Even if you do not have symptoms, you can pass the virus to others.
Make a habit of not touching your face. If you get the virus on your hands, you can transfer it to your eyes, nose, or mouth and become infected. You can also transfer it to objects, surfaces, or people. Do not touch your eyes, nose, or mouth without washing your hands first.
Clean and disinfect high-touch surfaces and objects often. Use disinfecting wipes or make a solution of 4 teaspoons of bleach in 1 quart (4 cups) of water.
Ask about vaccines you may need. A COVID-19 vaccine is a shot given to help prevent infection caused by the novel coronavirus. Your healthcare provider can give you more information about when a vaccine may be available to you. Get the influenza (flu) vaccine as soon as recommended each year, usually starting in September or October. Get the pneumonia vaccine if recommended.
Follow up with your doctor as directed:
Write down your questions so you remember to ask them during your visits.
For more information:
Centers for Disease Control and Prevention
1600 Clifton Road
Atlanta , GA 30333
Phone: 1- 800 - 232-4636
Web Address: http://www.cdc.gov

© Copyright IBM Corporation 2021 Information is for End User's use only and may not be sold, redistributed or otherwise used for commercial purposes. All illustrations and images included in CareNotes® are the copyrighted property of A.D.A.M., Inc. or IBM Watson Health
The above information is an educational aid only. It is not intended as medical advice for individual conditions or treatments. Talk to your doctor, nurse or pharmacist before following any medical regimen to see if it is safe and effective for you.
Further information
Always consult your healthcare provider to ensure the information displayed on this page applies to your personal circumstances.