Covid-19 (Coronavirus Disease 2019)
Medically reviewed by Drugs.com. Last updated on Jul 4, 2022.
COVID-19 is the disease caused by a coronavirus first discovered in December 2019. Coronaviruses generally cause upper respiratory (nose, throat, and lung) infections, such as a cold. The 2019 virus spreads quickly and easily. It can be spread starting 2 to 3 days before symptoms even begin.
DISCHARGE INSTRUCTIONS:
Call your local emergency number (911 in the US) if:
You have trouble breathing or shortness of breath at rest.
You have chest pain or pressure that lasts longer than 5 minutes.
You become confused or hard to wake.
Your lips or face are blue.
Seek care immediately if:
You have a fever of 104°F (40°C) or higher.
Call your doctor if:
You have symptoms of COVID-19.
You have questions or concerns about your condition or care.
Medicines:
You may need any of the following:
Decongestants help reduce nasal congestion and help you breathe more easily. If you take decongestant pills, they may make you feel restless or cause problems with your sleep. Do not use decongestant sprays for more than a few days.
Cough suppressants help reduce coughing. Ask your healthcare provider which type of cough medicine is best for you.
Acetaminophen decreases pain and fever. It is available without a doctor's order. Ask how much to take and how often to take it. Follow directions. Read the labels of all other medicines you are using to see if they also contain acetaminophen, or ask your doctor or pharmacist. Acetaminophen can cause liver damage if not taken correctly.
NSAIDs , such as ibuprofen, help decrease swelling, pain, and fever. This medicine is available with or without a doctor's order. NSAIDs can cause stomach bleeding or kidney problems in certain people. If you take blood thinner medicine, always ask your healthcare provider if NSAIDs are safe for you. Always read the medicine label and follow directions.
Blood thinners help prevent blood clots. Clots can cause strokes, heart attacks, and death. The following are general safety guidelines to follow while you are taking a blood thinner:

Watch for bleeding and bruising while you take blood thinners. Watch for bleeding from your gums or nose. Watch for blood in your urine and bowel movements. Use a soft washcloth on your skin, and a soft toothbrush to brush your teeth. This can keep your skin and gums from bleeding. If you shave, use an electric shaver. Do not play contact sports.
Tell your dentist and other healthcare providers that you take a blood thinner. Wear a bracelet or necklace that says you take this medicine.
Do not start or stop any other medicines unless your healthcare provider tells you to. Many medicines cannot be used with blood thinners.
Take your blood thinner exactly as prescribed by your healthcare provider. Do not skip does or take less than prescribed. Tell your provider right away if you forget to take your blood thinner, or if you take too much.
Warfarin is a blood thinner that you may need to take. The following are things you should be aware of if you take warfarin:

Foods and medicines can affect the amount of warfarin in your blood. Do not make major changes to your diet while you take warfarin. Warfarin works best when you eat about the same amount of vitamin K every day. Vitamin K is found in green leafy vegetables and certain other foods. Ask for more information about what to eat when you are taking warfarin.
You will need to see your healthcare provider for follow-up visits when you are on warfarin. You will need regular blood tests. These tests are used to decide how much medicine you need.

Take your medicine as directed. Contact your healthcare provider if you think your medicine is not helping or if you have side effects. Tell him or her if you are allergic to any medicine. Keep a list of the medicines, vitamins, and herbs you take. Include the amounts, and when and why you take them. Bring the list or the pill bottles to follow-up visits. Carry your medicine list with you in case of an emergency.
What you need to know about variants:
The virus has changed into several new forms (called variants) since it was discovered. The variants may be more contagious (easily spread) than the original form. Some may also cause more severe illness than others.
What you need to know about COVID-19 vaccines:
Healthcare providers recommend a COVID-19 vaccine, even if you have already had COVID-19. You are considered fully vaccinated against COVID-19 two weeks after the final dose of any COVID-19 vaccine. Let your healthcare provider know when you have received the final dose of the vaccine. Make a copy of your vaccination card. Keep the original with you in case you need to show it. Keep the copy in a safe place.
Get a COVID-19 vaccine as directed. The vaccines help prevent severe COVID-19 illness. Vaccination is recommended for everyone 5 years or older. COVID-19 vaccines are given as a shot, usually in 1 or 2 doses. This depends on the age of the person receiving it. A booster dose is recommended for everyone 5 years or older. A second booster is recommended for all adults 50 or older and for immunocompromised adolescents. The second booster is also recommended for anyone who got the 1-dose brand of vaccine for the first dose and a booster. Your provider can give you more information on boosters. He or she can help you schedule all needed doses.
Continue social distancing and other measures. You can become infected even after you get the vaccine. You may also be able to pass the virus to others without knowing you are infected.
After you get the vaccine, check local, national, and international travel rules. You may need to be tested before you travel. Some countries require proof of a negative test before you travel. You may also need to quarantine after you return.
Medicine may be given to prevent infection. The medicine can be given if you are at high risk for infection and cannot get the vaccine. It can also be given if your immune system does not respond well to the vaccine.
Treatment options
The following list of medications are in some way related to or used in the treatment of this condition.
How the 2019 coronavirus spreads:
Droplets are the main way all coronaviruses spread. The virus travels in droplets that form when a person talks, sings, coughs, or sneezes. The droplets can also float in the air for minutes or hours. Infection happens when you breathe in the droplets or get them in your eyes or nose. Close personal contact with an infected person increases your risk for infection. This means being within 6 feet (2 meters) of the person for at least 15 minutes over 24 hours.
Person-to-person contact can spread the virus. For example, a person with the virus on his or her hands can spread it by shaking hands with someone.
The virus can stay on objects and surfaces for up to 3 days. You may become infected by touching the object or surface and then touching your eyes or mouth.
Help lower the risk for COVID-19:
Wash your hands often throughout the day. Use soap and water. Rub your soapy hands together, lacing your fingers, for at least 20 seconds. Rinse with warm, running water. Dry your hands with a clean towel or paper towel. Use hand sanitizer that contains alcohol if soap and water are not available. Teach children how to wash their hands and use hand sanitizer.
Cover sneezes and coughs. Turn your face away and cover your mouth and nose with a tissue. Throw the tissue away. Use the bend of your arm if a tissue is not available. Then wash your hands well with soap and water or use hand sanitizer. Teach children how to cover a cough or sneeze.
Wear a face covering (mask) when needed. Use a cloth covering with at least 2 layers. You can also create layers by putting a cloth covering over a disposable non-medical mask. Cover your mouth and your nose.
Follow worldwide, national, and local social distancing guidelines. Keep at least 6 feet (2 meters) between you and others.
Try not to touch your face. If you get the virus on your hands, you can transfer it to your eyes, nose, or mouth and become infected. You can also transfer it to objects, surfaces, or people.
Clean and disinfect high-touch surfaces and objects often. Use disinfecting wipes, or make a solution of 4 teaspoons of bleach in 1 quart (4 cups) of water.
Ask about other vaccines you may need. Get the influenza (flu) vaccine as soon as recommended each year, usually starting in September or October. Get the pneumonia vaccine if recommended. Your healthcare provider can tell you if you should also get other vaccines, and when to get them.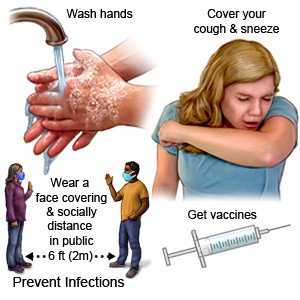 Follow social distancing guidelines:
National and local social distancing rules vary. Rules and restrictions may change over time as restrictions are lifted. The following are general guidelines:
Stay home if you are sick or think you may have COVID-19. It is important to stay home if you are waiting for a testing appointment or for test results.
Avoid close physical contact with anyone who does not live in your home. Do not shake hands with, hug, or kiss a person as a greeting. If you must use public transportation (such as a bus or subway), try to sit or stand away from others. Wear your face covering.
Avoid in-person gatherings and crowds. Attend virtually if possible.
Follow up with your doctor as directed:
Write down your questions so you remember to ask them during your visits.
For more information:
Centers for Disease Control and Prevention
1600 Clifton Road
Atlanta , GA 30333
Phone: 1- 800 - 232-4636
Web Address: http://www.cdc.gov

© Copyright IBM Corporation 2022 Information is for End User's use only and may not be sold, redistributed or otherwise used for commercial purposes. All illustrations and images included in CareNotes® are the copyrighted property of A.D.A.M., Inc. or IBM Watson Health
The above information is an educational aid only. It is not intended as medical advice for individual conditions or treatments. Talk to your doctor, nurse or pharmacist before following any medical regimen to see if it is safe and effective for you.
Learn more about Covid-19
Treatment options
Medicine.com guides (external)
Further information
Always consult your healthcare provider to ensure the information displayed on this page applies to your personal circumstances.