Lichen planus
Medically reviewed on Mar 6, 2018
Overview
Lichen planus (LIE-kun PLAY-nus) is an inflammatory condition that can affect the skin, hair, nails and mucous membranes. On the skin, lichen planus usually appears as purplish, often itchy, flat-topped bumps, developing over several weeks. In the mouth, vagina and other areas covered by a mucous membrane, lichen planus forms lacy white patches, sometimes with painful sores.
Most people can manage typical, mild cases of lichen planus at home, without medical care. If the condition causes pain or significant itching, you may need prescription drugs.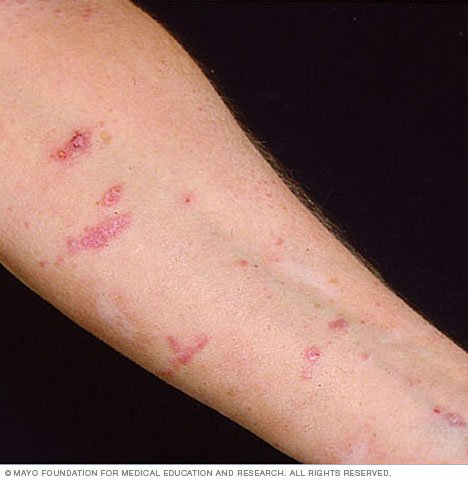 Lichen planus
Lichen planus is an inflammatory disorder that appears as purplish, flat-topped bumps when it affects the skin. Bumps may appear in clusters or lines.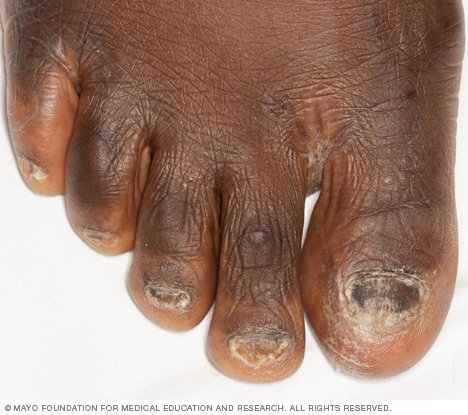 Lichen planus of nails
When it affects the nails, lichen planus causes thinning, ridging and splitting. Some people experience permanent nail loss.
Symptoms
The signs and symptoms of lichen planus vary depending on the areas affected. Typical signs and symptoms include:
Purplish, flat-topped bumps, most often on the inner forearm, wrist or ankle, but sometimes on the external genitals
Itching
Blisters that may break to form scabs or crusts
Lacy white patches in the mouth — inside the cheeks or on the gums, lips or tongue
Painful oral or vaginal ulcers
Hair loss and scalp discoloration
Nail damage or loss
When to see a doctor
See your doctor if tiny bumps or a rash-like condition appears on your skin for no apparent reason, such as a known allergic reaction or contact with poison ivy. Also see your doctor if you experience any signs or symptoms associated with lichen planus of the mouth, genitals, scalp or nails.
It's best to get a prompt and accurate diagnosis because a number of skin and mucosal conditions can cause lesions and discomfort.
Causes
Lichen planus occurs when your immune system mistakenly attacks cells of the skin or mucous membranes. No one knows the exact cause of this abnormal immune response. The condition isn't contagious.
In some people, certain factors, such as those below, may trigger lichen planus.
Hepatitis C infection
Flu vaccine
Certain pigments, chemicals and metals
Nonsteroidal anti-inflammatory drugs (NSAIDs), such as ibuprofen (Advil, Motrin IB, others) and naproxen (Aleve, others)
Certain medications for heart disease, high blood pressure or arthritis
Risk factors
Anyone can develop lichen planus. But the condition most often affects middle-aged adults.
Complications
Lichen planus can be difficult to manage on the vulva and in the vagina, causing severe pain and sometimes leaving scars. Sexual dysfunction can become a long-term complication.
There is some evidence that lichen planus may increase your risk of a skin cancer known as squamous cell carcinoma, though the risk is small. Your doctor may recommend routine screening for evidence of cancerous cells in tissues affected by lichen planus.
For many people the affected skin might stay slightly darker even after the rash clears up.
Diagnosis
Your doctor makes a diagnosis of lichen planus based on your symptoms, your medical history, a physical examination and, if necessary, the results of lab tests. These tests may include:
Biopsy. Your doctor removes a small piece of affected tissue for examination under a microscope. The tissue is analyzed to determine whether it has the cell patterns characteristic of lichen planus.
Hepatitis C test. You may have your blood drawn to test for hepatitis C, which is a possible trigger for lichen planus.
Allergy tests. Your doctor may refer you to an allergy specialist (allergist) or dermatologist for skin patch testing to identify agents to which you may be allergic and that may act as triggers for your condition.
Other tests may be needed if your doctor suspects you have any of the several variations of lichen planus, such as the type that affects the esophagus, genitals, ears or mouth.
Treatment
Lichen planus on the skin often clears up on its own in a couple years or less. If the disease affects your mucous membranes, it tends to be more resistant to treatment and prone to recur.
Medications and other treatments might help relieve itching, reduce discomfort and promote healing. Talk with your doctor to weigh the potential benefits against possible side effects of treatment.
Corticosteroids
The first choice for treatment of lichen planus is usually a prescription corticosteroid cream or ointment, to help reduce inflammation. If that doesn't help and your condition is severe or widespread, your doctor might suggest a corticosteroid pill, either alone or with the cream or ointment. If you still don't see improvement, your doctor might suggest a corticosteroid injection.
Common side effects of topical corticosteroids include skin irritation or thinning where the cream is applied, oral thrush and upset stomach. Corticosteroids are considered safe when taken as directed and for short-term use.
Immune response medicines
Medications that suppress or modify your body's immune response may be used as ointments, gels or oral medication. For example, topical calcineurin inhibitors can be particularly helpful in managing lichen planus of mucous membranes. Examples include tacrolimus (Protopic) and pimecrolimus (Elidel).
Antihistamines
Antihistamines act against a protein called histamine that is involved in inflammation. An oral or topical antihistamine may relieve itching or pain associated with lichen planus.
Light therapy
Light therapy (phototherapy) may help clear up lichen planus affecting the skin. The most common phototherapy for lichen planus uses ultraviolet B (UVB) light, which penetrates only the upper layer of skin (epidermis).
There is some risk of "sunburn" with this treatment. Phototherapy using ultraviolet A (UVA) light in combination with the medication psoralen also may be effective, though it carries a small long-term risk of skin cancer and cataracts.
Light therapy usually requires two to three treatments a week for several weeks.
Retinoids
If your condition doesn't respond to corticosteroids or light therapy, your doctor might prescribe a retinoid. Retinoids are synthetic versions of vitamin A that can be applied to the skin or taken by mouth. Retinoid lotion may be an effective treatment, but it can irritate the skin, causing dryness, redness and peeling.
Retinoids can cause birth defects, so these drugs aren't recommended for women who are pregnant or may become pregnant. If you're pregnant or nursing, your doctor may opt to delay topical retinoid therapy or choose a different treatment.
Dealing with triggers
If your doctor suspects that your lichen planus is related to hepatitis C infection, an allergen or a drug you take, he or she will recommend steps to address the trigger. For example, you may need to switch medications or avoid offending allergens. Your doctor may refer you to an allergist or, in the case of a hepatitis C infection, a specialist in liver disease (hepatologist) for further treatment.
Lifestyle and home remedies
Self-care measures can help reduce the itching and discomfort caused by lichen planus. These include:
Tub soaks with colloidal oatmeal (Aveeno, others), followed by moisturizing lotion
Cool compresses
Over-the-counter hydrocortisone cream or ointment, containing at least 1 percent hydrocortisone (if you're not using a prescription topical corticosteroid)
Not scratching
For oral lichen planus, good oral hygiene and regular dentist visits are important. You can help reduce the pain of mouth sores by avoiding:
Smoking
Drinking alcohol
Consuming spicy or acidic food and drink
Alternative medicine
A number of small studies indicate the possible benefit of vitamins A and B in treating lichen planus of the skin, but further research is needed.
A couple of small clinical trials have suggested the benefit of aloe vera gel for treating lichen planus of the mouth and vulva.
Talk with your doctor before trying an alternative treatment for lichen planus. Some alternative medicines or vitamin supplements result in serious adverse reactions when combined with prescription medicines.
Preparing for an appointment
You'll likely start by seeing your primary care doctor. He or she may refer you to a doctor who specializes in skin diseases (dermatologist).
Here's some information to help you get ready for your appointment.
What you can do
Before your appointment make a list of:
Symptoms you've been having and for how long
All medications, vitamins and supplements you take, including the doses
Questions to ask your doctor
For lichen planus, some basic questions to ask your doctor include:
What's the most likely cause of my symptoms?
Are there other possible causes?
Do I need any tests?
How long will these skin changes last?
What treatments are available, and which do you recommend?
What side effects can I expect from treatment?
I have these other health conditions. How can I best manage them together?
Are there any restrictions that I need to follow?
Should I see a specialist?
Is there a generic alternative to the medicine you're prescribing?
Do you have any brochures or other printed material I can take with me? What websites do you recommend?
What to expect from your doctor
Examples of questions your doctor may ask, include:
Where on your body have you found the lesions?
Are the affected areas itchy, painful or uncomfortable?
How would you describe the severity of the pain or discomfort — mild, moderate or severe?
Have you recently started new medications?
Have you recently had immunizations?
Do you have any allergies?
© 1998-2018 Mayo Foundation for Medical Education and Research (MFMER). All rights reserved. Terms of use
Learn more about Lichen planus
Associated drugs