Hidradenitis suppurativa
Overview
Hidradenitis suppurativa (hi-drad-uh-NIE-tis sup-yoo-ruh-TIE-vuh) is rare, long-term skin condition that features small, painful lumps under the skin. They typically develop where the skin rubs together, such as the armpits, the groin, between the buttocks and under the breasts. The lumps may break open and smell or cause tunnels under the skin.
Hidradenitis suppurativa tends to start after puberty. It can persist for many years and worsen over time, with serious effects on your daily life and emotional well-being. Early diagnosis and treatment can help manage the symptoms, keep new lumps from forming and prevent complications, such as scarring or depression.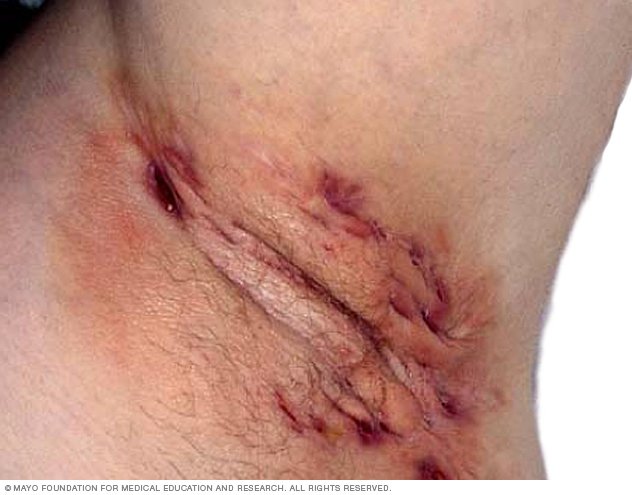 Hidradenitis suppurativa
Hidradenitis suppurativa usually appears as one or more red, tender bumps that fill with pus. It most commonly occurs in the armpits (shown), groin, between the buttocks and under the breasts.
Symptoms
Hidradenitis suppurativa commonly occurs around hair follicles with many oil and sweat glands, such as in the armpits, groin and anal area. It may also occur where skin rubs together, such as the inner thighs, under the breasts and between the buttocks. Hidradenitis suppurativa can affect one spot or multiple areas of the body.
Signs and symptoms of hidradenitis suppurativa include:
Blackheads. Small pitted areas of skin containing blackheads — often appearing in pairs or a "double-barreled" pattern — are a common feature.
Red, tender bumps. These bumps often enlarge, break open and drain pus. The drainage may have an odor. Itching and burning may accompany the bumps. They usually appear in areas where skin rubs against skin.
Painful, pea-sized lumps. These hard lumps, which develop under the skin, may persist for years, enlarge and become inflamed.
Tunnels. Over time, tracts connecting the lumps may form under the skin. These wounds heal very slowly, if at all, and can leak pus.
Hidradenitis suppurativa usually starts between puberty and age 40 with a single, painful bump that persists for weeks or months. For some people, the disease progressively worsens and affects multiple areas of their body. Other people experience only mild symptoms. Excess weight, stress, hormonal changes, heat or humidity can worsen symptoms. In women, the disease severity may lessen after menopause.
When to see a doctor
Early detection of hidradenitis suppurativa is key to getting effective treatment. See your doctor if your condition:
Is painful
Doesn't improve in a few weeks
Returns within weeks of treatment
Appears in several locations
Recurs often
If you've already received a diagnosis of hidradenitis suppurativa, keep in mind that the warning signs of a disease flare (recurrence) are often similar to those that occurred originally. Also pay attention to any new signs or symptoms. These may indicate either a recurrence or a complication of treatment.
Causes
Hidradenitis suppurativa develops when hair follicles become blocked and inflamed. No one knows exactly why this blockage occurs. Factors that may play a role include hormones, metabolic syndrome, genetics, an irregular immune system response, smoking and excess weight.
Hidradenitis suppurativa is not caused by an infection and can't be transmitted sexually. It's not contagious and is not due to poor hygiene.
Risk factors
Factors that may increase your risk may include:
Age. Hidradenitis suppurativa most commonly occurs in women between the ages of 20 and 29. An early age of onset may be associated with developing more widespread disease.
Your sex. Women are more likely to develop hidradenitis suppurativa than are men.
Family history. A tendency to develop hidradenitis suppurativa can be inherited.
Having certain other conditions. Hidradenitis suppurativa can be associated with several other conditions, including arthritis, severe acne, obesity, inflammatory bowel disease, Crohn's disease, metabolic syndrome and diabetes.
Smoking. Smoking tobacco has been linked to hidradenitis suppurativa.
Complications
Persistent and severe hidradenitis suppurativa often causes complications, including:
Infection. The affected area is susceptible to infection.
Scars and skin changes. The wounds may heal but leave rope-like scars, pitted skin or patches of skin that are darker than normal.
Restricted movement. Sores and scar tissue may cause limited or painful movement, especially when the disease affects the armpits or thighs.
Obstructed lymph drainage. The most common sites for hidradenitis suppurativa also contain many lymph nodes. Scar tissue can interfere with the lymph drainage system, which may result in swelling in the arms, legs or genitals.
Social isolation. The location, drainage and odor of the sores can cause embarrassment and reluctance to go out in public, leading to sadness or depression.
Cancer. Rarely, patients with advanced hidradenitis suppurativa can develop squamous cell carcinoma in the affected skin.
Diagnosis
Your doctor will ask you about your signs and symptoms, examine the affected skin and take your medical history.
No laboratory test is available to diagnose hidradenitis suppurativa. But if pus or drainage is present, your doctor might send a sample of the fluid to a laboratory for testing to rule out a boil infection or other skin disorders.
Treatment
There is no cure for hidradenitis suppurativa. But early and long-term treatment may help control pain, promote wound healing, keep new lumps from forming and prevent complications.
Several treatment options are available. Talk with your doctor about the risks and benefits of each and which combination of self-care, drugs or surgical procedures are right for you.
Medications
Your doctor might prescribe one or more of the following types of medications:
Topical and oral drugs. These include antibiotics and drugs derived from vitamin A (retinoids).
Other drugs that reduce inflammation. Injecting steroid medications directly into the tender nodule can reduce inflammation. Oral steroids, such as prednisone, can also help. But long-term use of prednisone has many side effects, including bone thinning (osteoporosis).
Hormones. Small studies comparing oral antibiotics with hormonal therapy showed the hormonal therapy to be as effective as antibiotics in treating sores of hidradenitis suppurativa. Further study is needed. Hormonal therapy is not suitable for pregnant women due to the risk of side effects.
Drugs that suppress the immune system. The drugs infliximab (Remicade) and adalimumab (Humira) show promise in the treatment of hidradenitis suppurativa. These "biologics" are TNF inhibitors. They work by neutralizing an immune system protein known as tumor necrosis factor (TNF). Researchers continue to assess these and similar drugs. Possible side effects include an increased risk of infection, heart failure and certain types of cancers.
Pain medication. If over-the-counter pain relievers don't help, your doctor may prescribe a stronger type. Examples include a fentanyl patch, codeine, morphine, gabapentin and pregabalin.
Surgery and other procedures
Hidradenitis suppurativa may be treated with various surgical approaches. The method used depends on the extent and location of the wounds, among other factors.
Uncovering the tunnels. Known as unroofing, this procedure is gaining favor over incision and drainage. Your doctor cuts away the skin and flesh that cover any interconnected tunnels. This solution usually doesn't have to be repeated.
Punch debridement. This procedure is also called mini-unroofing and may be used to remove a single inflamed nodule.
Incision and drainage. Surgical drainage may be an option when the disease involves a single small area. This treatment generally provides short-term pain relief, but the sores tend to recur.
Tissue-sparing excision with electrosurgery. This may be an option for people with severe hidradenitis suppurativa. It combines skin-tissue-sparing excision with electrosurgical peeling (STEEP). The goal is to remove diseased tissue and preserve healthy tissue. You will be given general anesthesia for the STEEP procedure.
Surgical removal. Surgical treatment of recurrent or severe symptoms involves removal of all involved skin. A skin graft may be necessary to close the wound. Even after you have surgery, sores may still occur in other areas. In men whose condition involves the area between the anus and scrotum, surgical removal of the scrotum is almost always necessary.
Lifestyle and home remedies
Mild hidradenitis suppurativa may be treated with only self-care measures. But self-care is also an important complement to any medical treatment you may be getting. The following suggestions may help relieve discomfort and speed healing of sores:
Follow a daily skin-care routine. Gently wash your body with a nonsoap cleanser such as Cetaphil. Use only your hands, not washcloths, loofahs or other items that might irritate the skin. If odor is a concern, try an antibacterial body wash. Then apply an over-the-counter antibiotic cream. It might also help to apply extra absorbent powder or zinc oxide. Using antiperspirants may help keep the skin dry. Stop using any product that irritates your skin.
Manage your pain. Gently applying a wet, warm washcloth, teabag or other sort of compress can help reduce swelling and ease pain. Keep it on for about 10 minutes. Ask your doctor to recommend the most appropriate pain reliever. And talk with your doctor about how to properly dress and care for your wounds at home.
Avoid tight clothes and irritating products. Wear loose, lightweight clothes to reduce friction. Some women find that using tampons rather than sanitary pads causes less friction with the skin. Use detergents and other products that are free of perfumes, dyes and enzymes.
Avoid injuring the skin. For example, don't squeeze the pimples and sores. And stop shaving affected skin.
Keep a healthy weight and stay active. Not being at a healthy weight can make symptoms worse. Try to find activities that don't irritate your skin.
Consider altering your diet. In an informal study, 47 people with hidradenitis suppurativa gave up dairy products and processed sugar and flour. Of those, 83 percent experienced reduced symptoms. Also, a study reported on 12 people being treated for hidradenitis suppurativa who avoided beer and other foods containing brewer's yeast or wheat. They all saw their symptoms clear up within a year.
Avoid all tobacco products. If you smoke, try to quit. Smoking and other tobacco use may play a role in making hidradenitis suppurativa worse.
Alternative medicine
Zinc supplements taken daily may help reduce inflammation and prevent new outbreaks.
Coping and support
One of the greatest challenges of living with hidradenitis suppurativa may be coping with pain and embarrassment. Painful sores might affect your sleep, mobility or sex life. If the sores are draining pus, they can smell, despite good self-care. You might feel anxious and become withdrawn, self-conscious or depressed.
Try to find support among your family and friends. You may also find the concern and understanding of other people with hidradenitis suppurativa comforting. Ask your doctor for a referral to a mental health professional or contact information for a support group.
Preparing for an appointment
You may start by seeing your primary care doctor. He or she may refer you to a doctor who specializes in treating skin diseases (dermatologist). Depending on the severity of your condition, your care may also involve specialists in colorectal surgery, plastic surgery or digestive diseases (gastroenterology).
Here's some information to help you get ready for your appointment.
What you can do
Before your appointment make a list of:
Symptoms you've been experiencing, including any that may seem unrelated to the reason for which you scheduled the appointment
All medications, vitamins and supplements you take, including doses
Questions to ask your doctor
For hidradenitis suppurativa, some basic questions to ask your doctor include:
What's the most likely cause of my symptoms?
Are there other possible causes?
Do I need any tests?
How long will my condition last?
What treatments are available, and which do you recommend?
What side effects can I expect from treatment?
Is this condition related to another medical disorder?
Do you have any brochures or other printed materials that I can take with me? What websites do you recommend?
What to expect from your doctor
Examples of questions your doctor may ask, include:
When did your symptoms begin?
What did the skin lumps look like when they started?
Do they come back in the same spots?
Are your symptoms painful?
Have your parents or siblings ever had this problem?
What, if anything, seems to improve your symptoms?
What, if anything, seems to worsen your symptoms?
Do you smoke or use tobacco products?
Last updated: March 6th, 2018
© 1998-2018 Mayo Foundation for Medical Education and Research (MFMER). All rights reserved. Terms of use
Learn more about Hidradenitis suppurativa
Associated drugs
Micromedex® Care Notes