Wellness Visit for Adults
Medically reviewed by Drugs.com. Last updated on Nov 5, 2023.
What is a wellness visit?
A wellness visit is when you see your healthcare provider to get screened for health problems. Your provider will also give you advice on how to stay healthy. Write down your questions so you remember to ask them. Ask your provider how often you should have a wellness visit.
What happens at a wellness visit?
Your healthcare provider will ask about your health, and your family history of health problems. This includes high blood pressure (BP), heart disease, and cancer. Your provider will ask about any symptoms that concern you, if you smoke, and about your mood. You may also be asked about any medicine, supplement, tobacco product, or alcohol use.
A general physical exam will be done. Your provider will check your heartbeat and lungs with a stethoscope. Your skin may also be checked for sun damage or early signs of skin cancer.
Your weight will be checked. Your height may also be checked so your body mass index (BMI) can be calculated. BMI is shown as a range. Your provider can tell you if your BMI is within a healthy range.
Your BP will be checked. Your provider may give you instructions for lowering your BP if it is higher than is healthy.
Blood and urine tests may be done. Blood tests may be done to check your cholesterol levels. Abnormal cholesterol levels increase your risk for heart disease and stroke. You may also need a blood or urine test to check for diabetes if you are at increased risk. Urine tests may be done to look for signs of an infection or kidney disease.
Which screening tests may I need?
Screening is done to check for diseases or conditions that may not cause symptoms. The screening tests you may need depend on your age, gender, family history, and lifestyle. The following are examples of common screening tests:
Colorectal cancer screening is recommended starting at age 50 and continuing to age 75 if you are at average risk. Screening may start before you are 50 or continue after you are 75 if your risk is high. Screening may be recommended every 1, 2, 5, or 10 years. Timing depends on the type of screening and if polyps or other problems were found. Timing also depends on your age and if you are at increased risk for cancer.
Breast cancer screening is usually done with a mammogram. A mammogram is an x-ray picture of your breasts to screen for breast cancer. Mammograms are usually recommended for females starting at age 45 or 50. Your provider may recommend you start at 40 or younger if your risk for breast cancer is high. Mammograms usually continue every 1 to 2 years until age 74. Your provider may recommend an ultrasound if you have dense breast tissue.
Cervical cancer screening includes a Pap smear to check for cancerous or precancerous cells in the cervix, vulva, or vagina. Pap smears usually start at age 21 and continue every 3 to 5 years until age 65. You may need them more often if you have had abnormal Pap smear.
Mental health screening is used to check for depression or thoughts of suicide. Screening can help you know if you are at increased risk. You may learn to recognize symptoms early so you can get help quickly.
What do I need to know about vaccines?
Vaccines help prevent against certain diseases caused by bacteria or viruses. Talk to your healthcare provider about these or other vaccines you may need:
Get an influenza (flu) vaccine as soon as recommended each year, usually in September or October. Several types of viruses cause the flu. The viruses change over time, so new vaccines are made each year.
A COVID-19 vaccine and all recommended boosters. The virus that causes COVID-19 continues to change. Boosters help protect against new forms of the virus, called variants. Your provider can tell you when to get the vaccine and any updated boosters.
Get a tetanus-diphtheria (Td) booster vaccine every 10 years. Tetanus is a severe infection that may cause painful muscle spasms and lockjaw. Diphtheria is a severe bacterial infection that causes a thick covering in the back of your mouth and throat.
Get a human papillomavirus (HPV) vaccine if you are aged 19 to 26 and never received it. HPV is the most common infection spread by sexual contact. HPV may also cause vaginal, penile, and anal cancers.
Get a pneumococcal vaccine if you are aged 65 years or older. Pneumococcal disease is an infection caused by pneumococcal bacteria. The infection may cause pneumonia, meningitis, or an ear infection.
Get a shingles (varicella-zoster virus) vaccine if you are 60 or older, even if you have had shingles before. The virus that causes shingles is the same virus that causes chickenpox. Shingles is a painful rash that develops in people who had chickenpox or have been exposed to the virus.
What are some healthy nutrition guidelines?
My Plate is a model for planning healthy meals. It shows the types and amounts of foods that should go on your plate. Fruits and vegetables make up about half of your plate, and grains and protein make up the other half. A serving of dairy is included on the side of your plate. The amount of calories and serving sizes you need depends on your age, gender, weight, and height. Examples of healthy foods are listed below:
Eat a variety of vegetables , such as dark green, red, and orange vegetables. You can also include canned vegetables low in sodium (salt) and frozen vegetables without added butter or sauces.
Eat a variety of fresh fruits , canned fruit in 100% juice, frozen fruit, and dried fruit.
Include whole grains , such as whole-wheat bread, wheat pasta, brown rice, and whole-grain cereals such as oatmeal. At least half of the grains you eat should be whole grains.
Eat a variety of protein foods , such as seafood (fish and shellfish), lean meat, and poultry (turkey and chicken) without skin. Examples of lean meats include pork leg, shoulder, or tenderloin, and beef round, sirloin, tenderloin, and extra lean ground beef. Other protein foods include eggs and egg substitutes, beans, peas, soy products, nuts, and seeds.
Choose foods high in heart-healthy fats , such as skim or 1% dairy products, nuts, salmon, and olive oil.
Limit unhealthy fats , such as butter, hard margarine, shortening, and saturated fat. Saturated fat is found in foods such as meat, full-fat dairy products, and certain oils, such as coconut and palm oil.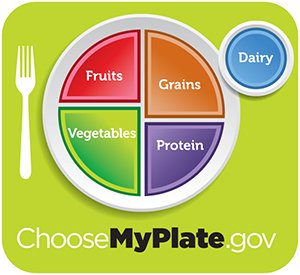 What are some physical activity guidelines?
Try to get at least 30 minutes of physical activity on most days of the week. Some examples of physical activity include walking, biking, dancing, and swimming. You can also fit in more physical activity by taking the stairs instead of the elevator or parking farther away from stores. Include muscle strengthening activities 2 days each week. Regular exercise provides many health benefits. It helps you manage your weight, and decreases your risk for type 2 diabetes, heart disease, stroke, and high BP. Exercise can also help improve your mood. Ask your healthcare provider about the best exercise plan for you.
What are some general health and safety guidelines?
Do not smoke. Nicotine and other chemicals in cigarettes and cigars can cause lung damage. Ask your healthcare provider for information if you currently smoke and need help to quit. E-cigarettes or smokeless tobacco still contain nicotine. Talk to your provider before you use these products.
Limit alcohol. A drink of alcohol is 12 ounces of beer, 5 ounces of wine, or 1½ ounces of liquor. Your provider can tell you how many drinks are okay for you to have within 24 hours and within 7 days.
Maintain a healthy weight. Ask your provider what a healthy weight is for you. Overweight or obesity increases your risk for certain health conditions. These include heart disease, high BP, type 2 diabetes, and certain types of cancer.
Protect your skin. Do not sunbathe or use tanning beds. Use sunscreen with a SPF 15 or higher. Apply sunscreen at least 15 minutes before you go outside. Reapply sunscreen every 2 hours. Wear protective clothing, hats, and sunglasses when you are outside.
Drive safely. Always wear your seatbelt. Make sure everyone in your car wears a seatbelt. A seatbelt can save your life if you are in an accident. Do not use your cell phone when you are driving. This could distract you and cause an accident. Pull over if you need to make a call or send a text message.
Practice safe sex. Use latex condoms to protect against pregnancy or sexually transmitted infections (STIs). Your provider may recommend screening tests for certain STIs.
Wear helmets, lifejackets, and protective gear. Always wear a helmet when you ride a bike or motorcycle, go skiing, or play sports that could cause a head injury. Wear protective equipment when you play sports. Wear a lifejacket when you are on a boat or doing water sports.
Care Agreement
You have the right to help plan your care. Learn about your health condition and how it may be treated. Discuss treatment options with your healthcare providers to decide what care you want to receive. You always have the right to refuse treatment. The above information is an educational aid only. It is not intended as medical advice for individual conditions or treatments. Talk to your doctor, nurse or pharmacist before following any medical regimen to see if it is safe and effective for you.
© Copyright Merative 2023 Information is for End User's use only and may not be sold, redistributed or otherwise used for commercial purposes.
Further information
Always consult your healthcare provider to ensure the information displayed on this page applies to your personal circumstances.