Promote Healthy Teeth and Gums in Older Children
Medically reviewed by Drugs.com. Last updated on Dec 2, 2022.
What do I need to know about healthy teeth and gums in older children?
You can help your child develop good habits early that will continue as an adult. At about age 6, your child will start to lose his or her baby teeth. They will be replaced by permanent adult teeth. Your child will need good nutrition and mouth care to have healthy teeth and gums.
How can I teach my child to care for his or her teeth and gums?
Be a good role model. Children often learn just by watching their parents. Let your child see you take care of your teeth and gums. Brush and floss every day, and go to the dentist regularly. Talk to your child about each step of how you care for your teeth. Be consistent with your own tooth care. This will help your child be consistent with his or hers.
Make tooth care fun. Let your child choose his or her own toothbrush and toothpaste. Your child may be more willing to brush if he or she likes the design of the toothbrush and the flavor of the toothpaste. Make sure the toothbrush is the right size for your child's mouth and age. Check the toothpaste to make sure it has fluoride. You and your child may want to create a chart. Your child can put a sticker on each time he or she brushes and flosses.
Help your child create a tooth care routine. Set 2 times each day for tooth care. The time of day does not have to be exact. For example, the times may be after breakfast and before bed. Be as consistent as possible, even on weekends, holidays, and vacations. This will help your child make tooth care part of a lifetime routine. Make sure your child has enough time to brush for at least 2 minutes each time.
How should my child brush and floss his or her teeth?
At 7 or 8 years, your child should start caring for his or her own teeth. You may need to help your child brush and floss until he or she can do it properly. Ages 8 to 12 are a good time for your child to practice a healthy tooth care routine. He or she will continue the routine as an adult.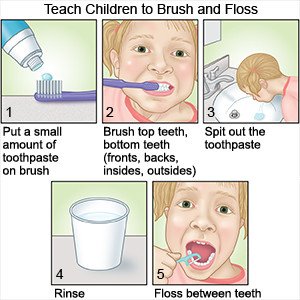 Use a small amount of fluoride toothpaste.
Brush for 2 minutes, 2 times each day. It may help to play a song that is at least 2 minutes long while your child brushes. You should only need to do this until your child is used to the time.
Have your child spit the toothpaste out after brushing. He or she does not need to rinse with water. The small amount of toothpaste that stays in your child's mouth can help prevent cavities.
Your child will also need to floss 1 time each day. Your child's dentist can tell you the best kind of floss for your child. This will be based on your child's age and how his or her teeth are spaced. Teach your child to floss between all of the teeth on the top and the bottom. Make sure your child does not forget to floss the back of the last tooth in each row.
What do I need to know about fluoride?
Fluoride is a mineral that helps prevent cavities. Fluoride is found in some foods and in drinking water in certain areas. It is also available in toothpastes, alcohol-free mouth rinses, and fluoride applications at the dentist's office. Ask your healthcare provider how much fluoride your child needs. Your dentist may be able to tell you if your drinking water contains enough fluoride. If it does not contain enough fluoride, your child may need a supplement. Starting at the age of 6 years, children can also get fluoride from alcohol-free mouth rinses.
What else can my child and I do to help keep his or her teeth and gums healthy?
Take your child to the dentist as directed. Your child should go to the dentist for a checkup and professional cleaning every 6 months. The dentist will tell you if your child needs to come in more often.
Provide healthy foods and drinks to your child. Healthy foods include vegetables, lean meats, fish, cooked beans, and whole-grain cereals. Choose foods and drinks that are low in sugar. Read food labels to help you choose foods that are low in sugar. Limit candy, cookies, and soda.
Limit fruit juice as directed. Fruit juice is high in sugar. Offer fruit juice with meals, or not at all. Do not give your child fruit juice in a cup he or she can carry around during the day. Limit fruit juice to 4 to 6 ounces a day.
Talk to your child's healthcare provider about calcium. Calcium will help make your child's teeth strong. Your child's provider can tell you how much calcium your child needs each day. He or she can also give you a list of foods that contain calcium. Dairy foods such as yogurt and cheese are examples.
Have your child wear a mouth guard if he or she plays sports. A mouth guard can help protect your child's teeth from injury. Your child's dentist can help you choose a mouth guard that is right for your child's age and sport.
Talk to your older child about the risks of piercing. When your child becomes a teenager, he or she may start thinking about getting a piercing. A piercing in the tongue, lips, or other areas of the mouth can cause health problems. Examples include infection, tooth fracture, and gum damage. Ask for more information about oral piercings.
Talk to your older child about the risks of tobacco products. Tobacco products include cigarettes, cigars, and smokeless tobacco products such as chew, snuff, dip, dissolvable tobacco, and snus. Tobacco contains chemicals that can damage gum tissues and discolor teeth. Plaque and tartar can build up on teeth. These increase the risk for decay. The chemicals in tobacco can also increase your child's risk for oral cancer. Talk to your child's healthcare provider if he or she currently uses any tobacco product and needs help quitting.
Care Agreement
You have the right to help plan your child's care. Learn about your child's health condition and how it may be treated. Discuss treatment options with your child's healthcare providers to decide what care you want for your child. The above information is an educational aid only. It is not intended as medical advice for individual conditions or treatments. Talk to your doctor, nurse or pharmacist before following any medical regimen to see if it is safe and effective for you.
© Copyright Merative 2022 Information is for End User's use only and may not be sold, redistributed or otherwise used for commercial purposes.
Further information
Always consult your healthcare provider to ensure the information displayed on this page applies to your personal circumstances.