Prevent Cardiovascular Disease
Medically reviewed by Drugs.com. Last updated on Dec 2, 2022.
AMBULATORY CARE:
Cardiovascular disease (CVD)
is any disease that affects the heart or blood vessels. This includes heart attack, high cholesterol, and blood clots. The heart pumps blood through blood vessels in your body. Diseases that affect the heart will likely affect your blood vessels as well. Diseases of the blood vessels will eventually affect your heart.
Call your local emergency number (911 in the US) or have someone call if:
You have any of the following signs of a heart attack:

Squeezing, pressure, or pain in your chest
You may also have any of the following:

Discomfort or pain in your back, neck, jaw, stomach, or arm
Shortness of breath
Nausea or vomiting
Lightheadedness or a sudden cold sweat

You have any of the following signs of a stroke:

Numbness or drooping on one side of your face
Weakness in an arm or leg
Confusion or difficulty speaking
Dizziness, a severe headache, or vision loss
Seek care immediately if:
You have new shortness of breath or sudden weight gain.
Call your doctor if:
You have numbness, tingling, or aching in your fingers or toes.
You have questions or concerns about your condition or care.
Prevent CVD:
Your healthcare provider may recommend you work with a team to manage your blood pressure. The team may include medical experts such as a dietitian, an exercise or physical therapist, and a behavior therapist. Your family members may be included in helping you create lifestyle changes, such as the following:
Follow the meal plan recommended by your provider. A heart-healthy meal plan helps lower your risk for heart disease and stroke. Your provider may recommend the DASH eating plan. The DASH plan is low in sodium, processed sugar, unhealthy fats, and total fat. It is high in potassium, calcium, and fiber. These can be found in vegetables, fruit, and whole-grain foods. Eat a variety of fresh, frozen, or canned vegetables and fruits. Eat vegetables and fruits without creamy sauces or added salt and sugars. You can get more fiber by eating brown rice instead of white rice. Oatmeal and beans are also good sources of fiber. Eat healthy fats, such as peanut butter, nuts, tuna, and avocados.
Limit sodium (salt). Too much sodium can cause your body to hold on to fluid and cause swelling. Your heart works harder if you have too much fluid in your body. Even if you lower your sodium intake by 1,000 mg, it can help. For example, if you cook with salt, do not add any to your food at the table. Check labels to find low-sodium or no-salt-added foods. Some low-sodium foods use potassium salts for flavor. Too much potassium can also cause health problems. Your provider will tell you how much sodium and potassium are safe for you to have in a day. Your provider may recommend that you limit sodium to 2,000 to 2,300 mg a day.
Do not smoke. Nicotine and other chemicals in cigarettes and cigars can cause lung, heart, and blood vessel damage. Ask your provider for information if you currently smoke and need help to quit. E-cigarettes or smokeless tobacco still contain nicotine. Talk to your provider before you use these products.
Limit alcohol as directed. Too much alcohol can cause heart and blood vessel conditions. Ask your provider if it is okay for you to drink alcohol. A drink of alcohol is 12 ounces of beer, 5 ounces of wine, or 1½ ounces of liquor. Your provider can tell you how many drinks are okay to have within 24 hours or within 1 week.
Be physically active throughout the day. Physical activity, such as exercise, can help control your blood pressure and your weight. Be physically active for at least 30 minutes per day, on most days of the week. Examples of physical activity include walking, swimming, gardening, and riding a bicycle. Your providers can help you create a physical activity plan.
Maintain a healthy weight. Extra weight puts stress on your heart and blood vessels. Ask your provider what a healthy weight is for you. Your provider can help you create a safe weight loss plan if needed.
Manage other medical conditions. Examples include diabetes and high cholesterol. Talk to your provider about your health conditions. Your provider will make a plan that helps you manage your conditions. The plan will help lower your risk for heart and blood vessel problems, such as heart attack and stroke. Your provider may recommend medicines to help you manage conditions that can lead to CVD.
Ask about vaccines you may need. Get a flu vaccine every year as soon as recommended, usually in September or October. The vaccine will help prevent the flu. The flu can cause some people to have a heart attack. Your provider can tell you if you should also get other vaccines, and when to get them.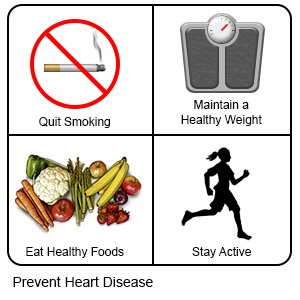 Follow up with your doctor as directed:
Write down your questions so you remember to ask them during your visits.
© Copyright Merative 2022 Information is for End User's use only and may not be sold, redistributed or otherwise used for commercial purposes.
The above information is an educational aid only. It is not intended as medical advice for individual conditions or treatments. Talk to your doctor, nurse or pharmacist before following any medical regimen to see if it is safe and effective for you.
Further information
Always consult your healthcare provider to ensure the information displayed on this page applies to your personal circumstances.