Myringoplasty and Tympanoplasty
Medically reviewed by Drugs.com. Last updated on Jul 4, 2022.
What do I need to know about myringoplasty and tympanoplasty?
Myringoplasty and tympanoplasty are surgeries used to close a hole in your eardrum. This helps prevent middle ear infections and may improve your hearing. A graft is placed over the hole. Grafts are commonly made from a piece of fascia (hard tissue that covers muscles), bone, vein, or cartilage. A paper or gel graft is sometimes used for small holes.
How do I prepare for surgery?
Your surgeon will tell you how to prepare. He or she may tell you not to eat or drink anything after midnight on the day of surgery. Arrange to have someone drive you home when you are discharged from the hospital.
Tell your surgeon about all medicines you currently take. He or she will tell you if you need to stop taking any medicine before your surgery, and when to stop. He or she will tell you which medicines to take or not take on the day of surgery.
Antibiotics may be given to help prevent a bacterial infection. Anesthesia will be used to prevent pain during surgery. Tell your surgeon if you had an allergic reaction to antibiotics or anesthesia.
Tell your surgeon if you have had other ear surgeries or nose problems. Also tell your surgeon about any allergies you have.
Your surgeon may check for other ear, nose, or throat problems. You may need to have blood and urine tests and x-rays. You may also need hearing tests.
What will happen during surgery?
Your surgeon may use a scope to look inside your ear. He or she may need to remove earwax or make the surface of your eardrum rough. The rough surface will help the graft attach better. You may be given local anesthesia to numb the surgery area. You will be awake during surgery, but you should not feel pain. You may instead be given general anesthesia to keep you free from pain during surgery.
Myringoplasty is used if the hole is small. This surgery is often done in a doctor's office. Your surgeon will make an incision inside your ear. He or she will cover the hole in your eardrum with a graft. The graft will come out on its own as your body closes and heals the hole.
Tympanoplasty is used if the hole is large, or if you get ear infections often. This surgery is usually done in the hospital. Your surgeon will make an incision inside or behind your ear. He or she will place a graft to close the hole in the eardrum. You may also need an ossiculoplasty. This is surgery to repair small bones in your inner ear that allow sound to travel.
A bandage soaked in material that prevents germ growth may be put inside your ear. The incisions will be closed with stitches.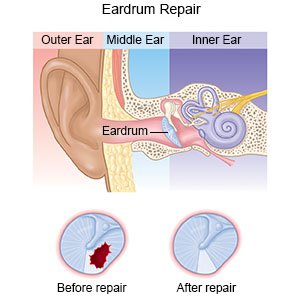 What should I expect after surgery?
You will be taken to a room where you will rest until you are awake. Do not get out of bed until your healthcare provider says it is okay.
Medicines may be given to prevent a bacterial infection, relieve pain, or prevent sneezing or itching from respiratory allergies.
A bandage may be over or around your ear. The bandage will help keep your surgery area clean and dry and help prevent infection.
You may have hearing problems if the area is swollen or packed with bandages. This may last a few weeks. You may have to wait several weeks and have hearing rehabilitation before you know how well the surgery worked.
What are the risks of myringoplasty or tympanoplasty?
You may bleed or have more pain than expected, or develop an infection. You may develop a scar in the area your surgery was done, or where your graft was taken. You may develop blood clots. Your eardrum may collapse. Nerves or areas near your inner ear or face may be damaged during surgery. You may develop scarring or narrowing of your ear canal.
You may have swelling, discharge, or hearing loss after your surgery. Your graft may fail. You will have an open hole in your eardrum again if the graft fails. You may also develop a new hole in your eardrum and need another surgery.
Care Agreement
You have the right to help plan your care. Learn about your health condition and how it may be treated. Discuss treatment options with your healthcare providers to decide what care you want to receive. You always have the right to refuse treatment. The above information is an educational aid only. It is not intended as medical advice for individual conditions or treatments. Talk to your doctor, nurse or pharmacist before following any medical regimen to see if it is safe and effective for you.
© Copyright IBM Corporation 2022 Information is for End User's use only and may not be sold, redistributed or otherwise used for commercial purposes. All illustrations and images included in CareNotes® are the copyrighted property of A.D.A.M., Inc. or IBM Watson Health
Further information
Always consult your healthcare provider to ensure the information displayed on this page applies to your personal circumstances.