This material must not be used for commercial purposes, or in any hospital or medical facility. Failure to comply may result in legal action.
Fall Prevention
WHAT YOU NEED TO KNOW:
Fall prevention includes ways to make your home and other areas safer. It also includes ways you can move more carefully to prevent a fall. Health conditions that cause changes in your blood pressure, vision, or muscle strength and coordination may increase your risk for falls. Medicines may also increase your risk for falls if they make you dizzy, weak, or sleepy.
DISCHARGE INSTRUCTIONS:
Call 911 or have someone else call if:
You have fallen and are unconscious.
You have fallen and cannot move part of your body.
Contact your healthcare provider if:
You have fallen and have pain or a headache.
You have questions or concerns about your condition or care.
Fall prevention tips:
Stand or sit up slowly. This may help you keep your balance and prevent falls.
Use assistive devices as directed. Your healthcare provider may suggest that you use a cane or walker to help you keep your balance. You may need to have grab bars put in your bathroom near the toilet or in the shower.
Wear shoes that fit well and have soles that grip. Wear shoes both inside and outside. Use slippers with good grip. Do not wear shoes with high heels.
Wear a personal alarm. This is a device that allows you to call 911 if you fall and need help. Ask your healthcare provider for more information.
Stay active. Exercise can help strengthen your muscles and improve your balance. Your healthcare provider may recommend water aerobics or walking. He or she may also recommend physical therapy to improve your coordination. Never start an exercise program without talking to your healthcare provider first.
Manage your medical conditions. Keep all appointments with your healthcare providers. Visit your eye doctor as directed.
Home safety tips: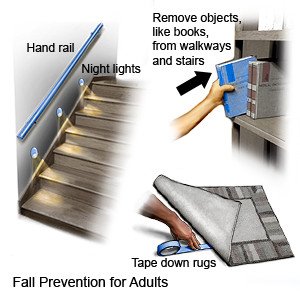 Add items to prevent falls in the bathroom. Put nonslip strips on your bath or shower floor to prevent you from slipping. Use a bath mat if you do not have carpet in the bathroom. This will prevent you from falling when you step out of the bath or shower. Use a shower seat so you do not need to stand while you shower. Sit on the toilet or a chair in your bathroom to dry yourself and put on clothing. This will prevent you from losing your balance from drying or dressing yourself while you are standing.
Keep paths clear. Remove books, shoes, and other objects from walkways and stairs. Place cords for telephones and lamps out of the way so that you do not need to walk over them. Tape them down if you cannot move them. Remove small rugs. If you cannot remove a rug, secure it with double-sided tape. This will prevent you from tripping.
Install bright lights in your home. Use night lights to help light paths to the bathroom or kitchen. Always turn on the light before you start walking.
Keep items you use often on shelves within reach. Do not use a step stool to help you reach an item.
Paint or place reflective tape on the edges of your stairs. This will help you see the stairs better.
Follow up with your doctor as directed:
Write down your questions so you remember to ask them during your visits.
© Copyright IBM Corporation 2021 Information is for End User's use only and may not be sold, redistributed or otherwise used for commercial purposes. All illustrations and images included in CareNotes® are the copyrighted property of A.D.A.M., Inc. or IBM Watson Health
The above information is an educational aid only. It is not intended as medical advice for individual conditions or treatments. Talk to your doctor, nurse or pharmacist before following any medical regimen to see if it is safe and effective for you.
Further information
Always consult your healthcare provider to ensure the information displayed on this page applies to your personal circumstances.