Covid-19 and Chronic Health Conditions
Medically reviewed by Drugs.com. Last updated on May 1, 2023.
AMBULATORY CARE:
What you need to know about coronavirus disease 2019 (COVID-19) and chronic health conditions:
Your chronic condition may increase your risk for COVID-19 or serious problems it can cause. Healthcare providers might need to make changes that affect how you usually manage your chronic health condition. Providers may change hours of operation or not have patients come in to be seen. You may not be able to make appointments to get blood drawn or to have tests or procedures. This may continue until the virus that causes COVID-19 is controlled. Until then, you can take steps to manage your condition. The steps will also lower your risk for COVID-19 or the serious problems it causes. If you do develop COVID-19, healthcare providers will tell you when it is okay to be around others after you recover. This depends on your chronic condition, any symptoms of COVID-19 that developed, and how severe the symptoms were.
What you need to know about serious problems from the virus:
You may develop long-term health problems caused by the virus. Your risk is higher if you are 65 or older. A weak immune system, obesity, diabetes, chronic kidney disease, or a heart or lung condition can also increase your risk. Your risk is also higher if you are a current or former cigarette smoker. COVID-19 can lead to any of the following:
Multisymptom inflammatory syndrome in adults (MIS-A) or in children (MIS-C), causing inflammation in the heart, digestive system, skin, or brain
Shortness of breath, serious lower respiratory conditions, such as pneumonia or acute respiratory distress syndrome (ARDS)
Blood clots or blood vessel damage
Organ damage from a lack of oxygen or from blood clots
Sleep problems
Problems thinking clearly, remembering information, or concentrating
Mood changes, depression, or anxiety
Long-term problems tasting or smelling
Loss of appetite and weight loss
Nerve pain
Fatigue (feeling mentally and physically tired)
Call your local emergency number (911 in the US) if:
You have trouble breathing or shortness of breath.
You have chest pain or pressure that lasts longer than 5 minutes.
You become confused or hard to wake.
Your lips or face are blue.
Seek care immediately if:
You have a fever of 104°F (40°C) or higher.
Call your doctor or healthcare provider if:
You have symptoms of COVID-19.
You have questions or concerns about COVID-19 or your chronic condition.
How the 2019 coronavirus spreads:
The virus spreads quickly and easily. The virus can be passed starting 2 to 3 days before symptoms begin or before a positive test if symptoms never begin.
Droplets are the main way all coronaviruses spread. The virus travels in droplets that form when a person talks, sings, coughs, or sneezes. The droplets can also float in the air for minutes or hours. Infection happens when you breathe in the droplets or get them in your eyes or nose. Close personal contact with an infected person increases your risk for infection. This means being within 6 feet (2 meters) of the person for at least 15 minutes over 24 hours.
Person-to-person contact can spread the virus. For example, a person with the virus on his or her hands can spread it by shaking hands with someone.
The virus can stay on objects and surfaces for up to 3 days. You may become infected by touching the object or surface and then touching your eyes or mouth.
What you need to know about the signs and symptoms of COVID-19:
Signs and symptoms usually start about 5 days after infection but can take 2 to 14 days. Signs and symptoms range from mild to severe. You may feel like you have the flu or a bad cold. Your chronic health condition may cause some of the same symptoms COVID-19 causes. This can make it hard to know if a symptom is from COVID-19 or your chronic condition. Keep a record of any new or worsening symptom you have. This is especially important if you have a condition that often causes shortness of breath. Your provider can tell you if you should be tested for COVID-19. Tell your healthcare provider if you think you were infected but develop signs or symptoms not listed below:
A cough
Shortness of breath or trouble breathing that may become severe
A fever of at least 100.4°F, or 38°C (may be lower in adults 65 or older)
Chills that might include shaking
Muscle pain, body aches, or a headache
A sore throat
Suddenly not being able to taste or smell anything
Feeling very tired (fatigue)
Congestion (stuffy head and nose), or a runny nose
Diarrhea, nausea, or vomiting
Manage your chronic health condition during this time:
If you do not have a regular healthcare provider, experts recommend you contact a local community health center or health department. The following can help you manage your condition and prevent COVID-19:
Get emergency care for your condition if needed. Talk to your healthcare providers about symptoms of your chronic condition that need immediate care. Your providers can help you create a plan or add exacerbation management to your plan. The plan will include when to go to an emergency department and when to call your local emergency number. This will depend on where you live and the services that are available during this time.
Go to dialysis appointments as scheduled. It is important to stay on schedule. You will need to have enough food to be able to follow the emergency diet plan if you must miss a session. The emergency diet needs to be part of the management plan for your condition.
Reschedule any upcoming appointments as needed. Medical facilities may be closed until the coronavirus is better controlled. This means you may need to reschedule a surgery, procedure, or check-up appointment. If you cannot have a phone or video appointment, you will need to make a new appointment. Some providers may be scheduling appointments several months in advance. Some surgeries and procedures will happen as scheduled. This depends on the medical condition and the reason for the surgery or procedure. You may need to have extra testing for COVID-19 several days before.
Follow any regular management plan you use. Your healthcare provider will tell you if you need to make any changes to your regular management plan. For example, if you have asthma, continue to follow your asthma action plan. If you have diabetes, you may need to check your blood sugar level more often. Stress and illness can make blood sugar levels go up. You may need to adjust medicine such as insulin. If you have a heart condition or high blood pressure, you may need to check your blood pressure more often. Stress and illness can also raise your blood pressure.
Talk to your healthcare providers about your medicines. You may be able to get more than 1 month of medicine at a time. This will lower the number of times you need to go to a pharmacy to get your medicines. Make sure you have enough medicine if you have a condition that can lead to an emergency. Examples include asthma medicines, insulin, or an epinephrine pen. Check the expiration dates on the medicines you currently have. Ask for refills as soon as possible, if needed. If it is not time to refill prescriptions, you may be able to get an emergency supply of some medicines. Medicine plans vary, so ask your healthcare provider or pharmacist for options.
Have supplies available in your home. If possible, get extra supplies you use regularly. Examples include absorbent pads, syringes, and wound cleaning solutions. This will limit the number of trips out of your home to get supplies.
What you can do to prevent having to go out of your home during this time:
Ask your healthcare provider for other ways to have appointments. Some providers offer phone, video, or other types of appointments.
Have food, medicines, and other supplies delivered. Some pharmacies can send certain medicines to you through the mail. Grocery stores and restaurants may be able to deliver food and other items. If possible, have delivered items placed somewhere. Try not to have someone hand you an item. You will be so close to the person that the virus can spread between you.
Ask someone to get items you need. The person can get groceries, medicines, or other needed items for you. Choose a person who does not have signs or symptoms of COVID-19 or has tested negative for it. The person should not be waiting for test results. He or she should not have a condition that increases the risk for COVID-19 or serious problems it causes.
What you need to know about COVID-19 vaccines:
Your healthcare provider can give you more information about what to expect, depending on your chronic condition. You are considered fully vaccinated against COVID-19 two weeks after the final dose of any COVID-19 vaccine. Let your healthcare provider know when you have received the final dose of the vaccine. Make a copy of your vaccination card. Keep the original with you in case you need to show it. Keep the copy in a safe place.
Get a COVID-19 vaccine as directed. Vaccination is recommended for everyone 6 months or older. COVID-19 vaccines are given as a shot in 1 to 3 doses as a primary series. This depends on the vaccine brand and the age of the person who receives it. A booster dose is recommended for everyone 5 years or older after the primary series is complete. A second booster is recommended for all adults 50 or older and for immunocompromised adolescents. The second booster is also recommended for anyone who got the 1-dose brand of vaccine for the first dose and a booster. Your provider can give you more information on boosters and help you schedule all needed doses.
Continue social distancing and other measures. You can become infected even after you get the vaccine. You may also be able to pass the virus to others without knowing you are infected.
After you get the vaccine, check local, national, and international travel rules. You may need to be tested before you travel. Some countries require proof of a negative test before you travel. You may also need to quarantine after you return.
Medicine may be given to prevent infection. The medicine can be given if you are at high risk for infection and cannot get the vaccine. It can also be given if your immune system does not respond well to the vaccine.
Lower your risk for COVID-19:
Wash your hands often throughout the day. Use soap and water. Rub your soapy hands together, lacing your fingers, for at least 20 seconds. Rinse with warm, running water. Dry your hands with a clean towel or paper towel. Use hand sanitizer that contains alcohol if soap and water are not available. Teach children how to wash their hands and use hand sanitizer.
Cover sneezes and coughs. Turn your face away and cover your mouth and nose with a tissue. Throw the tissue away. Use the bend of your arm if a tissue is not available. Then wash your hands with soap and water or use hand sanitizer. Teach children how to cover a cough or sneeze.
Follow worldwide, national, and local social distancing guidelines. Keep at least 6 feet (2 meters) between you and others.
Wear a face covering (mask) around anyone who does not live in your home. Use a cloth covering with at least 2 layers. You can also create layers by putting a cloth covering over a disposable non-medical mask. Cover your mouth and your nose.
Try not to touch your face. If you get the virus on your hands, you can transfer it to your eyes, nose, or mouth and become infected. You can also transfer it to objects, surfaces, or people.
Clean and disinfect high-touch surfaces and objects in your home often. Use disinfecting wipes, or make a solution by mixing 4 teaspoons of bleach with 1 quart (4 cups) of water. Do not use any cleaning or disinfecting products that can trigger an asthma attack or other breathing problems. Open windows or have circulating air as you clean. Do not mix ammonia with bleach. This will create toxic fumes.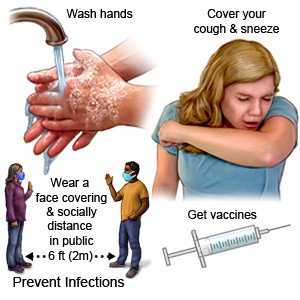 How to follow social distancing guidelines:
National and local social distancing rules vary. Rules and restrictions may change over time as restrictions are lifted. The following are general guidelines:
Stay home if you are sick or think you may have COVID-19. It is important to stay home if you are waiting for a testing appointment or for test results.
Avoid close physical contact with anyone who does not live in your home. Do not shake hands with, hug, or kiss a person as a greeting. If you must use public transportation (such as a bus or subway), try to sit or stand away from others. Wear your face covering.
Avoid in-person gatherings and crowds. Attend virtually if possible.
Help strengthen your immune system:
Ask about other vaccines you may need. Get the influenza (flu) vaccine as soon as recommended each year, usually starting in September or October. Get the pneumonia vaccine if recommended. Your healthcare provider can tell you if you should also get other vaccines, and when to get them.
Do not smoke. Nicotine and other chemicals in cigarettes and cigars can increase your risk for infection and for serious COVID-19 effects. Ask your healthcare provider for information if you currently smoke and need help to quit. E-cigarettes or smokeless tobacco still contain nicotine. Talk to your healthcare provider before you use these products.
Eat a variety of healthy foods. Examples include vegetables, fruits, whole-grain breads and cereals, lean meats and poultry, fish, low-fat dairy products, and cooked beans. Healthy foods contain nutrients that help keep your immune system strong.
Find ways to manage stress. You may be feeling more stressed than usual because of the COVID-19 outbreak. The situation is very stressful to many people. Talk to your healthcare providers about ways to manage stress during this time. Stress can lead to breathing problems or trigger an attack or exacerbation of many health conditions. Pick 1 or 2 times a day to watch the news. Constant news watching can increase your stress levels. Instead, do things you enjoy. Talk to a friend or go for a walk together. Read a book or magazine. Take a warm bath or listen to soothing music.
Follow up with your doctor or healthcare provider as directed:
Your providers will tell you when you can come in for tests, procedures, or check-ups. Bring your symptom record with you to all appointments. Write down your questions so you remember to ask them during your visits.
For more information:
Centers for Disease Control and Prevention
1600 Clifton Road
Atlanta , GA 30333
Phone: 1- 404 - 6393311
Phone: 1- 800 - 3113435
Web Address: http://www.cdc.gov

© Copyright Merative 2023 Information is for End User's use only and may not be sold, redistributed or otherwise used for commercial purposes.
The above information is an educational aid only. It is not intended as medical advice for individual conditions or treatments. Talk to your doctor, nurse or pharmacist before following any medical regimen to see if it is safe and effective for you.
Further information
Always consult your healthcare provider to ensure the information displayed on this page applies to your personal circumstances.