Chronic Lung Disease and Infection Prevention
Medically reviewed by Drugs.com. Last updated on Dec 4, 2023.
Why is preventing infections important when you have a chronic lung condition?
A chronic lung condition can make infections such as a cold or the flu serious. These infections can cause more damage to your lungs. One episode of pneumonia puts you at risk for more respiratory infections in the future.
What can I do to prevent a respiratory infection?
Wash your hands often. This is the most important thing you can do to prevent infections. Wash your hands several times each day. Wash after you use the bathroom, change a child's diaper, and before you prepare or eat food. Use soap and water every time you wash your hands. Rub your soapy hands together, lacing your fingers. Use the fingers of one hand to scrub under the nails of the other hand. Wash for at least 20 seconds. Rinse with warm, running water for several seconds. Then dry your hands with a clean towel or paper towel. Use hand sanitizer that contains alcohol if soap and water are not available. Do not touch your eyes, nose, or mouth without washing your hands first.
Cover a sneeze or cough. Use a tissue that covers your mouth and nose. Throw the tissue away in a trash can right away. Use the bend of your arm if a tissue is not available. Then wash your hands well with soap and water or use a hand sanitizer. Do not stand close to anyone who is sneezing or coughing.
Avoid crowds during flu season. Flu season is from late October to the middle of March. Do not have close contact with someone who is sick. Ask friends and family to visit only when they are not sick.
Ask about vaccines you may need. Vaccines help protect you and others around you from some infections.

Get the influenza (flu) vaccine as soon as recommended each year. The flu vaccine is available starting in September or October. Flu viruses change, so it is important to get a flu vaccine every year.
Get the pneumonia vaccine if recommended. This vaccine is usually recommended every 5 years. Your provider will tell you when to get this vaccine, if needed.
Talk to your healthcare provider about your vaccine history. Tell him or her if you did not get certain vaccines as a child, or you did not get all recommended doses. Tell him or her if you do not know your vaccine history. He or she will tell you which vaccines you need, and when to get them.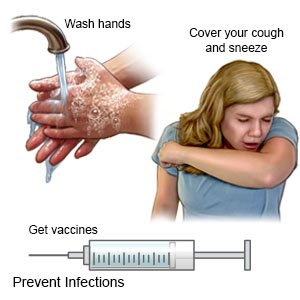 What else can I do to stay healthy?
Do not smoke. Nicotine and other chemicals in cigarettes and cigars can cause lung damage. Ask your healthcare provider for information if you currently smoke and need help to quit. E-cigarettes or smokeless tobacco still contain nicotine. Talk to your healthcare provider before you use these products.
Build resistance to infection. Eat a variety of healthy foods such as fruits, vegetables, and whole-grain foods. Choose dairy foods, meat, and other protein foods that are low in fat. Get plenty of sleep and physical activity, such as exercise. Your healthcare provider can help you create an exercise plan that is right for you.
Protect your mouth from germs that lead to infection. Brush your teeth at least 2 times per day. See your dentist at least every 6 months.
Care Agreement
You have the right to help plan your care. Learn about your health condition and how it may be treated. Discuss treatment options with your healthcare providers to decide what care you want to receive. You always have the right to refuse treatment. The above information is an educational aid only. It is not intended as medical advice for individual conditions or treatments. Talk to your doctor, nurse or pharmacist before following any medical regimen to see if it is safe and effective for you.
© Copyright Merative 2023 Information is for End User's use only and may not be sold, redistributed or otherwise used for commercial purposes.
Learn more about Chronic Lung Disease and Infection Prevention
Care guides
Further information
Always consult your healthcare provider to ensure the information displayed on this page applies to your personal circumstances.