Achilles Tendon Rupture
Medically reviewed by Drugs.com. Last updated on Jan 5, 2023.
What is an Achilles tendon rupture?
An Achilles tendon rupture happens when your Achilles tendon tears, or separates from your heel bone. The Achilles tendon connects your calf muscle to your heel bone. It allows you to point your foot down and to rise on your toes. An Achilles tendon rupture may be caused by a sports injury or a fall.
What increases my risk for an Achilles tendon rupture?
A previous Achilles tendon tear, rupture, or tendinitis
A sudden increase in the intensity of an activity
Tight calf muscles
Arthritis, gout, or lupus
Age older than 30
Medicines such as steroids or antibiotics
What are the signs and symptoms of an Achilles tendon rupture?
A sudden pop, snap, or crack at the back of your leg
Severe pain in your leg or ankle, especially when your foot is bent down
Swelling, stiffness, or weakness in your leg or ankle
A bruise on the back of your ankle
Trouble moving or putting weight on your leg
How is an Achilles tendon rupture diagnosed?
Tell your healthcare provider what you were doing when your symptoms started. He or she will bend your knee and squeeze the lower part of your calf. If your foot or ankle does not move, the tendon is torn. You may need an x-ray, ultrasound, or MRI to check for a tear or damage to your Achilles tendon. Do not enter the MRI room with anything metal. Metal can cause serious injury. Tell the healthcare provider if you have any metal in or on your body.
How is an Achilles tendon rupture treated?
Medicine can help decrease pain and swelling.
A cast, brace, or splint may be used to keep your foot from moving. This will help your tendon heal. Your healthcare provider may change your cast and your foot position several times while the tendon heals. After several weeks of a cast or splint, you may need heel lifts placed in your shoes. This will decrease stress on your Achilles tendon.
Physical therapy may be needed. A physical therapist teaches you exercises to help improve movement and strength, and decrease pain. You may not start physical therapy for a few weeks or until your cast is removed.
Surgery may be needed if other treatments do not work. The edges of your tendon may need to be stitched back together. You may need a graft to patch the tear. A graft is a piece of another tendon or artificial material.
Treatment options
The following list of medications are in some way related to or used in the treatment of this condition.
What can I do to manage my symptoms?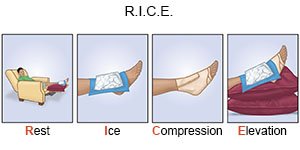 Use a support device as directed. You may need crutches or a cane to decrease stress and pressure on your tendon. Your healthcare provider will tell you how much weight you can put on your leg. Ask for more information about how to use crutches or a cane correctly. Wear your brace or splint as directed. This devices will keep your tendon straight and help it heal.
Rest as directed. Your healthcare provider will tell you when it is okay to walk and play sports. You may not be able to play sports for 6 months or longer. Ask when you can go back to work or school. Do not drive until your healthcare provider says it is okay.
Apply ice on your Achilles tendon for 15 to 20 minutes every hour or as directed. Use an ice pack, or put crushed ice in a plastic bag. Cover it with a towel. Ice helps prevent tissue damage and decreases swelling and pain.
Elevate your heel above the level of your heart as often as you can. This will help decrease swelling and pain. Prop your heel on pillows or blankets to keep it elevated comfortably.
When should I seek immediate care?
Your leg feels warm, tender, and painful. It may look swollen and red.
Your foot or toes are numb.
When should I call my doctor?
You have a fever.
Your symptoms do not get better with treatment.
You have questions or concerns about your condition or care.
Care Agreement
You have the right to help plan your care. Learn about your health condition and how it may be treated. Discuss treatment options with your healthcare providers to decide what care you want to receive. You always have the right to refuse treatment. The above information is an educational aid only. It is not intended as medical advice for individual conditions or treatments. Talk to your doctor, nurse or pharmacist before following any medical regimen to see if it is safe and effective for you.
© Copyright Merative 2022 Information is for End User's use only and may not be sold, redistributed or otherwise used for commercial purposes.
Learn more about Achilles Tendon Rupture
Treatment options
Symptoms and treatments
Further information
Always consult your healthcare provider to ensure the information displayed on this page applies to your personal circumstances.