Farsightedness
Overview
Farsightedness (hyperopia) is a common vision condition in which you can see distant objects clearly, but objects nearby may be blurry.
The degree of your farsightedness influences your focusing ability. People with severe farsightedness may see clearly only objects a great distance away, while those with mild farsightedness may be able to clearly see objects that are closer.
Farsightedness usually is present at birth and tends to run in families. You can easily correct this condition with eyeglasses or contact lenses. Another treatment option is surgery.
Symptoms
Farsightedness may mean:
Nearby objects may appear blurry
You need to squint to see clearly
You have eyestrain, including burning eyes, and aching in or around the eyes
You experience general eye discomfort or a headache after a prolonged interval of conducting close tasks, such as reading, writing, computer work or drawing
When to see a doctor
If your degree of farsightedness is pronounced enough that you can't perform a task as well as you wish, or if your quality of vision detracts from your enjoyment of activities, see an eye doctor. He or she can determine the degree of your farsightedness and advise you of options to correct your vision.
Since it may not always be readily apparent that you're having trouble with your vision, the American Academy of Ophthalmology recommends the following intervals for regular eye exams:
Adults
If you don't wear glasses or contacts, have no symptoms of eye trouble and are at a low risk of developing eye diseases, have a baseline eye exam around age 40. Then have an exam at the following intervals:
Every two to four years between 40 and 54 years
Every one to three years between 55 and 64 years
Every one to two years beginning at age 65
If you're at high risk of certain eye diseases, such as glaucoma, the frequency of visits should be increased to:
Every two to four years up to age 40
Every one to three years between 40 and 54 years
Every one to two years from age 55 onward
If you wear glasses or contacts, you'll likely need to have your eyes checked every year. Ask your eye doctor how frequently you need to schedule your appointments. But if you notice any problems with your vision, schedule an appointment with your eye doctor as soon as possible, even if you've recently had an eye exam. Blurred vision, for example, may suggest you need a prescription change, or it could be a sign of another problem.
Children and adolescents
Children need to be screened for eye disease and have their vision tested by a pediatrician, an ophthalmologist or another trained screener during the newborn period, and then at every routine health exam throughout early childhood.
Additionally, it's recommended that school-age children be screened at school or through community programs approximately every two years to check for vision problems.
Causes
Your eye has two parts that focus images:
The cornea, the clear front surface of your eye
The lens, a clear structure inside your eye that changes shape to help focus on objects
In a perfectly shaped eye, each of these focusing elements has a perfectly smooth curvature, like the surface of a marble. A cornea and lens with such curvature bend (refract) all incoming light to make a sharply focused image directly on the retina, at the back of your eye.
A refractive error
If your cornea or lens isn't evenly and smoothly curved, light rays aren't bent (refracted) properly, and you have a refractive error. Farsightedness is one type of refractive error.
Farsightedness occurs when your cornea is curved too little or your eye is shorter than normal. Instead of being focused precisely on your retina, light is focused behind your retina, resulting in a blurry appearance for close-up objects.
Other refractive errors
In addition to farsightedness, other refractive errors include:
Nearsightedness (myopia). This occurs when your cornea is curved too much or your eye is longer than normal, which makes faraway objects blurry and close objects clear.
Astigmatism. This occurs when your cornea or lens is curved more steeply in one direction than in another. Uncorrected astigmatism blurs your vision.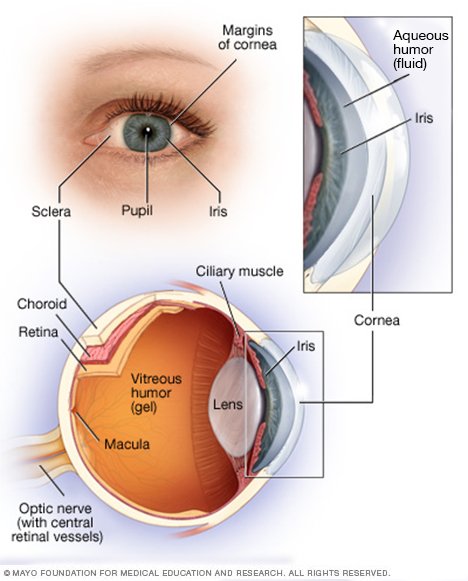 Anatomy of the eye
Your eye is a complex and compact structure measuring about 1 inch (2.5 centimeters) in diameter. It receives millions of pieces of information about the outside world, which are quickly processed by your brain.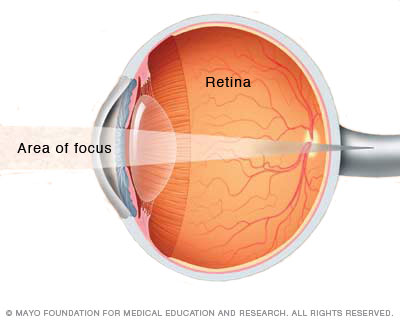 Farsightedness (hyperopia)
With normal vision, an image is sharply focused onto the retinal surface. But, if you're farsighted, your cornea doesn't refract light properly, so the point of focus falls behind the retina. This makes close-up objects appear blurry.
Complications
Farsightedness can be associated with several problems, such as:
Crossed eyes. Some children with farsightedness may develop crossed eyes. Specially designed eyeglasses that correct for part or all of the farsightedness may effectively treat this problem.
Reduced quality of life. Uncorrected farsightedness can affect your quality of life. You might not be able to perform a task as well as you wish. And your limited vision may detract from your enjoyment of day-to-day activities. In children, untreated farsightedness may cause learning problems.
Eyestrain. Uncorrected farsightedness may cause you to squint or strain your eyes to maintain focus. This can lead to eyestrain and headaches.
Impaired safety. For your own safety and that of others, don't drive or operate mechanical equipment if you have an uncorrected vision problem.
Prevention
You can't prevent farsightedness, but you can help protect your eyes and your vision. Follow these steps:
Have your eyes checked. Regardless of how well you see, have your eyes checked regularly.
Control chronic health conditions. Certain conditions, such as diabetes and high blood pressure, can affect your vision if you don't receive proper treatment.
Recognize symptoms. Sudden loss of vision in one eye, sudden hazy or blurred vision, flashes of light, black spots, or halos or rainbows around lights may signal a serious medical problem. Seek immediate medical care if you experience any of these signs or symptoms.
Protect your eyes from the sun. Wear sunglasses that block ultraviolet (UV) radiation. This is especially important if you spend long hours in the sun or are taking a prescription medication that increases your sensitivity to UV radiation.
Eat healthy foods. Maintain a healthy diet that contains plenty of fruits and vegetables. A diet containing these foods is necessary to maintain a healthy retina, and likely slows the progression of macular degeneration. Eat dark leafy foods and bright-colored fruits and vegetables, such as spinach, kale, carrots, yams and cantaloupe.
Don't smoke. Smoking can adversely affect your eye health. Smoking is one of the most important preventable risk factors for developing macular degeneration.
Use the right glasses. The right glasses optimize your vision. Having regular exams will ensure that your eyeglass prescription is correct.
Use good lighting. Turning up the lights can improve contrast and help you see better.
Diagnosis
Farsightedness is diagnosed by a basic eye exam. A complete eye examination involves a series of tests. Your eye doctor may use odd-looking instruments, aim bright lights directly at your eyes and request that you look through an array of lenses. Each test allows your doctor to examine a different aspect of your eyes, including your vision.
Treatment
The goal of treating farsightedness is to help focus light on the retina through the use of corrective lenses or refractive surgery.
Corrective lenses
In young people, treatment isn't always necessary because the crystalline lenses inside the eyes are flexible enough to compensate for the condition. But as you age, the lenses become less flexible and eventually you'll probably need corrective lenses to improve your near vision.
Wearing corrective lenses treats farsightedness by counteracting the decreased curvature of your cornea or the smaller size (length) of your eye. Types of corrective lenses include:
Eyeglasses. The variety of eyeglasses is wide and includes bifocals, trifocals, progressive lenses and reading lenses.

Contact lenses. A wide variety of contact lenses are available — hard, soft, extended wear, disposable, rigid gas permeable and bifocal. Ask your eye doctor about the pros and cons of contact lenses and what might be best for you.

If you're also having age-related trouble with close vision (presbyopia), monovision contact lenses may be an option for you. With monovision contacts, you may not need correction for the eye you use for distance vision (usually the dominant eye). But a contact lens can be used for close-up vision in your other eye. Some people have trouble adapting to this kind of vision because 3-D vision is sacrificed in order to be able to see both nearby and in the distance clearly. Monovision contacts can be worn intermittently as desired.

Modified monovision contact lenses are another option. With this type of contact lens, you can wear a bifocal contact lens in your nondominant eye and a contact lens prescribed for distance in your dominant eye. You can then use both eyes for distance and one eye for seeing objects nearby.
Refractive surgery
Although most refractive surgical procedures are used to treat nearsightedness, they can also be used for farsightedness. These surgical treatments correct farsightedness by reshaping the curvature of your cornea. Refractive surgery methods include:
Laser-assisted in-situ keratomileusis (LASIK). LASIK is a procedure in which an ophthalmologist makes a thin, circular hinged flap cut into your cornea. Then your eye surgeon uses an excimer laser to remove layers from the center of your cornea to steepen its domed shape. An excimer laser differs from other lasers in that it doesn't produce heat. After the laser is used, the thin corneal flap is repositioned.
Laser-assisted subepithelial keratectomy (LASEK). Instead of creating a flap in the cornea, the surgeon creates a flap involving only the cornea's thin protective cover (epithelium). Your surgeon will use an excimer laser to reshape the cornea's outer layers and steepen its curvature and then reposition the epithelial flap. To facilitate healing, you may wear a bandage contact lens for several days after the procedure.
Photorefractive keratectomy (PRK). This procedure is similar to LASEK, except the surgeon removes the epithelium. It'll grow back naturally, conforming to your cornea's new shape. You may need to wear a bandage contact lens for a few days following surgery.
Conductive keratoplasty (CK). This procedure uses radiofrequency energy to apply heat to tiny spots around the cornea. The effect resembles plastic wrap being stretched by heat. The degree of change in the curvature of the cornea depends on the number and spacing of the spots as well as the way in which the cornea heals after treatment. The results of CK aren't permanent.
Some of the possible complications that can occur after refractive surgery include:
Undercorrection or overcorrection of your initial problem
Visual side effects, such as a halo or starburst appearing around lights
Dry eye
Infection
Rarely, vision loss
Discuss the potential risks and benefits of these procedures with your eye doctor.
Preparing for an appointment
Three kinds of eye specialists, each with different training and experience, can provide routine eye care and fill prescriptions:
Ophthalmologists. An ophthalmologist is an eye specialist with a doctor of medicine (M.D.) or doctor of osteopathy (D.O.) degree who provides full eye care, including performing complete eye evaluations, prescribing corrective lenses, diagnosing and treating common and complex eye disorders, and performing eye surgery when it's necessary.
Optometrists. An optometrist has a doctor of optometry (O.D.) degree. Optometrists are trained to evaluate vision, prescribe corrective lenses and diagnose common eye disorders.
Opticians. An optician is a professional who fills prescriptions for eyeglasses — assembling, fitting and selling them. In some states, opticians may also sell and fit contact lenses.
No matter which type of eye specialist you choose, The following information will help you prepare for your visit, and understand what to expect from your doctor.
What you can do
If you already wear glasses, bring them with you to your appointment. Your doctor has a device that tells him or her what type of prescription you have now. If you wear contacts, bring an empty contact lens box from each type of contact you use.
List any symptoms you're experiencing, such as trouble reading up close or difficulty with night driving.
Make a list of all medications, vitamins and supplements that you're taking.
List questions to ask your doctor.
Your time with your doctor may be limited, so preparing a list of questions can help you make the most of your time together. For farsightedness, some basic questions to ask your doctor include:
When do I need to use corrective lenses?
What are benefits and drawbacks to glasses?
What are benefits and drawbacks to contacts?
How often do you recommend that I have my eyes examined?
Are more permanent treatments, such as eye surgery, an option for me?
What types of side effects are possible from eye surgery?
Will my insurance company pay for the cost of eye surgery?
Do you have any brochures or other printed material that I can take home with me?
What websites do you recommend visiting?
What to expect from your doctor
Your doctor is likely to ask you a number of questions. Being ready to answer them may reserve time to go over any points you want to spend more time on. Your doctor may ask:
When did you first begin experiencing symptoms?
How severe are your symptoms?
Does your vision improve if you squint or move objects closer (or farther) away?
Do others in your family use corrective lenses? Do you know how old they were when they first began having trouble with their vision?
When did you first begin wearing glasses or contacts?
Do you have any serious medical problems, such as diabetes?
Have you started to take any new medications, supplements or herbal preparations?
Last updated: March 6th, 2018
© 1998-2018 Mayo Foundation for Medical Education and Research (MFMER). All rights reserved. Terms of use